Movie Review
Captain America: Civil War
Whose side are you on?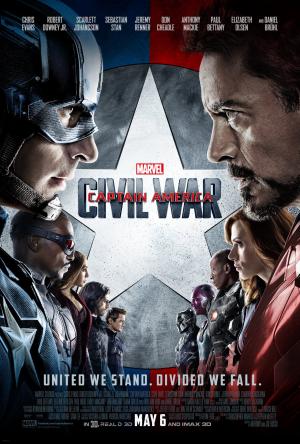 US Release Date: 05-06-2016
Directed by: Anthony Russo, Joe Russo
Starring
▸
▾
Chris Evans

,

as

Steve Rogers / Captain America
Robert Downey Jr.

,

as

Tony Stark / Iron Man
Scarlett Johansson

,

as

Natasha Romanoff / Black Widow
Sebastian Stan

,

as

Bucky Barnes / Winter Soldier
Anthony Mackie

,

as

Sam Wilson / Falcon
Don Cheadle

,

as

Lieutenant James Rhodes / War Machine
Jeremy Renner

,

as

Clint Barton / Hawkeye
Chadwick Boseman

,

as

T'Challa / Black Panther
Paul Bettany

,

as

Vision
Elizabeth Olsen

,

as

Wanda Maximoff / Scarlet Witch
Paul Rudd

,

as

Scott Lang / Ant-Man
Emily VanCamp

,

as

Sharon Carter
Tom Holland

,

as

Peter Parker / Spider-Man
Daniel Brühl

,

as

Zemo
Frank Grillo

,

as

Brock Rumlow / Crossbones
William Hurt

,

as

Secretary of State Thaddeus Ross
Martin Freeman

,

as

Everett K. Ross
Marisa Tomei

,

as

May Parker
John Kani

,

as

King T'Chaka
John Slattery

,

as

Howard Stark
Hope Davis

,

as

Maria Stark
Alfre Woodard

,

as

Miriam
Stan Lee

as

FedEx Driver

Reviewed on:
May 7th, 2016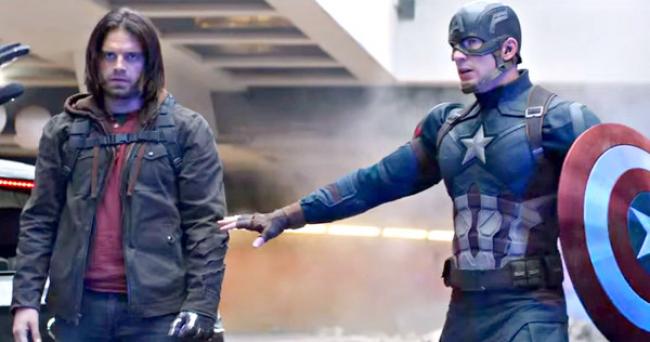 Sebastian Stan and Chris Evans in Captain America: Civil War.
Captain America: Civil War is yet another solid entry in the ever expanding Marvel movieverse. Despite the title this is really an Avengers movie. Not that it matters but Tony Stark gets as much screen time as Steve Rogers does, and the cast includes at least a dozen superheroes (take a look at the poster). At the center of the story is the conflict between Stark and Rogers that causes a rift in the Avengers, with half siding with Iron Man and half with Captain America.
The cause of the disagreement is whether or not the Avengers will sign away control of the group to the United Nations after an incident in Africa causes the deaths of some innocent civilians. Stark agrees to sign the Sokovia Accords while Cap is against it. In the context of the story -even for someone like me who hasn't read the comics- it's obvious which of these two is on the right side.
The relationship between Rogers and Bucky provides the movie with heart. It's touching to behold the lengths to which Captain America is willing to go to protect his childhood friend. He is loyalty personified. Chris Evans has found his signature role. For better or worse he will always be Steve Rogers/Captain America.
Among the newcomers, Chadwick Boseman makes a dashingly lethal Black Panther. He's not only a superhero, he's also a king! Not bad. He's the object of Black Widow's flirtations this time around. That little vixen flirts with a different person in every movie. Boseman has made a name for himself playing real life icons such as Jackie Robinson, James Brown and, soon, Thurgood Marshall but like Chris Evans he may have found his signature role wearing a pair of tights. He gets one of the movie's most dramatic moments and I'm already looking forward to his spin-off movie Black Panther in 2018.
Tom Holland (In the Heart of the Sea) steals his scenes as Peter Parker/Spider-Man. He's the perfect choice for Spidey and he's already my favorite actor to play the famous webslinger. When Rogers meets Parker he asks him where he's from. "Queens" comes the reply. "Brooklyn" He says back, referring to himself. It's a cute moment that got a big laugh at the Williamsburg Cinemas in Brooklyn. Another big laugh comes when Stan Lee -making his signature cameo- mispronounces Tony Stark's name.
Captain America: Civil War has the same problem every superhero movie has these days. It runs 20-30 minutes too long. There is room for trimming here. The pace is fast at least so the time goes fairly quickly. The action is plentiful with the best scene being the battle between the two factions at that airport. Both sides pull their punches hoping the other side will give in first. It's a great scene that balances action and humor while including some interesting character interaction.
Like I said, Captain America: Civil War is yet another solid entry in the ever expanding Marvel movieverse.
Reviewed on:
May 7th, 2016
Chris Evans and Robert Downey Jr. in Captain America: Civil War.
As Patrick said, this is yet another entry in the interconnected, ever expanding Marvel movieverse. The fact that Captain America gets sole credit in the title is irrelevant. The title could just as easily have been Captain America vs Iron Man: The Birth of something or other. In fact, these are starting to feel less like movies and more like a big budget television series shown on the big screen. Or even, like a throwback to the old movie serials from the first half of the 20th century. In that respect, despite the advances in special effects, superhero movies have come full circle since they got their start on the big screen in those serials. They even sneak in a "previously on The Avengers..." scene where we see brief recaps of some of their earlier adventures, which just adds to the feeling of a series.
And like a television series, these movies are starting to rely on the fact that the audience is already familiar with the other movies and the characters. Very little of the film's 2 and a half hour running time is wasted on reintroducing them. When Tony Stark gets upset because Pepper Potts isn't showing up, you're expected to know who she is. You're expected to know who Bucky is and what he meant to Steve Rogers. And you're supposed to remember that Sharon Carter once lived undercover across from Rogers. This saves screentime, but those who have watched these movies multiple times will have an advantage over those of us who have only seen each of them once, or may have missed an installment.
Much has been made of the inclusion of the Spider-man character. This is the first time he's appeared in the Marvel movieverse (prior to this Sony produced the unconnected Spider-man movies) and I agree with Patrick that Tom Holland is a comic scene-stealer. However, out of all of the many superheroes who appear in this film, he feels the most gratuitously tacked onto the plot. Tony Stark is given 36 hours to track down Captain America and the first thing he does is fly to Queens to recruit an untried teenager? And then apparently takes the time to have that teenager custom fitted into a costume before taking this underage teenager into a dangerous battle with other, grown-up superheroes. It works as an introduction to this new version of the character to audiences, but it never rang true to me in the story.
I wholeheartedly agree with Patrick that the film runs too long. These movies don't need to be epics. It's not as if we'll have to wait very long until the next episode. These movies are being churned out on an assembly line. If the plot point won't fit into this one, stick it in the next. It will be here before long. And it's this constant flow of movies that is lessening each film's impact. Once upon a time, superhero movies were rare and felt like event movies, but now they're the most common genre in theaters. It feels as though there's a new one every week. We don't need each of them to be this long.
The biggest difference between this film and Batman vs Superman, the year's other film to feature superhero on superhero action, is that we're already invested in these characters and so seeing them fight carries a certain weight. We've seen Captain America, Black Widow, and Iron Man all fighting side-by-side, and so it means something to us to see them at each other's throats. With Batman vs Superman, there is no such connection between the audience and those characters and so it feels like a cheat.
After cranking out so many superhero movies, Marvel and Disney have perfected the process. They know how to make an entertaining film and this one is no exception. Despite its length, the movie never really overstays its welcome because it's such a good time. The tone captures the right balance. There's just enough seriousness so that you care how it will turn out, but there's also enough humor to never let things get bogged down in melodrama. Maybe I'm no longer as excited as I once was by the prospect of yet another of their superhero movies, but I'm always entertained by them.


Reviewed on:
May 11th, 2016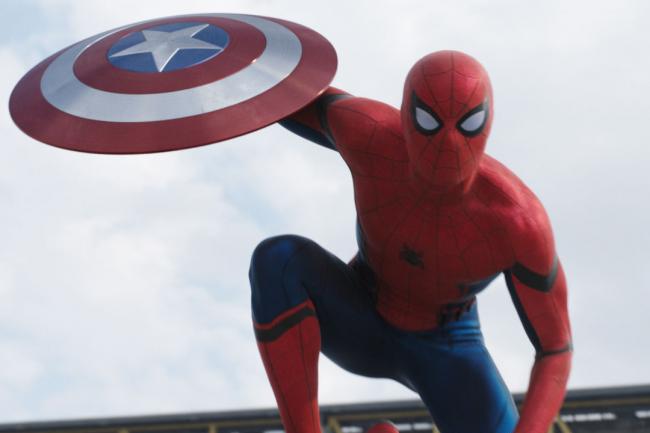 Spider-Man tries to take home a souvenir.
I am decades away from my comic book reading days but I still get a thrill out of them being made into films. These are solid characters who have been developed over the years, through drawings and film, into very fleshed out beings. It is their familiarity that causes our greatest interest in them. The Marvel superhero films have been successful because they feed into what made these characters so entertaining to begin with. The makers of the DC films seem to be struggling to find a right tone for their superhero films while Marvel has got theirs down to perfection. These movies are like comic books brought to life.

The rift between the two groups of Avengers relates to real political issues. During the Vietnam war, politicians decided that soldiers could not return fire, when fired upon, until given permission by someone in HQ. The concern was that the soldiers may accidentally kill innocent civilians. Democrats would not support the war in Iraq until they were given the go ahead from the United Nations, even though most of them voted for it anyways. Obama spoke of his military build up and action in the middle east as, "...a smart war". Stating that under him, civilian deaths would be minimal. People in a safe location, miles away cannot asses the situation of a soldier in a hot zone. Needing permission from a third party to use military action means your have lost your sovereignty. Telling the public you are going to have a smart war is just PR. Yeah, I like talking politics and that part of the film fascinated me.
So the Avengers must decide if they will continue to work autonomously or be over sighted by a corrupt organization that takes payoffs and bribes like children collecting candy on Halloween. Stark argues that the Avengers have no rules in place and like a good liberal, feels guilt over the death of innocent people that his group was present, but not responsible, for. Rogers demands that they stay independent as giving control to another organization would merely shift the blame or the Avengers could be used for reasons they do not agree with. You would have to be a blind ignorant fool, or a politician, to not see that Rogers is right.

As for the new characters, I like Chadwick Boseman as Black Panther. He is your stereotypical vengeful superhero with daddy issues. See my article for details: Superheroes and the Father Figure, but he also brings some much needed dignity to their ranks being, as Patrick wrote, royalty. I am not sure where Patrick thought Black Widow was flirting with him. She shows him a little compassion after his father dies but the only other time they really have an emotional conversation is when she tells him she said she would help him find Rogers, not stop him.

I do agree with Patrick that Tom Holland steals his scenes as Peter Parker/Spider-Man. He may also become my favorite actor to play the famous web slinger. Based on what we are shown here, Holland has the right pluck and spirit for the happy-go-lucky young hero.

I disagree with both of my brothers about the running time. No trim is needed. I never had even the slightest inclination to wonder what time it was or how much longer it was going to be. In fact, when the two sides start to fight at the airport, I thought the movie was racing by. Everyone gets a fair shot at showing off their powers here with Spidey and Ant-Man being the standouts in the humor department. I also liked when Black Widow fights Hawkeye but they agree first that this does not change their friendship.

Captain America: Civil War has action, tension, humor and most importantly, many characters that we have come to enjoy spending time with. The scene that best exemplifies those traits is when Iron Man is checking on a wounded Rhodes and blasts Falcon who is trying to show concern. That scene caused the audience to gasp and then laugh. Brilliant! This is one of the better superhero movies I have seen in a long time.

Photos © Copyright Marvel Studios (2016)
Related Reviews