Movie Review
Capote
In New York he was the ultimate insider, but out here he was on the outside looking in.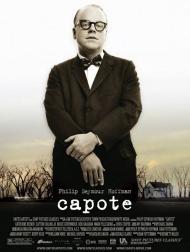 US Release Date: 09-30-2005
Directed by: Bennett Miller
Starring
▸
▾
Philip Seymour Hoffman

,

as

Truman Capote
Catherine Keener

,

as

Nelle Harper Lee
Clifton Collins Jr.

,

as

Perry Smith
Chris Cooper

,

as

Alvin Dewey
Bruce Greenwood

,

as

Jack Dunphy
Bob Balaban

,

as

William Shawn
Amy Ryan

,

as

Marie Dewey
Mark Pellegrino

,

as

Richard Hickock
Allie Mickelson

as

Laura Kinney

Reviewed on:
November 13th, 2005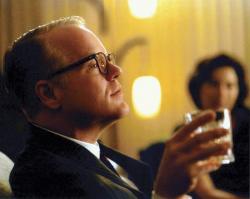 Philip Seymour Hoffman in Capote.
Every year it seems that at least one person wins an Oscar for so successfully immersing themselves into a role that their performance transcends the faults of the movie in which they're starring. Recent examples include Charlize Theron in Monster and Jamie Foxx in Ray. Both performances were stellar, but the same could not be said about the movies themselves. To that list you can now add Phillip Seymour Hoffman in this year's Capote.
Hoffman buries himself in the role of the famous New York writer and social gadfly of the 1950s and 60s. His voice, his mannerisms and even the way he carries himself are all slavishly devoted to recreating Truman Capote. It's a masterful performance.
It's too bad that the movie itself is overly long, dull and virtually colorless apart from the main character. The faults of the movie are amplified by the fact that apart from a few of the minor characters, everyone in the film is virtually unsympathetic, including and especially, Capote himself.
Rather than a full on biography, this movie details the writing of Capote's most successful and last book, the true-crime story "In Cold Blood". It begins with his discovery of a story in the New York Times about the murder of a Kansas family, follows him as he travels to Kansas with his assistant Harper Lee (Keener) -- who would go on to her own success with the publication of "To Kill a Mockingbird" -- where he learns the details of the crime, and then continues on through the trial and eventual execution of the murderers.
Not being a Capote scholar, I have no idea of the accuracy of this film. I can tell you that according to it, Truman Capote was a vain, selfish bastard who would use anyone to get what he wanted. He lies to nearly everyone to learn the details of the crime, most especially to the murderers themselves, whom he pays for a lawyer to get a stay of execution, not out of compassion, but so that they can stay alive long enough for him to learn the details of the case. After he learns all he can, he impatiently waits with his publisher for their execution so that his book will have a proper ending.
In between research trips to cinematically bland Kansas, the movie highlights a few moments of Capote in New York. At parties he continuously name drops all of the celebrities that he knows. "I was in Marilyn's apartment looking at her Matisse paintings," he tells one group of party goers, "and eventually I had to tell her that two of them were hanging upside down." The snippets of his high-life in New York, had they been told in full, would certainly have made for a more entertaining film than this one.
For sheer acting ability, Hoffman deserves a great deal of credit, and if he isn't at least nominated for an Oscar it will be an act of sheer robbery. It's only too bad that the movie itself couldn't live up to the example of which he sets.
Reviewed on:
October 4th, 2013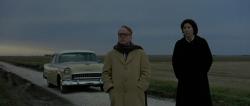 Philip Seymour Hoffman as Truman Capote and Catherine Keener as Harper Lee in Capote.
Based on Gerald Clarke's biography Capote, this movie, as my brother said, covers the years Truman Capote spent researching and writing his acclaimed novel In Cold Blood. Although this work stands as one of the greatest examples of the non-fiction novel, it's a bit disappointing that so much of the colorful writer's life was left out. His years mingling with the jet set are skimmed over and his legendary masked Black and White Ball, which was held in the Grand Ballroom of New York City's Plaza Hotel on November 28, 1966, doesn't even rate a mention.
We already have the novel as well as the classic 1967 film adaptation of Capote's novel. This movie attempts to show the process by which Capote wrote his most successful book but I agree with my brother that it moves at a snail's pace and I would have preferred seeing more of Capote's life other than simply his obsession to write this one book.
While I agree that the movie is a bit dull, it is well-written. The friendship between Capote and Harper Lee is central to the story. Capote's jealousy at his childhood friend's success with her first novel To Kill a Mockingbird is shown. Truman Capote is portrayed as a selfish social butterfly who will say anything to get the information he needs to finish his book. Although he seems to develop a real emotional bond with one of the killers, he impatiently awaits the execution in order to have the perfect ending.
He explains his relationship with Perry Smith to Harper Lee this way, "It's as if Perry and I grew up in the same house. And one day he stood up and went out the back door, while I went out the front." Harper Lee sees right through her friend of course. After the execution he says, "And there wasn't anything I could have done to save them." She replies, "Maybe not. But the fact is, you didn't want to."
Philip Seymour Hoffman buries himself in the role and he deserved all the many accolades he received including the Academy Award for Best Actor, the BAFTA Award for Best Actor in a Leading Role, the Golden Globe Award for Best Actor – Motion Picture Drama, and the Screen Actors Guild Award for Outstanding Performance by a Male Actor in a Leading Role, as well as literally dozens of other best actor awards.
The one thing that stood out to me was that Capote never tried to deny his homosexuality -not that he could have with that lisping voice and those effeminate mannerisms- (but hey that didn't stop Liberace). His fame and money allowed him to live openly with his male lover (writer Jack Dunphy) at a time when homosexuality was almost never spoken about above a whisper and gay bars were still randomly raided by the police.
Capote is worth watching for Hoffman's stellar performance. Truman Capote makes for a truly fascinating subject but be forewarned that the movie drags a bit and suffers from too narrow a focus.
Photos © Copyright Sony Pictures Classics (2005)