Movie Review
Cape Fear
The Original Masterpiece Of Revenge, Confrontation And Murder!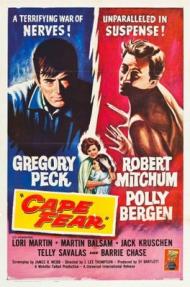 US Release Date: 04-18-1962
Directed by: J. Lee Thompson
Starring
▸
▾
Gregory Peck

,

as

Sam Bowden
Robert Mitchum

,

as

Max Cady
Polly Bergen

,

as

Peggy Bowden
Lori Martin

,

as

Nancy Bowden
Martin Balsam

,

as

Police Chief Mark Dutton
Jack Kruschen

,

as

Dave Grafton
Telly Savalas

as

Charles Sievers
Reviewed on:
October 4th, 2005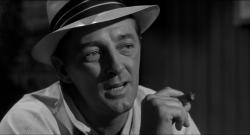 Robert Mitchum in the original Cape Fear.
Although somewhat dated today, the original Cape Fear is another of those early 60's movies that demonstrates the changing tastes in Hollywood; the subject matter being openly dealt with was then becoming more graphic and adult. Just two years earlier Hitchcock had set the tone for the decade with Psycho. It is impossible to picture Robert Mitchum's Max Cady without first seeing Anthony Perkins's Norman Bates. Both are clearly psychotic, but Cady takes it to the next level by also being a sadistic sexual predator.
The scene where he calls Gregory Peck's wife and then taunts Peck by telling him what he is going to do to his wife and teenage daughter is shocking in its explicitness for 1962.
Aside from being an interesting time capsule of its day, this story of a lawyer and his family being terrorized by a just-released con that the lawyer was responsible for sending up the river for eight years, is memorable really only for the performances of its two lead actors. Mitchum and Peck are perfectly cast, Mitchum being one of the truly scariest actors in history and Peck was born to play the mild mannered, noble hero.
The performances handed in by the supporting cast all earn passing grades. Polly Bergen and Lori Martin are both believably terrified as the mother and daughter. And TV's Kojack, Telly Savalas has a small part as a private dick, minus the sucker. He's almost as cool as Mitchum. Almost.
But the movie belongs to Robert Mitchum. He says so much with his body language or with a look. The way he sets his hat on his head and slouches around always playing it ultra cool. He conveys menace like nobody's business.
The climax on the houseboat is pretty classic, although it takes a bit too long to runs its course. All in all the Scorsese version provides more of an adrenaline rush, but Robert Mitchum's performance as Max Cady remains unsurpassed by De Niro's.
Photos © Copyright Universal International Pictures (1962)
Related Review