Movie Review
The Cannonball Run
You'll root for them all...but you'll never guess who wins.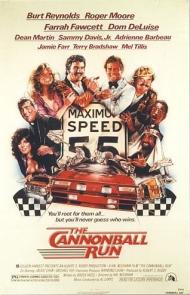 US Release Date: 06-19-1981
Directed by: Hal Needham
Starring
▸
▾
Burt Reynolds

,

as

J.J. McClure
Roger Moore

,

as

Seymour Goldfarb, Jr.
Farrah Fawcett

,

as

Pamela Glover
Dom DeLuise

,

as

Victor Prinzim / Captain Chaos
Dean Martin

,

as

Jamie Blake
Sammy Davis Jr.

,

as

Morris Fenderbaum
Jack Elam

,

as

Doctor Nikolas Van Helsing
Adrienne Barbeau

,

as

Marcie Thatcher
Terry Bradshaw

,

as

Terry
Jackie Chan

,

as

Jackie Chan, Subaru Driver
Bert Convy

,

as

Bradford Compton
Jamie Farr

,

as

The Sheik
Peter Fonda

,

as

Chief Biker
George Furth

,

as

Arthur J. Foyt
Bianca Jagger

,

as

Sheiks Sister
Molly Picon

,

as

Mrs. Goldfarb
Jimmy The Greek Snyder

,

as

The Greek
Mel Tillis

,

as

Mel
Rick Aviles

,

as

Mad Dog
Alfie Wise

,

as

Batman
Lois Hamilton

as

Seymours Girl

Reviewed on:
May 18th, 2009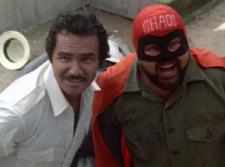 Burt Reynolds and Captain Chaos!
Cannonball Run is a wonderful silly comedy that is also a perfect time capsule of late '70's early '80's America. This is like an updated It's a Mad, Mad, Mad, Mad, World. Both movies feature all star casts in a madcap race. The main differences are in the levels of violence and sexual innuendo. America had changed quite a bit between 1963 when Mad World was released and 1981 when Cannonball came out.
The Cannonball Run is a cross-country race where contestants break speeding laws and create mayhem trying to be the first to finish and to break the record of 3,000 miles in 32 hours and 59 minutes. This comedy is painted with very broad strokes and it is refreshingly un PC. Jamie Farr plays an Arab Sheik who says lines like, "The Cannonball will fall to the forces of Islam" while thunder crashes in a clear sky. They even have the Chinese Jackie Chan (in his first big American movie) playing a Japanese race driver and martial arts expert. Dean Martin and Sammy Davis Jr. play (fake) priests and steal many scenes, like when they are at a bar and Dean, dressed as a priest, is hitting on a woman. He says, "If we were Methodists we'd have a good shot at getting laid."
Burt Reynolds is of course the star of the movie as J.J. McClure. He is very similar to the character he played in Smokey and the Bandit. In fact when he and his sidekick Victor (Dom DeLuise) are discussing what kind of vehicle to use in the race he, at one point, says, "What about a black trans-am? No, that's been done." An homage to that previous box-office hit.
Roger Moore is also in the cast playing himself and spoofing his Bond image. Farrah Fawcett makes like Marilyn Monroe. She keeps repeating a line about why she loves trees. Jack Elam plays one of the most outrageous doctors you will ever see on screen. How can you not crack up when he points that long finger and offers an examination with those crazy eyes of his? But Dom DeLuise certainly wears the laugh crown. He has an alter ego whom he refers cryptically to as "Him!" When "Him" shows up he turns out to be DeLuise in a cheesy superhero outfit, calling himself Captain Chaos.
This movie is filled with stereotypes and juvenile humor. Maybe that's why it's funny as hell. It was made in a time that, looking back, seems more carefree than the oh so serious world we live in today.
Reviewed on:
January 10th, 2010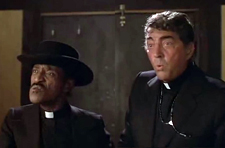 Sammy Davis Jr and Dean Martin in Cannonball Run.

It'd be so easy to make fun of this movie. It hasn't aged all that well. The jokes are very juvenile. Some of the all-star cast who were famous then are almost forgotten now (I mean you have to be of a certain age to know who Bert Convy was). And yet, I find I can't say too much against it. It's not trying to be anything other than a very silly, lighthearted movie and the cast seemed to be having a hell of a lot of fun making it and some of that rubs off on you as you watch it. Sure, it didn't live up to my childhood memory of it, but somehow I still enjoyed it.
Roger Moore's character is certainly one of the more surreal parts. He's not playing himself, but rather Seymour Goldfarb; a Roger Moore impersonator. Since except for that opening scene he plays it as if he really were Roger Moore, I wonder why he didn't just play himself throughout. Reportedly the producers of the Bond films didn't take kindly to his spoofing 007 and made it part of his next contract that he would never do so again.
I have to agree with you Patrick. Jack Elam's Doctor Van Helsing made me laugh every time he appeared on screen. And unlike J.J., I want to know where Victor found him.
Martin and Davis will always be my favorite characters. They were when I saw this movie almost (jeezus) 30 years ago and they were this time too. They have a lifetime's worth of chemistry together and it shows (Davis: "Why'd he call me shorty?" Martin: "Cause you're small. S-M-ALL."). Martin worked that drunk schtick his whole career and it still made me laugh here. I wish they'd been in it more. They could have done more movies together and had a whole Walter Matthau, Jack Lemmon thing late in their careers.
The reason this movie is so hard to criticize is that since it's not taking itself seriously at all, it's very hard for anyone watching it to do the same. You just have to sit back and go with the silliness of it all.

Reviewed on:
January 19th, 2010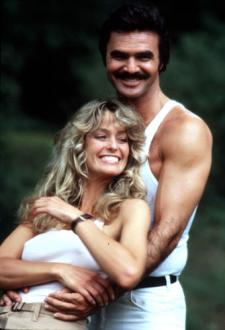 Farrah Fawcett and Burt Reynolds.
Patrick, just how high were you when you watched this? The Cannonball Run is one of those movies where the actors seemed to have more fun making it than I did watching it. This is best demonstrated by the clips shown during the end credits.
There are a few laughs to be found, but none are provided by Reynolds or DeLuise. Jack Elam's Doctor Van Helsing is my favorite character as well. From the dramatic music they play whenever he appears on screen to his lines about giving an exam, he is hilarious.
This is my favorite role of Moore's. His James Bond spoof is perfect. His car is full of gadgets and every time they show him, there is a different girl sitting next to him. My favorite line of his is, "...when I was in Egypt filming the Fly Who Bugged Me."
Farrah Fawcett is a vacuum. She does not make like Marilyn Monroe. She makes Marilyn Monroe look like an Oscar worthy actress. Granted she is saddled with stupid lines about trees, but the only thing she contributes are her nipples threatening to poke holes in her shirt. No wonder she never made it as a movie star.
Photos © Copyright Twentieth Century-Fox Film Corporation (1981)