Movie Review
Camille
You Who Are So Young--where Can You Have Learned All You Know About Women Like Me?
US Release Date: 12-12-1936
Directed by: George Cukor
Starring
▸
▾
Greta Garbo

,

as

Marguerite Gautier
Robert Taylor

,

as

Armand Duval
Lionel Barrymore

,

as

Monsieur Duval
Elizabeth Allan

,

as

Nichette
Jessie Ralph

,

as

Nanine
Henry Daniell

,

as

Baron de Varville
Lenore Ulric

,

as

Olympe
Laura Hope Crews

as

Prudence Duvernoy
Reviewed on:
April 5th, 2003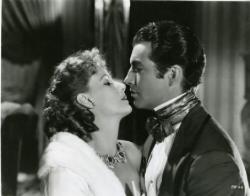 Greta Garbo and Robert Taylor in Camille.
I read a story once about Michael Jackson going to visit Katharine Hepburn sometime in the early nineteen-nineties. They had dinner and afterwards Michael asked to speak with her in private, so the two of them excused themselves from the other guests and went into an adjoining room. A few seconds later Michael came out and made a hasty exit. After he was gone Kate came out of the room and said in an annoyed voice, "All he wanted was Greta Garbo's phone number."
Perhaps no other star in cinema history was a greater enigma than the reclusive Garbo. She walked away from Hollywood at the age of thirty-six and never looked back, not wanting to age in the public eye. What she left behind though, is an amazing film legacy and Camille is her most famous movie.
Originally a novel by Alexandre Dumas fils, Camille has been filmed dozens of times, (most recently the musical Moulin Rouge!) and inspired Verdi's opera La Traviata, which predates Puccini's very similar La Bohème by several decades.
It tells the story of a beautiful French courtesan named Marguerite Gautier and her love affair with the handsome young Armand Duval in 1840's Paris. They first meet at the opera when she mistakes him for a wealthy Baron. They fall quickly in love but Marguerite is, after all, a prostitute and the real Baron pays for her services.
Nothing, however, will quell the noble Armand's devotion to his Camille. That is until Armand's father (Lionel Barrymore) pleads with Marguerite to leave his son alone and not dirty his reputation by her soiled touch. She reluctantly agrees and goes back to the arms of the jealous Baron. But this beautiful creature of the night is not well. She is, in fact, dying of consumption.
Camille is (with the possible exception of Wuthering Heights) the most romantic movie ever made. Garbo looks positively radiant and she projects such an appealing quality of physical fragility coupled with an impossibly optimistic spirit. On her deathbed, unable even to stand up, she clings to a glimmer of hope in the arms of her beloved. Robert Taylor is dashing in the role of Armand and George Cukor beautifully and elegantly directs. The costumes are wonderful and the sets lavish. Laura Hope Crews, most famous for playing Aunt Pittypat in Gone with the Wind, gives a scene stealing performance as Marguerite's backstabbing friend Prudence.
Garbo makes Camille timeless.
Photos © Copyright MGM (1936)