Movie Review
Camilla
They went looking for adventure... and found themselves.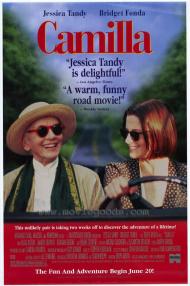 US Release Date: 11-25-1994
Directed by: Deepa Mehta
Starring
▸
▾
Jessica Tandy

,

as

Camilla Cara
Bridget Fonda

,

as

Freda Lopez
Elias Koteas

,

as

Vincent Lopez
Maury Chaykin

,

as

Harold Cara
Graham Greene

,

as

Hunt Weller
Hume Cronyn

,

as

Ewald
Ranjit Chowdhry

,

as

Officer Kapur
George Harris

as

Jerry

Reviewed on:
November 18th, 2014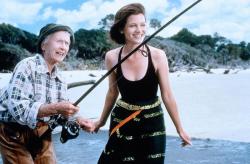 Jessica Tandy and Bridget Fonda in Camilla.
Camilla was the great Jessica Tandy's final starring role. She would appear in one other film, Nobody's Fool opposite Paul Newman, before her death on September 11, 1994 but that was in a supporting role. Here she carries the movie on her elegant elderly shoulders and propels this wistful little road trip comedy along its merry way. Bridget Fonda is along for the ride but she is outshone and out-acted by her octogenarian costar every step of the way.
Camilla tells the story of a young married Toronto couple on vacation in Florida. The wife, Freda, is an aspiring musician and she befriends their elderly landlady who tells many stories about her glory days playing the violin onstage and the many famous people she knew. Tandy plays Camilla with such free-spirited abandon. Of course her stories are exaggerated (I mean who would believe that Mahatma Ghandi had a fondness for enemas?) but they're such fun that Freda quickly finds herself enchanted and inspired by the older woman.
So much so in fact that Freda and Camilla decide to take a road trip to Toronto together to hear a Brahms violin concerto at the Winter Garden. What follows is a road trip buddy movie wherein these two women meet several interesting strangers along the way, while one's husband and the other's son search together for their whereabouts. In one scene the fearless 85-year-old star does a nude scene when Camilla and Freda skinny-dip in the Atlantic Ocean off the coast of Georgia.
Director Deepa Mehta knows how to tell a story, she keeps the proceedings light and skipping along. Sure it's a bit predictable but the journey is a delight thanks mostly to Jessica Tandy. This is also notable as the final time she appeared on screen with her real life husband Hume Cronyn who plays Camilla's long lost Russian love. Although Jessica Tandy created the role of Blanche Dubois in the original Broadway production of A Streetcar Named Desire, and was in Alfred Hitchcock's classic horror film The Birds, she didn't become a household name until she was well into her 70s. For the last ten years of her life she was the most famous little old lady in movies and in Camilla she gives what is perhaps her most purely enjoyable performance.

Reviewed on:
November 19th, 2014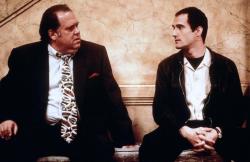 Maury Chaykin and Elias Koates in Camilla
Deepa Mehta may know how to tell a story but she was not able to sell me on Freda Lopez. As played by a 30 year old Bridget Fonda, she comes across like a teenager or a mentally challenged adult. Upon her first meeting with Camilla, she describes her music in such immature terms as, "Do some of my stuff." and, "Performing can be a real drag." Is it no wonder her husband does not take her musical aspirations seriously?
Her relationship with her husband, Vincent, feels forced. When they arrive at their cabin, they joke. When they walk on the beach and Freda talks of starting a band, Vincent turns the topic to sex. When starting the back yard barbecue, he puts on a funny voice, asking her if she wants a steak and she tells him she is a vegetarian. Either she is lying or he has never eaten with his own wife before. Did they just meet and marry two days prior? The idea being, of course, that Vincent never truly listens to her.
Freda comes across as a bit childish. When Vincent excitedly tells her that he has a temporary job designing a movie poster in another city, she pouts and refuses to go with him, stating, "I am going to work on my music." She waxes on about how he used to paint her naked playing her guitar while she would write songs about him painting her naked while playing the guitar, as if that is how they can live their entire life together.
Right after her husband leaves, she gives a miserable performance in a bar and suddenly decides to take a much longer road trip than her husband had wanted her to take with him. She runs off with a woman she just met the day before and never even tells her husband where they have gone. As Patrick alluded to, the stories Camilla tells have us questioning her state of mind, while I found Freda's irrational behavior just shy of bat shit crazy.
Camilla and Freda also become friends as they both share affection for music and neither is currently happy. The symbolism of the cows not leaving their pasture because they are afraid of getting hurt on the Texas gate is obvious. When Freda tells Camilla that she and her husband do not have a loveless marriage, Camilla responds, "You just keep telling yourself that. It seems to help." As Camilla makes up so many stories, it is hard to ever take her seriously. Soon, Freda begins telling lies as well, leaving me to think that the only way this story could possibly end is in tragedy.
The best parts of the film are provided by Tandy. After Vincent inquires about her name, Camilla explains that she is named after, "One of the great whores of all time." When Freda begins to tell her about how she and Vincent once got bumped off a plane in Hawaii, Camilla snaps, "Enough of your outlandish stories." Then Camilla begins telling Freda one of her outlandish tales.
As the sanity of the two leads is highly questionable, I was never that invested in them. At most, I sat through the film mildly curious as to how it would end. Will their actually be a concert in Toronto? Is Camilla going to die there? She is old. Will Freda continue to pursue her dreams of making music and will she reunite with her husband?
The movie ends more romantically than realistically. My favorite little bit of wisdom is when Camilla tells Freda not to spend too much time in her apartment practicing as; "You make music with your heart and mind." What a very polite way of telling her to just enjoy her music and not make it a chore. Could we not apply that advice to life in general?
Photos © Copyright Miramax Films (1994)