Movie Review
Café Society
Anyone who is anyone will be seen at Café Society.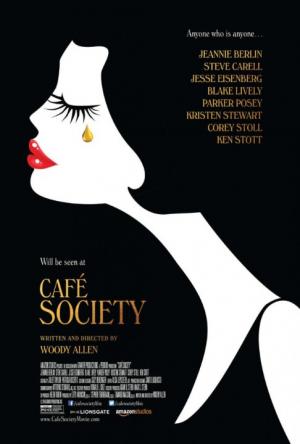 US Release Date: 07-15-2016
Directed by: Woody Allen
Starring
▸
▾
Jesse Eisenberg

,

as

Bobby
Kristen Stewart

,

as

Vonnie
Steve Carell

,

as

Phil Stern
Blake Lively

,

as

Veronica
Jeannie Berlin

,

as

Rose Dorfman
Ken Stott

,

as

Marty Dorfman
Corey Stoll

,

as

Ben Dorfman
Parker Posey

,

as

Rad Taylor
Paul Schneider

,

as

Steve
Sheryl Lee

,

as

Karen Stern
Edward James Hyland

,

as

Bill
Anna Camp

,

as

Candy
Tony Sirico

,

as

Vito
Woody Allen

as

Narrator (voice)

Reviewed on:
July 18th, 2016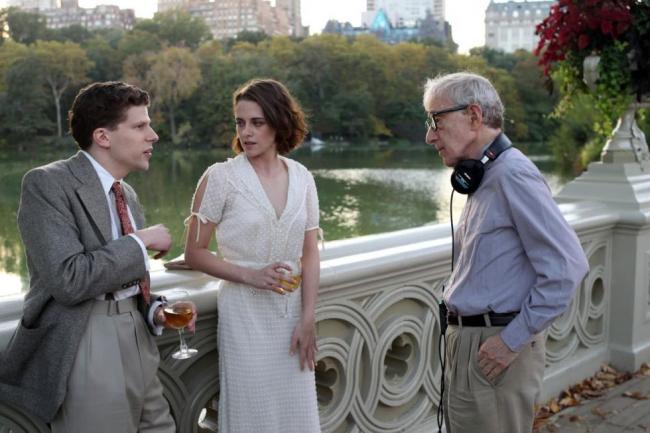 Woody Allen directs Jesse Eisenberg and Kristen Stewart in Central Park for a scene in Café Society.
Every year around this time movie audiences get a break from all the superhero and/or animated blockbusters clogging up theaters, in the form of Woody Allen's annual summer film. This year brings us a period romance called Café Society. It's set in the 1930s in the glamorous world of Golden Age Hollywood and amidst the elegant whorl of a swank Manhattan nightclub. As usual Woody captures a romantic longing for the past, and movie stars of the period get named dropped all over the place.
Allen narrates the movie but doesn't appear onscreen. The first time he's done so since Radio Days in 1987. Café Society shares some similarities with that earlier Allen movie but it's much more of a romance and less overtly nostalgic than Radio Days. Jesse Eisenberg stars as the Woody avatar this time around. He's Bobby Dorfman from the Bronx. His uncle is a big time movie producer played by Steve Carell. So one day Bobby decides to try his luck on the West Coast. His uncle avoids him for a while but eventually gets him a job. Bobby falls for his uncle's secretary (Kristen Stewart). She tells Bobby she already has a boyfriend, but what she doesn't say is that she's seeing his married uncle.
This was Allen's first time filming in L.A. since Annie Hall nearly 40 years ago. One shot in particular caught my eye. It takes place in front of Grauman's Chinese Theatre (now the TCL Chinese Theatre) and Allen somehow makes it look just as it does in old photos of the period. At one point Allen's camera moves in for a closer look at Gloria Swanson's hand and foot prints. You can't get more old Hollywood glamor than that.
The story covers several years and for the second act we follow Bobby back to the East Coast where he helps his gangster brother (Corey Stoll) run a popular nightclub. There are a few of Allen's trademark quips in the script but Café Society is more of a romance than a comedy. Unfortunately this is also the film's main problem. Jesse Eisenberg lacks even a shred of credibility as a romantic leading man. It's understandable why Vonnie falls for his rich, powerful uncle, but what she sees in Bobby Dorfman is unfathomable. Like many Woody Allen movies you just have to accept that a very attractive woman would fall hopelessly in love with a nebbish.
I certainly enjoyed Café Society - other than the lack of chemistry between the leads, which admittedly is a pretty big problem for a story going for such an epic romance feel. The script may lack any real surprises but the cinematography is excellent and the supporting cast terrific. I would rank it somewhere in the middle of Allen's ever growing body of work. It's nowhere near a classic but he's made many that are far worse.
Reviewed on:
July 23rd, 2016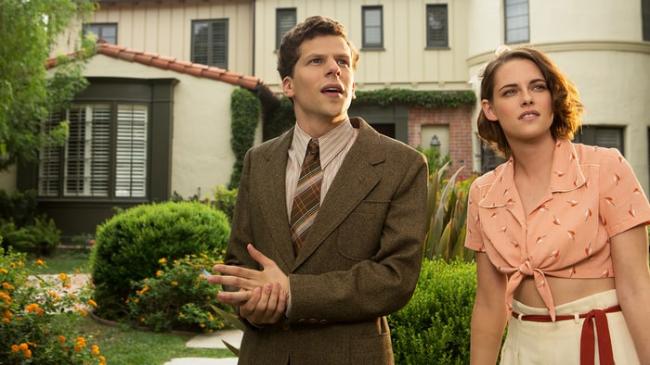 Jesse Eisenber and Kristen Stewart in Cafe Society.
Woody has definitely made better movies than this one. And true, he has also made much worse ones. On that scale, this movie does fall somewhere in the middle, but closer to the bottom than the top. It has two major problems as a romantic comedy. It's not very romantic and it's not very funny.
When Allen was playing the leads himself, he was no more physically attractive than Eisenberg is here, but at least he had a kind of comic charisma that he somehow made work. Eisenberg has no such charisma. How he gets not one, but two, beautiful women to fall in love with him is, as Patrick said, unfathomable. And Stewart, while physically attractive, is unable to generate any sort of chemistry either. I disagree slightly with Patrick about her relationship with the rich and powerful Phil (Carell). It's easy to see why she might choose him over his poor nephew, since he can give her a life filled with riches, but her professions of love for him never ring any truer than her professions of love for Eisenberg. And poor Blake Lively, after finally impressing me with her performance in The Shallows, is limited to playing a very bland two-dimensional, but beautiful character here.
Allen does narrate the film, but his voice sounds so different, either through age or deliberate distortion, that I wasn't even sure it was him as I was listening to it. The narration is also pointless. It either tells us stuff that the actors should be conveying, or it's passing on useless information about minor characters in an attempt to add some color to the story. It tells us the kind of things that might be needed in a short story where we're unable to see the characters without some kind of description, but on the screen, the audience should be able to get the feel for them without the extra prompting.
The comedy is also fairly weak. Some of biggest laughs are provided by Eisenberg's family. His bickering parents and his sister married to the communist are funnier in their brief scenes than anything Eisenberg or Stewart do in the rest of the film. Patrick mentioned the far superior Radio Days, and the scenes of his family are reminiscent of that film.
Allen's output has always been surprisingly uneven for someone who writes and directs their own films. In interviews he has said that he never goes back and rewatches his old movies. Maybe if he did, he might learn something about what works and what doesn't. But at this point, I get the feeling Allen doesn't even really care what other people think about his films. He's just making them because he always has and probably will continue to do right up until his death.

Photos © Copyright Lionsgate (2016)