Movie Review
Cabin in the Sky
At Last on the Screen! The Musical Comedy Sensation!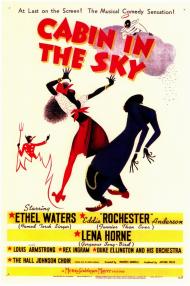 US Release Date: 03-27-1943
Directed by: Vincente Minnelli
Starring
▸
▾
Ethel Waters

,

as

Petunia Jackson
Eddie (Rochester) Anderson

,

as

Little Joe Jackson
Lena Horne

,

as

Georgia Brown
Louis Armstrong

,

as

The Trumpeter
Rex Ingram

,

as

Lucius / Lucifer Jr.
Kenneth Spencer

,

as

The General / Rev. Green
Duke Ellington

,

as

Himself
John William Sublett

,

as

Domino Johnson
Oscar Polk

,

as

The Deacon / Fleetfoot
Mantan Moreland

,

as

First Idea Man
Willie Best

,

as

Second Idea Man
Fletcher Rivers

,

as

Third Idea Man
Leon James Poke

,

as

Fourth Idea Man
Bill Bailey

,

as

Bill
Ford Washington Lee

,

as

Messenger Boy
Butterfly McQueen

,

as

Lily
Juanita Moore

as

Nightclub Patron
Reviewed on:
April 27th, 2013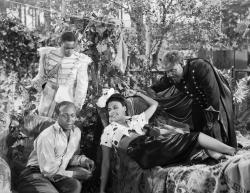 Kenneth Spencer, Eddie Anderson, Lena Horne and Rex Ingram in Cabin in the Sky.
Cabin in the Sky was Vincente Minnelli's debut directorial effort. It was MGM's big budget adaptation of the all-black Broadway musical that opened on October 25, 1940 and ran for 156 performances. A rarity for its day, Cabin in the Sky has been criticized for what many see as its stereotypical characterizations of African-Americans but it has also earned praise as a showcase for black talent; something that was exceptionally hard to come by in 1943.
Cabin in the Sky turned out to be a surprise hit with audiences (something the stage version could not claim). It earned an Oscar nomination for Best Song for "Happiness is a Thing Called Joe" by Harold Arlen and Yip Harburg. Seen today it remains a whimsical and highly entertaining musical film.
Ethel Waters recreated the role she originated on the stage as the devout and incredibly faithful wife of Little Joe (Eddie Anderson in Dooley Wilson's role). This twist on Faust deals with the battle for Little Joe's soul, with his wife and the Lord's angels on one side, and the sultry Georgia Brown (Horne) and agents of Satan on the other. Toss in a great score, some inspired direction by Minnelli and a cast of incredibly talented performers and the result is this engaging -although undeniably dated- movie.
My favorite song is "Taking a Chance on Love" sung by Waters and danced by Bill Bailey (Pearl's brother). If you watch closely you can see him do an early version of the Moonwalk dance-move made famous by Michael Jackson 40 years later. Lena Horne filmed a scene in a bubble bath where she sang "Ain't It the Truth". The powers that be decided this was too shocking for wholesome white audiences in 1943 so it was cut from the finished print. This clip was included in a 1946 short called Studio Visit and then again in That's Entertainment! III in 1994.
This musical fable features some witty dialogue to go with all the great songs. In one scene Little Joe and Georgia Brown enter a nightclub. Georgia sits on the bar and begins to pull up her dress to reveal her gorgeous legs to the crowd. Little Joe says, "Georgia, remember you're a lady now." She quips back, "I know it, sugar. I'm just trying to impress them with that fact."
In all her years at MGM this was the biggest role Lena Horne was ever given in a movie (she made Stormy Weather for Fox). She was usually given just one or two numbers in musicals, scenes that could easily be cut for the picture's release in southern states.
The climax is excitingly filmed. Petunia prays for God's wrath to be brought down upon the nightclub where she has gone to try to retrieve Joe from Georgia Brown's clutches, by making him jealous. In answer to her prayers a tornado shows up out of nowhere. If this twister looks familiar it's because MGM recycled footage of the tornado scene in The Wizard of Oz. This movie also includes the famous stairway to heaven set.
In addition to those already mentioned, the cast is a veritable who's who of black performers and actors of the day. Rex Ingram gleefully recreated his stage role as Lucifer Jr. Louis Armstrong is underused as one of Satan's minions. Like Horne he had a musical number (a reprise of "Ain't It the Truth") cut from the finished film. Butterfly McQueen and Oscar Polk (both of Gone with the Wind fame) have non-singing supporting roles and Duke Ellington shows up as himself. Comic actor Willie Best (The Ghost Breakers) has a bit part and Juanita Moore who would later star in the 1959 version of Imitation of Life is an extra in a scene at the nightclub.
Historically Cabin in the Sky is an important movie. Like Hallelujah! 14 years earlier it is an extremely rare example of a big budget Hollywood movie from the studio era to feature an all black cast. Unfortunately due to the old fashioned nature of the story and simplistic characters therein, it doesn't get the recognition it deserves.
Photos © Copyright MGM (1943)
Related Review