Movie Review
Cabaret
Divine Decadence!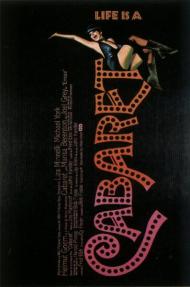 US Release Date: 02-13-1972
Directed by: Bob Fosse
Starring
▸
▾
Liza Minnelli

,

as

Sally Bowles
Michael York

,

as

Brian Roberts
Joel Grey

,

as

Master of Ceremonies
Helmut Griem

,

as

Maximilian von Heune
Fritz Wepper

,

as

Fritz Wendel
Marisa Berenson

,

as

Natalia Landauer
Elisabeth Neumann-Viertel

as

Fraulein Schneider

Reviewed on:
February 13th, 2001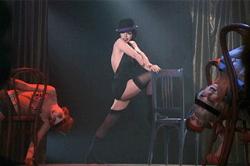 Liza Minnelli in Cabaret.
Picture it, Berlin, 1931 the brink of the Nazi takeover. Quite possibly the most decadent time and place in human history since the fall of ancient Rome. More specifically the Kit Kat Klub home to an assortment of prostitutes, drug addicts, drag queens and of course fifth rate American singer Sally Bowles, ravishingly performed by a radiant Liza Minnelli and Joel Grey as the delightfully sinister Master of Ceremonies.
Enter the innocent and somewhat hapless Brian. A struggling British writer played to perfection by Michael York. Brian moves into Sally's boardinghouse and they eventually become lovers; Sally teaches Brian about the seamier side of life as Brian teaches Sally about the intellectual side.
Midway through the film we are introduced to Maximillian a hedonistic and very wealthy playboy portrayed by Helmut Griem. He takes Sally and Brian on a whirlwind shopping spree/night club hopping weekend followed by a stay at his palatial country estate where, in the films pivotal scene, we learn that they have both been sleeping with Maximillian. Of course the irresponsible millionaire dumps them the minute he grows tired of their company (although he is kind enough to leave them some cash).
The final third of the story deals with Sally's pregnancy and the culmination of her and Brian's relationship. Cabaret is brilliantly directed by Bob Fosse and is perhaps the best film ever at integrating apt musical numbers with taut narrative. It is at times brutal and yet poignant and is the closest Liza ever gets to the magical charisma of her mother, Judy Garland.
Released in 1972 it was nominated for 10 Academy Awards (Minnelli, Grey and Fosse winning for Actress, Supporting actor and director respectively) losing best picture however to The Godfather. This movie stands today as one of the best musicals ever made and certainly the greatest seventies musical.

Reviewed on:
February 13th, 2002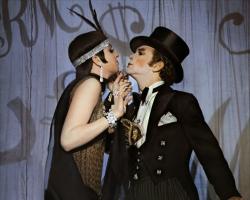 Liza Minnelli and Joel Grey in Cabaret.
A film about a bunch of people who all have the same problem. None can bring themselves to admit who and what they really are.
Sally Bowles, who blindly walks through life convinced she has talent and if she justs screws enough men one of them will be able to make her famous. Sure she sings her heart out on several numbers, but she's nothing more than a whore who sings.
Brian is a closet case who attempts to be heterosexual with the constant help from the ever willing Sally. As does Max, only he would call it slumming.
Fritz the Jewish playboy suffers the same way. He is ashamed of his jewishness, and is afraid to admit it. But hey its 1930's Germany. Its probably a good move.
And what the hell is going on with Joel Grey's character? He sings, smiles and occasionally looks menacing. He is a narrator of sorts. His songs reflect the political and social views going on at the time as well as comment on the characters.
By the end of the picture most of the main characters have come to face their falsehoods but you wonder if any of them are better off for it.
Reviewed on:
February 13th, 2003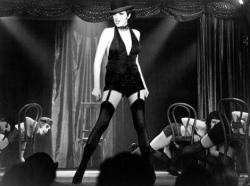 Liza Minneli in Cabaret.
Cabaret is a movie that works on many levels. I remember watching as a child and being entertained by the songs, especially the comedic numbers performed by Joel Grey, without ever being aware of the deeper politics being played out in the background.
Being a musical, you might not expect such depth from a movie, but Cabaret is that rarity in Hollywood; the Musical Drama. Only a few other movies have attempted this. Evita, Westside Story, to name a couple.
I agree with Patrick that Liza shines in this film, but would argue that in this film, she far surpasses any role her mother ever played.
Photos © Copyright Allied Artists Pictures Corporation (1972)