Movie Review
The Butler
One quiet voice can ignite a revolution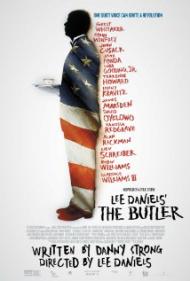 US Release Date: 08-16-2013
Directed by: Lee Daniels
Starring
▸
▾
Forest Whitaker

,

as

Cecil Gaines
Oprah Winfrey

,

as

Gloria Gaines
David Oyelowo

,

as

Louis Gaines
Cuba Gooding Jr.

,

as

Carter Wilson
Elijah Kelley

,

as

Charlie Gaines
Terrence Howard

,

as

Howard
Adriane Lenox

,

as

Gina
Yaya DaCosta

,

as

Carol Hammie
Alex Pettyfer

,

as

Thomas Westfall
Vanessa Redgrave

,

as

Annabeth Westfall
David Banner

,

as

Earl Gaines
Mariah Carey

,

as

Hattie Pearl
Nelsan Ellis

,

as

Martin Luther King, Jr.
Jesse Williams

,

as

civil rights activist James Lawson
Robin Williams

,

as

President Dwight D. Eisenhower
Melissa Leo

,

as

First Lady Mamie Eisenhower
James Marsden

,

as

President John F. Kennedy
Minka Kelly

,

as

First Lady Jackie Kennedy
Lenny Kravitz

,

as

James Holloway
Clarence Williams III

,

as

Maynard
Liev Schreiber

,

as

President Lyndon B. Johnson
John Cusack

,

as

President Richard Nixon
Alan Rickman

,

as

President Ronald Reagan
Jane Fonda

,

as

First Lady Nancy Reagan
Stephen Rider

as

Stephen W. Rochon, President Obama's White House Chief Usher

Reviewed on:
August 17th, 2013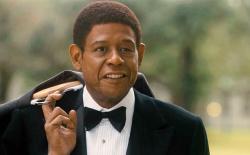 Forest Whitaker as The Butler.
Lee Daniels' The Butler is an old fashioned Hollywood epic. It is (loosely) based on the life of Eugene Allen, a man who in real life worked as a butler at the White House, serving every president from Truman to Reagan. Despite having spent decades literally standing in the shadow of the most powerful elected official on the planet no journalist had ever thought to interview him until Wil Haygood of the Washington Post did so a few days after Barack Obama's historic election in November 2008. With a script by Danny Strong, Daniels utilizes Allen's inspiring story (in the movie his name is Cecil Gaines) to create an epic cinematic love-poem to the brave men and women who stood up to injustice and changed American society over the course of a generation.
The movie opens in 2009. Cecil Gaines, now a very old man, is waiting to be ushered in to meet the newly inaugerated President Obama. Before you can say Yankee Doodle Dandy the story moves back in time to 1926 where Cecil Gaines is a young boy living with his sharecropper family on a large plantation in the South. We then follow Cecil as he begins working as a domestic servant and eventually lands a job on Pennsylvania Avenue. He marries and has two sons. The oldest son, Louis, grows up and joins the civil rights movement. He constantly butts heads with his apolitical father. Louis is ashamed of his father's subservient occupation just as Cecil disapproves of his son's protests against his country. Meanwhile Cecil's neglected wife drinks and has an affair.
Beginning in the 1950s during the Eisenhower administration the Gaines family moves through the changing decades with a front row seat to history. Forrest Gump like they witness many historically important moments. Cecil is present during many important meetings in the Oval Office as well as spending intimate moments with each president behind the scenes. While his father waits on a procession of different leaders of the free world, Louis participates in many now iconic civil rights protests including the sit-ins at Woolworths' lunch counters and Freedom Rides through the South. He also witnesses the assassination of Martin Luther King Jr. and later joins the Black Panther Party.
Also like Forrest Gump, The Butler successfully entertains as it tells the intimate personal story of one man and his family, while at the same time so evocatively recreating the passing decades during a pivotal time in America's history. It has gut wrenching emotional moments that are difficult to watch as well as lighthearted ones that will make you smile through your tears. Not since the classic 1970's television miniseries Roots have the lives of an African-American family, over the course of many decades, been so honestly and entertainingly dramatized.
The cast is stellar. Forest Whitaker is a lock for an Oscar nomination. Ditto Oprah Winfrey, who plays Cecil's wife Gloria, and David Oyelowo, who plays son Louis. Both of whom deserve nominations in the supporting category. Many famous faces show up in small roles. These range from Mariah Carey playing a sharecropper in a nonspeaking role to Jane Fonda as a scene stealing Nancy Reagan. Of the presidents John Cusack is the standout (as Richard Nixon) while Robin Williams is the least believable (as Dwight Eisenhower).
One major criteria for me awarding a movie four stars is this simple question. Do I want to watch this movie again? By that standard Lee Daniels' The Butler is a four star classic as I can't wait to revisit the Gaines family as they participate in the struggle to gain equal rights for all Americans.
Reviewed on:
August 19th, 2013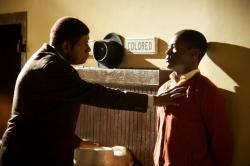 Forest Whitaker .and David Oyelowo in The Butler.
I was much less enamored with this movie than Patrick. It's old fashioned melodrama is not really to my taste. It has noble intentions, but the execution doesn't live up to the ideals.
I do agree that Forest Whitaker is terrific in the lead role. His performance is the strongest aspect of the film. He brings a quiet dignity to the character of Cecil Gaines that is, I agree, certain to garner an Oscar nomination. David Oyelowo is also quite good as Cecil's son Louis. Their relationship is the heart of the film and a supporting nomination for Oyelowo is certainly not out of the question. So long as the story focused on the two of them, on the same side of the same issue, but at odds over what must be done, the movie works.
It's the grander moments that didn't work quite so well for me. Patrick compared this movie to Forrest Gump and I've read other reviews that do the same. While it's true they cover the same era and the lead character here meets famous people as Forrest did, there's an important difference. In Forrest Gump they used archival footage and inserted Tom Hanks into the scenes via CGI. In this film they use famous actors to play the presidents and it makes a huge difference. Instead of being a historical curiosity, it becomes distracting. None of the actors, including and I would even go so far as to say, especially, John Cusack, do that great a job as the presidents that they're supposed to be playing. Every time a different president appeared, with a famous actor playing them, it was jarring and I was taken out of the film completely. It would have been much less noticable with unknown actors in the parts.
When I first heard of this movie the thing that struck me most was that it was written by actor turned writer, Danny Strong. Although recently he's become a successful writer, winning an Emmy for HBO's Game Change, he is most known for a small, but long running part on Buffy the Vampire Slayer as the nerdy Jonathan. He also had a season long arc on Mad Men in 2010. I'm not suggesting that the writer of this film had to be black, but when suggesting an author for a movie featuring a mostly black cast about a very significant time period in civil rights for African Americans, white, Jewish Danny Strong from Manhattan Beach, California doesn't seem to be the most obvious choice. Strong also has a very short cameo on the Freedom Bus.
So long as the film focuses on the Gaines' household, I was entertained by this movie. That's where the film's real drama lies. It needed to keep its focus there rather than the distracting scenes in the White House. I'm sure The Butler (or Lee Daniel's The Butler as it's technically known, thanks to a ridiculous copyright lawsuit by Warner Bros. who claimed rights to the title based on a silent short from 1916), will be nominated for some awards, but it's far from a perfect film.

Reviewed on:
August 22nd, 2013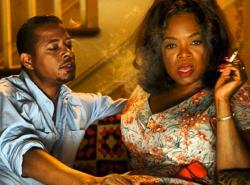 Terrence Howard and Oprah Winfrey in The Butler
As far as the actors playing the Presidents go, I agree with Scott. They are more of a distraction than an addition. We should have only seen the Presidents and first ladies from the back or from a distance, with an impersonator reading their lines. As it is, we tend to judge the first family on their looks. Kennedy is played by the boyishly handsome James Marsden while John Cusack plays Nixon almost as if he is physically handicapped or autistic. All we should know of the Presidents featured is where they stood on civil rights issues as that is so much of the point of this film.
The film starts with Dwight D. Eisenhower who was the first President to pass civil rights legislation since the Emancipation Proclamation. He passed legislation that desegregated the military and schools. The film briefly features President John F. Kennedy's Civil Rights Address, delivered on June 11, 1963. Ronald Reagan however, does not come off well. He and Nancy use Cecil Gaines and his wife for show at a State dinner. Reagan wrote in his diaries that he did not approve of Apartheid but he did in fact veto the Comprehensive Apartheid Act that Congress later over rode with a congressional vote. The one piece of civil rights credit given to Reagan is that he gave the black White House servants a raise.
As my brothers wrote, the performances are all very solid. Forest Whitaker is brilliant aging over the decades as the dignified Cecil Gaines. Whether holding his tongue in the Oval Office or while watching his wife drink, Cecil maintains his proud posture. Oprah Winfrey is also good whether quietly suffering as a neglected wife or having an outburst, such as when she yells at her son about his tank top wearing girlfriend, "Get that trifling, low class bitch out of my house!"
Although Lee Daniels direction is mostly solid, he chose to almost always feature Oprah in close ups. Whenever she is on screen we have her big face filling it. It is really noticeable in an early party scene. Whenever the camera is on her it is a close up, making it seem as if she was never actually on the set at the same time as everyone else.
As Scott wrote, the heart of the film is the relationship between Cecil and his son Louis. Cecil had a tormented youth. He wants to give his kids a better life. He does not want them to struggle as he did. Louis sees a wrong that he wants to right. It takes years for Cecil to finally understand that there is more than one way to approach an issue.
Although I never supported and continue to think Obama is one of the worst Presidents in history, The Butler did explain very well just how monumental it was electing a half African American President. I was excited for the characters on screen as they came through so much strife to see it happen. The Butler is an education.
Photos © Copyright The Weinstein Company (2013)