Movie Review
Bus Stop
The coming of age of Bo Decker...and the girl who made him a man!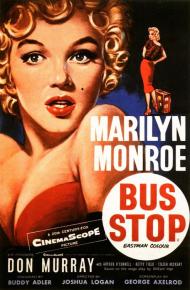 US Release Date: 08-31-1956
Directed by: Joshua Logan
Starring
▸
▾
Marilyn Monroe

,

as

Cherie
Don Murray

,

as

Beauregard 'Bo' Decker
Arthur O'Connell

,

as

Virgil Blessing
Betty Field

,

as

Grace
Eileen Heckart

,

as

Vera
Robert Bray

,

as

Carl
Hope Lange

,

as

Elma Duckworth
Hans Conried

as

Life Magazine Photographer


Reviewed on:
August 11th, 2004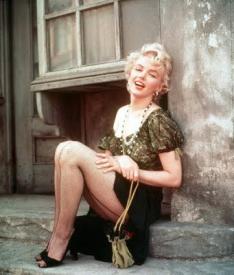 Marilyn Monroe gives one of the best performances of her career in Bus Stop.
Bus Stop was Monroe's attempt at some respect as an actress and not just as a sex symbol. Ironically, she plays Cherie, a saloon singer, who just wants the same thing, or as she puts it, "I just got to feel that whoever I marry has some real regard for me, aside from all that lovin' stuff."
Bo is an innocent young man, fresh off the farm. He is as virgin as they get. While in Phoenix for a rodeo, he walks into the bar where Cherie works. She is singing "That Old Black Magic", and Bo falls instantly in love. Cherie wants nothing to do with the love-struck cowboy. She has a plan to go to "Hollywood and Vine" to become an actress "....with options and everything." She even carries a map with a line drawn from Phoenix to Los Angeles on it. "Look" Cherie says to a fellow waitress, pointing at the line, "Straight as an arrow."
Bo doesn't take no for an answer and bugs the crap out of Cherie, trying to get her to like him. He is utterly clueless and at one point resorts to quoting the Gettysburg Address as Cherie is lying in bed apparently naked beneath her sheets. Bo calls Cherie, "My angel". He is so naive that he thinks of her as being as innocent as he is. He also, symbolically, pronounces her name "Cherry." To which Cherie says is "undignified."
Murray's performance destroys this movie. Monroe does some of the best work of her career. But with Murray taking up so much screen time playing this obnoxious, over the top character, it is sometimes hard to concentrate on what a great performance she is delivering. Her hair is dyed strawberry blonde and she uses an accent the whole movie. Monroe wanted to prove that she was a legitimate actress. With this movie she does just that. It's just too bad her costar could not keep up.
Reviewed on:
February 27th, 2011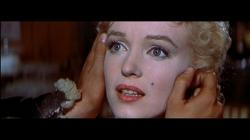 Marilyn demonstrates why the close-up was invented.
It's easy to see why Monroe wanted to play this part. It is the best role of her career and she does it justice. She sustains her accent and imbues the dumb blonde stereotype with warmth and depth as she would later do with Sugar Kane in Some Like it Hot. She gets to demonstrate her serious acting chops as well.
Notice the ferocity with which she says the line "I hate you and I despise you! Now give me back my tail!" It is dramatic and funny at the same time. No other actress has ever come close to her combination of raw sensuality and vulnerable innocence and Cherie is the character that best embodies this dichotomy.
Later in the movie Marilyn gives one of the best close-ups in screen history when she reacts to Bo's kind words whispered in her ear. Has anyone ever photographed with more luminous iridescence? Their exchange sweetly and succinctly demonstrates the growth in Bo's personality and the beginnings of a beautiful relationship of equals.
He tells her, "Well, I've been thinkin' about them other fellas, Cherry. And well, what I mean is, I like you the way you are, so what do I care how you got that way?" She bursts into tears of gratitude and replies, "Bo! That's the sweetest, tenderest thing anyone ever said to me." It is her finest screen moment.
Eric, you are too harsh on Don Murray. He isn't a bad actor at all; it is the way the part is written that makes his naïve cowboy so obnoxious. In the scenes after he gets his butt kicked by the bus driver he does a good job of conveying his shame and newfound humility.
Bus Stop is a simple yet effective love story that is notable for giving the underrated actress in Marilyn Monroe a chance to shine.

Reviewed on:
June 7th, 2011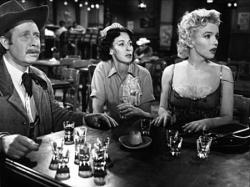 Arthur O'Connell, Eileen Heckart, and Marilyn Monroe in Bus Stop.
Somehow this performance earned Don Murray an Oscar nomination for Best Supporting Actor, which is wrong on two levels. One, he's the male lead, even if he is supporting Marilyn and two, in regards to his performance, I agree with you Eric. He's not that good and yes, that may in part be due to the way the character is written, but a large part is due to the way Murray plays it. He doesn't just come across as naive and sheltered, but as nearly mentally handicapped. He's also far too old for the part. He was 27 when the film was released and he looks it, but he's playing a 21 year old virgin. For the part to be more believable he needed to look a lot more innocent and young than he does.
Monroe on the other hand is simply terrific as Cherie. She didn't manage an Oscar nomination, but she did score a Golden Globe nomination for the part, although she didn't win. She's funny, charming and real. She's still playing the dumb blonde that plagued her career, but this is a fully-rounded character in a way that most of her other roles were not. I mean, she's great as Sugar Kane in Some Like it Hot, one of the greatest comedies of all time, but that movie is pure farce and Kane is a caricature. Cherie is human and elicits empathy.
This is also Monroe at the very pinnacle of her beauty. Her figure is va-va-voom and even though her makeup here isn't always the most flattering, her beauty shines through with, as you put it Patrick, luminous iridescence. She's packing the full wattage of her star power in this one, only she also brought along her acting "A" Game.
Unfortunately the movie as a whole doesn't live up to what Monroe's doing. The film starts with Murray and his overstated performance and it takes far too long for Monroe to appear. Bo and Virgil's relationship carried zero weight for me and their parting at the end of the film left me cold. Although Arthur O'Connell gives a decent performance as Virgil.
This really is a movie best viewed as a chance to see Monroe prove that when given the chance she could act. It's just too bad she so rarely had the chance to demonstrate it.
Photos © Copyright 20th Century Fox (1956)