Movie Review
Bureau of Missing Persons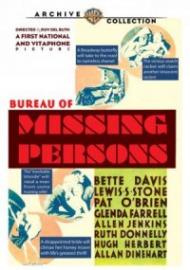 US Release Date: 09-16-1933
Directed by: Roy Del Ruth
Starring
▸
▾
Bette Davis

,

as

Norma Roberts
Lewis Stone

,

as

Police Captain Webb
Pat O'Brien

,

as

Detective Butch Saunders
Glenda Farrell

,

as

Belle Howard Saunders
Allen Jenkins

,

as

Detective Joe Musik
Ruth Donnelly

,

as

Gwendolyn Harris
Hugh Herbert

,

as

Detective Hank Slade
Alan Dinehart

as

Therme Roberts
Reviewed on:
October 19th, 2011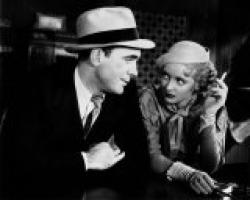 Pat O'Brien, Bette Davis and a cigarette in Bureau of Missing Persons.
The studios worked their stars hard during the 1930s, cranking out pictures at a rapid pace. Bureau of Missing Persons was the 5th Bette Davis movie of 1933 and 1 of 7 Pat O'Brien appeared in that year. Davis received top billing but O'Brien gets more screen time in this snappy little action/comedy.
O'Brien plays Butch Saunders an NYPD detective newly transferred to the missing persons department due to his use of excessive force. Along with Lewis Stone as the bureau's captain he helps locate people that have gone missing. These include a famous 12 year old violin prodigy who has run away after growing tired of his rigid practice schedule, and a man that has left his wife and kids and is living with some floozy in a cheap hotel.
Times were sure different then. On one hand personal responsibilities were taken more seriously. The police basically force this man to dump his girlfriend and go back to his family or else face jail time. On the other hand violence against women was allowed. Pat O'Brien beats the crap out of a dame in a scene that would never be allowed in a comedy today. The police also lie to an elderly woman, whose missing daughter has turned to a life of crime, to spare her feelings. Another older gentleman has left his younger wife of 10 years because she wanted sex too much. Or as he puts it, his wife acts "like the honeymoon never ended".
At about the 30 minute mark, enter a stylish Bette Davis. She claims to be looking for her missing husband but (of course) it turns out there is more to her story than that. She's actually wanted for murder in Chicago. She takes the detective along for a ride before everything is made clear.
Davis gets a couple of good scenes, including one in a diner and the moment where she comes clean to Saunders. She hadn't quite fully developed her screen persona yet, but she already knew how to smoke a cigarette to good affect (see photo above). Her career was unique in the sense that she approached it like a man. She didn't have the looks to rely on sex appeal. Bette Davis, more than any other female star of the era, shot guns and engaged in high speed car chases alongside the boys.
Bureau of Missing Persons is a fast-paced but poorly written relic from the early 30's.

Photos © Copyright Warner Bros. Pictures (1933)