Movie Review
Bunny O'Hare
ENJOY those 'GOLDEN YEARS' with the most profitable pension plan any sweet little mother ever devised.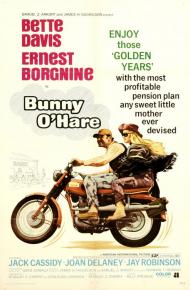 US Release Date: 10-18-1971
Directed by: Gerd Oswald
Starring
▸
▾
Bette Davis

,

as

Bunny O'Hare
Ernest Borgnine

,

as

Bill Green - Gruenwald
Jack Cassidy

,

as

Lieutenant Greeley
Joan Delaney

,

as

R.J. Hart
Jay Robinson

,

as

John C. Rupert
John Astin

,

as

Ad
Reva Rose

,

as

Lulu
Robert Foulk

as

Commissioner Dingle
Reviewed on:
September 11th, 2012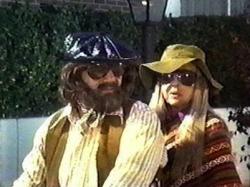 Ernest Borgnine and Bette Davis don hippie disguises to rob banks in Bunny O'Hare.
Fifteen years after they costarred together in The Catered Affair, Bette Davis and Ernest Borgnine reunited for the counterculture crime spree comedy Bunny O'Hare. They spend most of the movie making like the Bonnie and Clyde of the AARP set. They don hippie disguises and cruise around New Mexico on a motorcycle robbing banks. They have a surefire technique called the old canary routine. They simply let a bird loose in the bank and then calmly go about robbing one of the tellers while all the guards are running frantically around trying to catch the little birdie. WTF!?
But seriously, there was a chance that this could have been a decent movie with sharp social commentary on money issues facing the elderly. Apparently that's what kind of movie Bette Davis thought she was making since she sued the producers over the final cut, claiming they had censored her dialogue and ruined the film. The end result is a slapstick mess whose main selling point is the sight of the 63 year old Davis in hippie garb riding on the back of that 250cc Triumph TRW Trophy hog.
The story begins with elderly widow Bunny O'Hare (Davis) having her home foreclosed (and by foreclosed I mean bulldozed to the ground) by a bank. She crosses paths with used plumbing parts salesman Bill Green (Borgnine) who's there to scavenge her toilet before the house is razed. He offers her a ride but soon realizes Bunny isn't going to be easy to get rid of. He makes a few humorous attempts to ditch her but before he can she finds a wanted poster in the back of his trailer and learns he is a bank robber on the lam; real name William Gruenwald.
Bunny blackmails Bill into teaching her the ins and outs of robbing banks. When they see a group of hippies protesting in front of their targeted branch, they have the inspired idea of disguising themselves like they're in the cast of HAIR. The cops, after all, will never suspect these two elderly types as being hippie bank robbers.
Besides seeking revenge on the banks, Bunny has the added motivation of supporting her two good for nothing middle-aged kids played by John Astin and Reva Rose. These two have a few short but funny scenes on the phone with their mother, always asking for more money.
Bette Davis proves she was still game for just about anything in this brash but ultimately futile attempt to connect with the counterculture generation. She even takes a few spills off that motorcycle while looking completely ridiculous in a long wig, floppy hat and hippie shawl (see photo). Although they clearly used a stunt double in some of the long shots, both she and Borgnine did much of their own motorcycle riding.
Bunny O'Hare was made at the height of the hippie era. Bette Davis had been making movies for 40 years and would continue acting in them for another 18. Right up till her death in 1989 in fact. As a cinematic curiosity Bunny O'Hare is priceless, as movie entertainment not so much.
Photos © Copyright American International Pictures (AIP) (1971)
Related Review