Movie Review
Bull Durham
Romance is a lot like baseball. It's not whether you win or lose. It's how you play the game.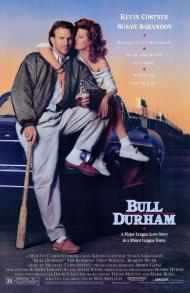 US Release Date: 06-15-1988
Directed by: Ron Shelton
Starring
▸
▾
Kevin Costner

,

as

Crash Davis
Susan Sarandon

,

as

Annie Savoy
Tim Robbins

,

as

Nuke LaLoosh
Trey Wilson

,

as

Joe Riggins
Robert Wuhl

,

as

Larry Hockett
William O'Leary

,

as

Jimmy
Jenny Robertson

as

Millie

Reviewed on:
March 23rd, 2011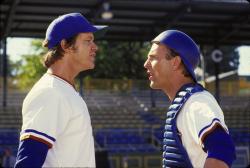 Tim Robbins and Kevin Costner
From the opening narration by Susan Sarandon's character, Annie Savoy, I loved this movie. I liked it so much, I'm going to include a good chunk of it right here. Just picture Susan Sarandon saying these lines with a southern accent. "I believe in the Church of Baseball. I've tried all the major religions, and most of the minor ones. I've worshipped Buddha, Allah, Brahma, Vishnu, Siva, trees, mushrooms, and Isadora Duncan. I know things. For instance, there are 108 beads in a Catholic rosary and there are 108 stitches in a baseball. When I heard that, I gave Jesus a chance. But it just didn't work out between us. The Lord laid too much guilt on me. I prefer metaphysics to theology. You see, there's no guilt in baseball, and it's never boring... which makes it like sex. There's never been a ballplayer slept with me who didn't have the best year of his career. Making love is like hitting a baseball: you just gotta relax and concentrate. Besides, I'd never sleep with a player hitting under .250... not unless he had a lot of RBIs and was a great glove man up the middle."
When the story opens, so does the minor league baseball season for the Durham Bulls. Annie, as usual, is deciding which of the baseball players she's going to have her season long affair with. Her choices are the new firebrand pitcher, Nuke LaLoosh, and the veteran catcher, Crash Davis. Nuke has a million dollar arm, but lacks the seasoning and experience that Crash has. She invites the both of them to her house so that they can tryout for the position of her lover.
Nuke is just happy for the chance to get laid, but Crash declares that he's too old to tryout for any position. This leads Annie to ask him just what he believes in, to which Crash replies with the movie's most famous lines, "Well, I believe in the soul, the cock, the pussy, the small of a woman's back, the hanging curve ball, high fiber, good scotch, that the novels of Susan Sontag are self-indulgent, overrated crap. I believe Lee Harvey Oswald acted alone. I believe there ought to be a constitutional amendment outlawing Astroturf and the designated hitter. I believe in the sweet spot, soft-core pornography, opening your presents Christmas morning rather than Christmas Eve and I believe in long, slow, deep, soft, wet kisses that last three days."
It's soon obvious that while Annie takes Nuke on as a project, it's Crash who is her equal and where the real chemistry lies.
Crash, who has been brought onto the team specifically to help prepare Nuke for the show, also takes the young pitcher under his wing, albeit somewhat more reluctantly. The two players clash as Nuke at first refuses to take advice from the older player. When Nuke shakes off pitches that Crash calls, Crash retaliates by telling the batter exactly what pitch is coming next. Almost in spite of himself, with the help of Crash and Annie, Nuke develops as a pitcher, even if he never quite manages to develop much as a person.
While Robbins provides quite a few of the laughs, this is Costner and Sarandon's movie. It's the perfect marriage of part and actor for both of them. Costner is perfect as the aging player who once spent 21 days in the Big League and has stuck around out of sheer love of the game. Underneath his veneer he harbors a deep sadness and not a small amount of jealousy towards Nuke. Likewise, Annie, while at first seems to be just another baseball camp follower, shows depth and a tinge of sadness by the end. For once in a romantic comedy, you have two three-dimensional characters where you can see exactly what they see in each other and why they fall in love. As for Nuke, he turns out alright. As Annie says, "The world is made for people who aren't cursed with self awareness."
This is a baseball movie and a love of the game will definitely help you enjoy it, but the humor and the romance is universal. Like a lot of movies have done, it uses baseball as a metaphor, but it does it in an original and funny way, with words of wisdom such as, "You be cocky and arrogant, even when you're getting beat. That's the secret. You gotta play this game with fear and arrogance." In the hands of the wrong actor or director that line could be corny, but not here.
Bull Durham is a true classic.
Reviewed on:
April 2nd, 2013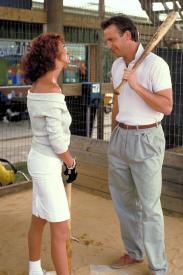 Susan Sarandon and Kevin Costner in Bull Durham.
Bull Durham has perfect casting and a great script. It is both a wonderful romantic comedy and a bittersweet sports movie. Susan Sarandon, Kevin Costner and Tim Robbins all give career defining performances. I can picture no other actors in any of their parts. It's interesting to note that Costner is only 3 years older than Robbins in real life but he convincingly plays the veteran player to Robbins' rookie. Sarandon is 9 years older than Costner but she looked incredible for a woman past 40.
It was a stroke of genius to have Sarandon narrate the story. It sets the movie apart right from the opening scene. Bull Durham also has to be the sexiest sports movie ever made. Sarandon has great chemistry with both of her male costars. Never has a movie combined baseball, poetry and sex like Bull Durham.
Writer/director Ron Shelton spent a few years playing in the minor leagues. His screenplay was based on his experiences there. He has since gone on to a successful career as a filmmaker, most notably making sports movies. Bull Durham is his masterpiece. He created three fully rounded and intriguing characters. Annie is a poetry loving, philosophical baseball groupie. Crash is the veteran on the tail end of a career that never really took off. Nuke is the young hotshot just starting out with more talent than brains. The lives of these three come together for one pivotal summer.
Crash provides the soul of the movie. His speech on the bus about his short lived glory days in the major leagues is quite touching. "Yeah, I was in the show. I was in the show for 21 days once - the 21 greatest days of my life. You know, you never handle your luggage in the show, somebody else carries your bags. It was great. You hit white balls for batting practice, the ballparks are like cathedrals, the hotels all have room service, and the women all have long legs and brains." You don't have to be a baseball fan to appreciate the romance and nostalgic yearning of that speech.
There have been funnier sports movies and more inspirational sports movies but never has there been a more romantic sports movie than Bull Durham.

Reviewed on:
April 4th, 2013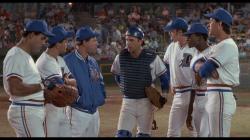 Bull Durham
We used to have a local minor league baseball team near our home. My youngest son and I went to several games every summer. Once we sat by the bull pen and I was reminded of Bull Durham. Three attractive young women, dress to get noticed, strutted up to the fence separating the spectators and the pitchers. The girls used their flirty voices as they leaned over the fence to make their availability known to the players. Some of whom returned the girls attention with eager smiles, while others seemed unconcerned.
What unfolded in front of me that day was, in a way, a very condensed version of Bull Durham. As in the movie, these minor league players all dreamed of making it to the show. The groupies all had stars in their eyes as they were hoping to hitch a ride with a potential major leaguer
As Patrick wrote, Ron Shelton spent a few years playing in the minor leagues and it shows. He does not glamorize it. Most of the Bull Durham players know Nuke is Major League bound while the odds on the rest of them making it is slim. It is one of the reasons I liked going to those games. The players did it for the love of the sport, and maybe some for the groupies. I have read a few baseball biographies and it seems common that baseball players, even in the minor leagues, have little trouble attracting loose woman.
As a long time baseball fan, I have heard of stories like Crash's. The speech Costner gives on the bus, that Patrick wrote about, reminded me of Quintin Berry. He spent 6 years playing minor league ball for several different franchises. At the age of 27 he was called up on May 23, 2012 by the Detroit Tigers. So unsure of his job security, he waited several weeks before moving his wife and child from Toledo to Detroit. He played with the Tigers for the rest of the 2012 season. He reported for spring training in 2013, but just days before opening day, was given the news he was being sent back to triple A-Toledo Mud Hens. Crash's story is touching but not unique.
As Scott wrote, Bull Durham has romance, humor and great lines. What makes it so perfect though, is the authentic feel of it all. Baseball, like a movie, is a temporary escape. This is as true for the fans as it is for some of the players. None of the minor league players I watched those summers ever made it to the show, but hopefully they enjoyed their brief time on the field as the fans helped them to postpone the rest of their lives. Our local newspaper often reported on the team. They once included a brief article about a player who came all the way from Australia. When the team folded, he and his wife, whom he had met here, returned to Australia.
Just as Bull Durham ends, life has a way of changing whether we want it to or not.
Photos © Copyright Orion (1988)
Related Review