Movie Review
Buffalo Bill and the Indians, or Sitting Bull's History Lesson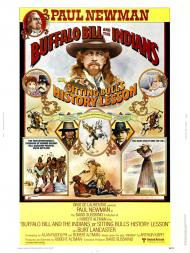 US Release Date: 06-24-1976
Directed by: Robert Altman
Starring
▸
▾
Paul Newman

,

as

The Star
Joel Grey

,

as

The Producer
Kevin McCarthy

,

as

The Publicist
Harvey Keitel

,

as

The Relative
Allan F. Nicholls

,

as

The Journalist
Geraldine Chaplin

,

as

The Sure Shot
John Considine

,

as

The Sure Shot's Manager
Robert DoQui

,

as

The Wrangler
Denver Pyle

,

as

The Indian Agent
Frank Kaquitts

,

as

The Indian
Will Sampson

,

as

The Interpreter
Pat McCormick

,

as

The President of the United States
Shelley Duvall

,

as

The First Lady
Burt Lancaster

as

The Legend Maker

Reviewed on:
July 22nd, 2014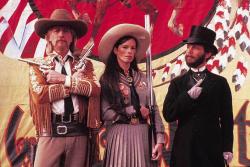 Paul Newman, Geraldine Chaplin, and Joel Grey in Buffalo Bill and the Indians, or Sitting Bull's History Lesson.
Based on a play, Buffalo Bill and the Indians, or Sitting Bull's History Lesson is Robert Altman's revisionist take on the Old West, with Paul Newman playing the world famous Indian scout, soldier, pony express rider, and buffalo hunter turned show biz performer. Set in 1885 it details the arrival of the legendary Indian chief Sitting Bull (Frank Kaquitts) to Buffalo Bill Cody's traveling Wild West Show. Tensions mount when Sitting Bull refuses to act out Custer's Last Stand as his boss requests, which is as a cowardly sneak attack by the Indians. Sitting Bull suggests to Buffalo Bill that they instead act out the massacre of a peaceful Sioux village by the United States Cavalry.
By viewing the 19th Century mindset that most whites held towards minorities with a 20th Century sensibility, Altman creates humor. It's discomforting humor that arises from the blatant racism and ignorance of most of these white characters (Geraldine Chaplin as sharpshooter extraordinaire Annie Oakley is the one exception). Here's a sample of Buffalo Bill's logic, "The difference between a white man and an injun in all situations is that an injun is red. And an injun is red for a very good reason. So we can tell us apart." He comes off the worst but even President Grover Cleveland gets skewered. When Sitting Bull finally meets the Great White Father he has just one question. But before his interpreter can even ask the question he is dismissed by the president who glibly tells him, "Mr. Halsey, I remind you that in government, nothing is simple."
Meanwhile Sitting Bull is mythologized as a wise man of peace and vision, who understands spiritual things far beyond the white man's comprehension. He remains stoic in the face of insults and his dignity never allows him to play the victim. Without uttering a word Kaquitts gives a very humorous performance that keeps the character from being too perfect. After Sitting Bull has an inexplicable disappearance and reappearance, his boss questions his whereabouts. His interpreter cryptically explains, "During the first day of the first moon, Sitting Bull visits the sun in the mountains while his squaws move the teepees to the moon path."
Since this is a Robert Altman picture it's an ensemble piece with a large cast of characters. These include Harvey Keitel as Buffalo Bill's nephew, Joel Grey as his manager, Kevin McCarthy as his publicist (this was truly the dawn of modern American Show Business), Will Sampson as Sitting Bull's interpreter, and Burt Lancaster as a newspaperman who specializes in creating legends. Paul Newman as Buffalo Bill struts around retelling tall tales about his colorful past. He has a thing for opera singers and goes through a parade of them. He has one long monologue near the end of the movie where he lectures Sitting Bull's ghost. It's the type of scene actors relish and Newman really sinks his teeth into it.
Like Altman's only other western, McCabe & Mrs. Miller (1971), Buffalo Bill and the Indians was shot in Canada. A field was bulldozed on the Stoney Indian Reserve in Alberta where a full-sized copy of Buffalo Bill's outdoor theater complex was built, including his theater The Mayflower. Released in the summer of 1976 when Americans were joyously celebrating the Bicentennial of the United States, Buffalo Bill and The Indians was not well received by audiences. However over the ensuing years it has grown in stature. It isn't Altman's best work but it is an interesting and unique movie about the myth making of the American West.

Reviewed on:
June 19th, 2015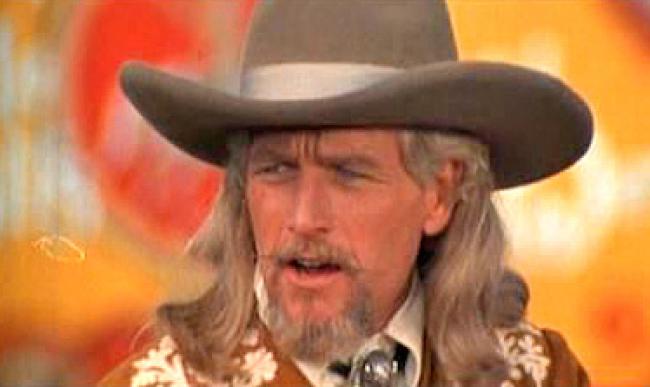 Paul Newman as Buffalo Bill Cody.
Patrick called Buffalo Bill and the Indians, or Sitting Bull's History Lesson, Robert Altman's revisionist take on the Old West. It is likewise a somewhat revisionist telling of William Frederick "Buffalo Bill" Cody. Altman stays within the general facts but as Patrick noted it is told through 20th century sensibilities. In the film, Newman tells the lone African American character of how his father was once stabbed when he spoke out against slavery. It is a true story but by today's politically correct standards, and how he displayed the Indians like side show attractions, Cody would likely be considered a bigot. In truth, Cody was, for his time, quite forward thinking.
Buffalo Bill's Wild West Show did in fact feature re-enactments of conflicts between American Indians and cowboys. Cody was a showman and did this for entertainment purposes. His show successfully toured Europe many times, including long stays in England, where he perpetuated the romanticized version of the dangerous and exciting American west. That sold tickets while in real life Cody reportedly respected Indians, encouraging them to bring their families on tour. Cody is credited as saying, "Every Indian outbreak that I have ever known has resulted from broken promises and broken treaties by the government."
As for the advancement of women, Cody created the very first American female super star, Annie Oakley. She joined his show in 1885, the year this film takes place. Cody once said, "What we want to do is give women even more liberty than they have. Let them do any kind of work they see fit, and if they do it as well as men, give them the same pay." He put his money where his mouth was as Oakley was his highest paid performer. Only Cody himself made more money.
Also as Patrick wrote, Cody had a very exciting life full of different careers. His experiences captured the attention of many people from many walks of life who built him up to near legendary status. The film goes with that theme but it seems more interested in suggesting his exploits were exaggerated than celebrating them. I would love to see a movie about Cody in his youth as a scout and soldier.
One scene stood out for me that quietly makes a powerful statement. It is the beginning of a show where Indians ride in on horseback and then cowboys follow. An announcer says they are going to play "The Star-Spangled Banner," a song Cody would like to become our National Anthem. As it plays we see the anticipating crowd, the proud cowboys and then the somber Indians who have pretty much lost their nation.
In 1885, Cody was 39 while Newman was 50 when he made this film. Another thing this movie seems to forget is that Cody was married in 1866 and stayed married until his death in 1917. He and his wife had 4 children. I have no idea if he had a thing for opera singers in real life but this movie has him spending more time with a string of them than even mentioning he has a family.
I was fairly bored with Buffalo Bill and the Indians, or Sitting Bull's History Lesson but it did spike my interest in William Frederick "Buffalo Bill" Cody and I always appreciate a film that influences me to learn something new.
Photos © Copyright Dino De Laurentiis CompanyLion's Gate FilmsTalent Associates-Norton Simon (1976)
Related Review