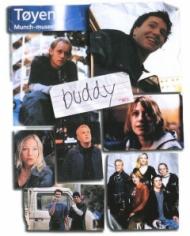 Norway Release Date: 08-29-2003
Directed by: Morten Tyldum
Starring
▸
▾
Nicolai Cleve Broch

,

as

Kristoffer Haukeland
Aksel Hennie

,

as

Geir
Anders Baasmo Christiansen

,

as

Stig Inge Otnes
Pia Tjelta

,

as

Henriette
Janne Formoe

,

as

Elisabeth
Henrik Giaever

,

as

Martin
Kim Haugen

as

Karsten

Reviewed on:
December 19th, 2010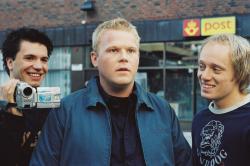 Nicolai Cleve Broch, Anders Baasmo Christiansen and Aksel Hennie in Buddy.
Buddy is a coming of age story for twenty somethings from Norway. Three young men share an apartment who do not know each other very well, but get along none-the-less. Kristoffer and Geir are billboard hangers, while Stig Inge works from their apartment on line. They are all carefree and apparently happy. They are at that great age where they are on their own, without the responsibility of a wife, child or mortgage. They live for themselves.
Twentyfour year old Kristoffer video tapes his life as a journal, He and Geir do occasional stunts around town and he records it all. Early in the movie, Kristoffer's girlfriend Elisabeth gives him a key to her apartment. He freaks out as this is a sign of commitment. She ends up dumping him. He still pines for what they had and sneaks into her place of work to see her. He gets chased off but drops some of his tapes. They are found and presented to a talk show personality. He decides to show the tapes as a segment on his show. The boys become somewhat famous. Add a temporary attractive female roommate, Henriette, that has eyes for Kristoffer and things seem to be going well for the guys.
Life however, is just not that stable. Geir and Stig Inge both have secrets and they come out in horribly public ways. Elisabeth wants Kristoffer back, which complicates things as he has fallen for Henriette.
Buddy is a great look at men who still have the mindset of children. They are adults but want to play and avoid responsibility at all cost. Life catches up to them and they are all forced to change and make hard decisions.
Buddy won several awards including the Amanda Award for best actor. It is their equivalent to the Academy Award. It went to Anders Baasmo Christiansen who plays Stig Inge. He is easily the most sympathetic character. His growth is the most painful to watch. The scene where Stig Inge has a melt down is heart breaking, but it allows Kristoffer to step up and help his friend. Him helping Stig Inge home is the films nicest moment.
The weakest angle is the love triangle. You know early on who Kristoffer will end up with. The final scene seems very much like a cliche. Think Tom Hanks in Splash. In spite of that, Buddy remains a mature look at some men who are at a immature stage in their life.
Photos © Copyright Happy Endings A/S (2003)