Movie Review
The Brothers
After A Lifetime Of Playing The Field, Four Friends Have To Do Something They Never Thought Possible... Grow Up.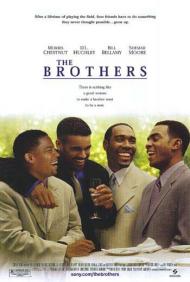 US Release Date: 03-23-2001
Directed by: Gary Hardwick
Starring
▸
▾
Morris Chestnut

,

as

Jackson Smith
D.L. Hughley

,

as

Derrick West
Bill Bellamy

,

as

Brian Palmer
Shemar Moore

,

as

Terry White
Gabrielle Union

,

as

Denise Johnson
Tatyana Ali

,

as

Cherie Smith
Jenifer Lewis

,

as

Louise Smith
Tamala Jones

as

Sheila West

Reviewed on:
March 25th, 2001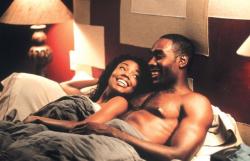 Gabrielle Union and Morris Chestnut in The Brothers.
The Brothers is a lightweight yet often funny look at the sex lives of four professional African American men who's biological clocks have begun ticking. They meet once a week to play basketball, talk about the women in their lives and then go out for a night on the town. When Shemar Moore of The Young and the Restless decides that at 29 he should give up his playboy ways and settle down with one woman he surprises his four best friends with his wedding announcement. Morris Chestnut plays a pediatrician who has nightmares about commitment. When he finally falls in love with a woman, he is confronted with the fact that before him she dated his father. Bill Bellamy is a lawyer who sleeps with every woman he can including a Judge who ends up throwing him in jail for contempt. D.L. Hughley is married to the woman he got pregnant only (in the movies funniest bit) she won't give him the type of sex he craves.
This movie plays fast, at no time did I lose interest. Though both Tatyana Ali from The Fresh Prince of Bel Air and Marla Gibbs have small roles, it is Jennifer Lewis who steals the movie as the wise voluptuous older woman. 'You know how to tell if a man really loves you?' She asks the three younger women. ' When the two of you are snuggled up together on the couch, watching a movie and he offers you the very last bite of his food. That's true love.'
The formula here is tried and true; Shemar and Morris are the handsome lead characters and Bill Bellamy and D.L. Hughley the comic relief. Still the cast is talented enough to make it work.
It is interesting to note that at the theater where I saw this movie there were three elderly white couples who seemed to be thoroughly enjoying themselves throughout. Even the dick and pussy jokes seemed to amuse them. Welcome to the new millennium.

Reviewed on:
December 18th, 2009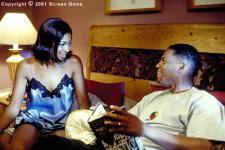 There is a better way to go to sleep than reading a book.
Brothers is not funny enough to be a decent comedy. The storyline with the Dad and son having both dated the same woman, could have lead to some funny possibilities, but does not. It likewise is not dramatic enough to emotionally engage us. Basically it is just four men trying to figure women, and themselves, out.
It's worst offense, is that the main characters are not all that likable. These four successful, African American men think very highly of themselves. "We're Black, single, professional men. We, gentlemen, are the cream of the crop." One proudly announces to the others. These guys are all rich, good looking twenty somethings. It is hard to feel sorry for them.
Each of the men have their own storyline. One is a misogynist. He blames all of his problems on women. The scene where he visits his mother explains it all. Another is getting married because he thinks it's the mature thing to do. Another is haunted by commitment as his parent's divorce scarred him.
Derrick was the one character I could relate to. He loves his wife, but is not completely satisfied in his marriage. As Patrick mentioned, he is sexually frustrated. His wife eventually learns that expressing love for someone may involve doing something you may not enjoy. He after all, did the right thing and married her when she became pregnant, even though it was not his original plan.
Photos © Copyright Screen Gems (2001)