Movie Review
Brooklyn's Finest
Every man has a moment of truth.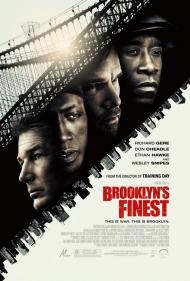 US Release Date: 03-05-2010
Directed by: Antoine Fuqua
Starring
▸
▾
Richard Gere

,

as

Eddie Dugan
Don Cheadle

,

as

Clarence 'Tango' Butler
Ethan Hawke

,

as

Det. Sal Procida
Wesley Snipes

,

as

Casanova Phillips
Vincent D'Onofrio

,

as

Bobby 'Carlo' Powers
Brian F. O'Byrne

,

as

Det. Ronny Rosario
Will Patton

,

as

Lt. Bill Hobarts
Michael K. Williams

,

as

Red
Lili Taylor

,

as

Angela Procida
Shannon Kane

,

as

Chantel
Ellen Barkin

,

as

Agent Smith
Wass Stevens

,

as

Det. Patrick Leary
Armando Riesco

,

as

Det. George Montress
Wade Allain-Marcus

,

as

C-Rayz
Logan Marshall-Green

as

Melvin Panton

Reviewed on:
September 29th, 2010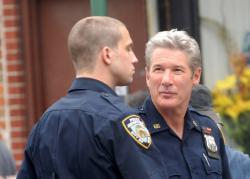 Logan Marshall-Green and Richard Gere as Brooklyn's Finest.

No doubt some people will tell you otherwise, but I believe most folks watch movies for a happy ending. We want to root for a likable character to succeed. In a horror film, we want the hero/heroine to come through okay. We want that sports team to win, or that couple to end up together. Look at the most successful films in history. Luke blows up the Death Star. Maria and family make it over the Alps. Rose has a lifetime of happiness and freedom. Some films are a bit more subtle, such as Rocky losing the fight but regaining his self respect. Scarlett loses Rhett, but gets what she has coming.
Brooklyn's Finest is essentially a great film. It has amazing performances and tense moments. You will invest yourself in the characters. It forgets however, to reward the audience with a happy ending. It features three different Brooklyn police officers, in three different story lines that only scratch each others. Each policeman is stressed to the breaking point. All are fleshed out, and we come to know and understand them.
Eddie is a week away from retiring. He is given a rooky to train, that he does not want to, but he has to put up with him none-the-less. He is a divorced alcoholic, who frequents a particular prostitute, favored by policemen. She and retirement are the only positive things he has going for him.
Tango is under cover, and has been for awhile. His wife is leaving him as he has to be away from her for so long. He wants it to be over but it is out of his hands. Things get worse when he is asked to snitch on a former friend.

Sal is a religious, married father, struggling with trying to buy a new house for his family. He is easily the most sympathetic character. His wife is expecting twins and he has turned to stealing drug money during busts. At one point he goes to confession where he barks at a priest who just told him God forgives him, "I don't want his forgiveness. I want his help!"
The three leads are all great. Hawke seems the most natural. He is intense one minute and completely vulnerable the next. Cheadle is one of my favorite actors. He has to play two characters at once. He is Clarence the under cover cop who is pretending to be a thug, Tango. You never know when he is playing the part or actually coming unhinged. Gere has the least range of the three actors, but he stays in his comfort zone and pulls it off.
So much time is given to each of these men that you really get to know them. So often, police officers seem to be very generic characters in movies, but here they are all distinct. By the end of the movie we want to leave these guys better off than how we found them. We unfortunately do not. I will not give away details, but none have a happy ending.
Brooklyn's Finest is gritty and absorbing, but I want movies to make me feel good, not depressed. Only Gere's story line comes close to ending on a positive note, but it is more ironic than outright satisfying. Our boys in blue are realistically represented here more as humans than heroes.
Photos © Copyright Millennium Films (2010)