Movie Review
Brooklyn
Two countries, two loves, one heart.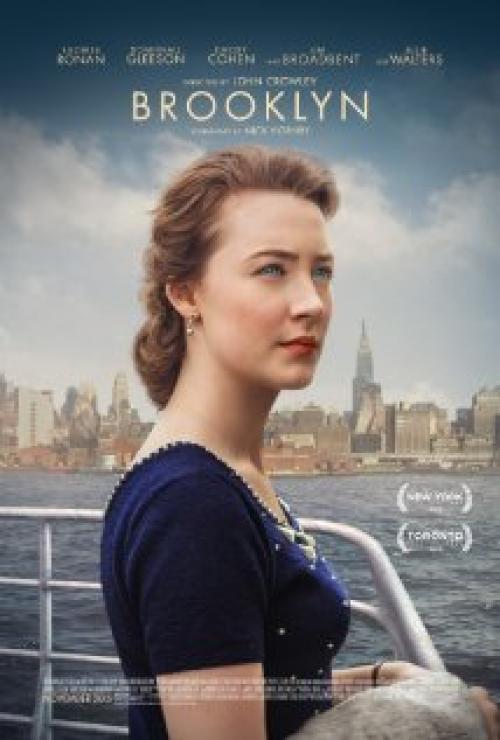 US Release Date: 11-06-2015
Directed by: John Crowley
Starring
▸
▾
Saoirse Ronan

,

as

Eilis Lacey
Emory Cohen

,

as

Antonio "Tony" Fiorello
Domhnall Gleeson

,

as

Jim Farrell
Jim Broadbent

,

as

Father Flood
Julie Walters

,

as

Madge Kehoe
Brid Brennan

,

as

Miss Kelly
Jane Brennan

,

as

Mrs. Lacey
Fiona Glascott

,

as

Rose Lacey
Jessica Pare

,

as

Miss Fortini
Eileen O'Higgins

,

as

Nancy
Emily Bett Rickards

,

as

Patty McGuire
Jenn Murray

,

as

Dolores Grace
Eve Macklin

,

as

Diana Montini
Mary O'Driscoll

,

as

Miss McAdam
Nora-Jane Noone

,

as

Sheila
Michael Zegen

,

as

Maurizio Fiorello
Paulino Nunes

,

as

Mr. Fiorello
Gerard Murphy

as

Daddy Lacey

Reviewed on:
November 15th, 2015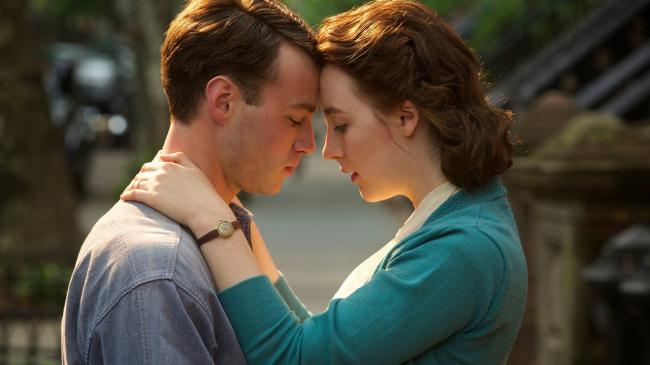 Emory Cohen and Saoirse Ronan in Brooklyn.
Based on the 2009 award winning novel of the same name, Brooklyn is the beautifully told coming of age story of one Irish immigrant girl in the 1950s. It's an old fashioned love story that doesn't feel out of date. It packs in plenty of heart and laughs and may even have you reaching for the tissues in a few sniffle-inducing moments.
Saoirse Ronan (Atonement, Hanna, The Grand Budapest Hotel), stars, and appears in nearly every scene, as Eilis Lacey. Ronan was nominated for an Oscar for her work in Atonement at the age of 13 and don't be surprised if you see her name in the running this award season for this part at the age of 21. This is the sort of part any young actress would love to play and she makes the most of it. As Eilis she gets to run the gamut of emotions as her character evolves from shy Irish immigrant girl to a more mature and adventurous young woman. Ronan had quite a career as a teenager and if this film is any indication, she's managed to make the oftentimes difficult transition to more grown-up roles.
Despite being a movie about women, told entirely from their perspective, it was written by a man, Nick Hornby, from a novel by a man, Colm Toibin. Hornby received an Oscar nomination for An Education, and so proving that he already had what it takes to tell a coming of age story from a young woman's point of view. Although this story feels less sordid than the story of An Education. More romantic and less sexual, as is perhaps fitting for a movie set in the 1950s rather than the 1960s as An Education was.
The story is a simple one. Eilis is the youngest of two daughters in Ireland without much prospects in her hometown. Her older sister arranges, with the help of the Church, for Eilis to move to America where a job in a department store and a home in a womens only boarding house has been arranged. Despite being sad to leave her sister alone with their mother, Eilis travels to Brooklyn where she at first has trouble settling in, crying with loneliness and homesickness until she eventually meets an Italian young man, with whom she falls in love. All goes well with her until a tragedy occurs back in Ireland and she must return home. Upon returning to her hometown she finds it has changed, although she doesn't seem to realize at first that it's actually just she that has changed, and she must decide between staying in Ireland to the life everyone else in town has mapped out for her, or going to back the land of alien uncertainty in America.
There's a very sweet and gentle tone to the whole movie, which is partly what gives it that old fashioned feeling. Apart from one old biddy of a shopkeeper in Ireland, there are no villains. Even the Catholic Church and a couple of priests are shown as generous and kind people, something that you almost never see in modern movies. The relationship between Eilis and Tony is very chaste, with their one and only sex scene filmed very discreetly.
Although this is clearly Ronan's movie, she receives support from a few key players. Julie Walters gets laughs as her landlady and Jim Broadbent plays the kindly priest who helps her fit in. Emory Cohen and Domhnall Gleeson play the two young men vying for her affections from opposite sides of the Atlantic and while they never feel as fully developed as the female characters, they both bring their characters to life, as do the half-dozen or so young women who share the boarding house with Eilis in some of the film's livelier scenes.
Even if Ronan ends up overlooked for acting nominations, the costumes and production design are bound to be recognized. They beautifully capture the period. Ronan gets to wear a parade of costumes that change throughout the movie as you see her go from a country Irish girl to a more worldly one, most noticeable when you see her return to her hometown in her New York fashions.
Part of what makes this movie feel old fashioned is that instead of wanting to keep you on the edge of your seat and wowing you with action, it's more interested in generating genuine emotions from its audience by telling a realistic and human story. Sadly, that seems to be a rare genre in movie theaters these days.

Reviewed on:
December 30th, 2015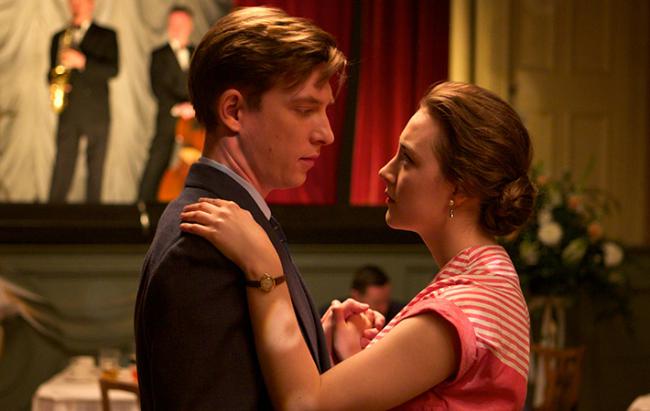 Domhnall Gleeson and Saoirse Ronan in Brooklyn
The sweet and gentle tone created by this film, that Scott mentioned, washed over me like a lazy sunny afternoon. The plot is a simple, yet classic, American tale. Eilis goes through all of the expected emotions of a young person away from home for the first time. We instantly like her as we see a girl heading out on the adventure known to all of us as life. At first she is lost but then gets guidance from different sources until she starts to become comfortable and then even confident in her surroundings and in herself.
With Tony, she meets a young man who has the comfort of his family but is scared none-the-less. He has lost his heart to a young woman who yearns for her family who live so far away and is worried she may choose Ireland over him. Tony cares so much for Eilis and she sees in him a future of new experiences. I was rooting for them their entire courtship. Then Jim entered the picture and I had mixed emotions.
Upon a return visit to Ireland she meets a man from her home town. Eilis at first sees Jim as a jock stereotype but then starts to see him in a much better light as she gets to know him. His parents are moving away and leaving him their attractive country home. With an offer for a job in Ireland working in the field she studied for in New York, Eilis becomes torn over her future.
This is where the movie, for me, truly rises above so many other films with similar love triangle themes. So often in these love stories we, the audience, know who the leading lady should end up with. This is usually because one of the suitors has revealed some major character flaw. That is not the case here. Both men propose to her in romantic emotional ways. Eilis could be happy with either of them. Her decision is not an easy one to make. There are pluses on both sides of the ocean.
Although a romantic tale, there are, as Scott noted, some laughs to be found. The dinners at the boarding house were sometimes hilarious. This is mostly due to Julie Walters and a supporting actress nod would not be out of the question.
Yeah, this could be described as a chick flick but I was still caught up in its outcome. Brooklyn is a beautifully made period love story and makes for an interesting companion piece to Carol (2015). Both love stories wonderfully depict 1950s New York and both feature several scenes in a large department store. The biggest difference being the sex scene in each film, which could not possibly be any more different.
I loved Brooklyn!
Reviewed on:
January 4th, 2016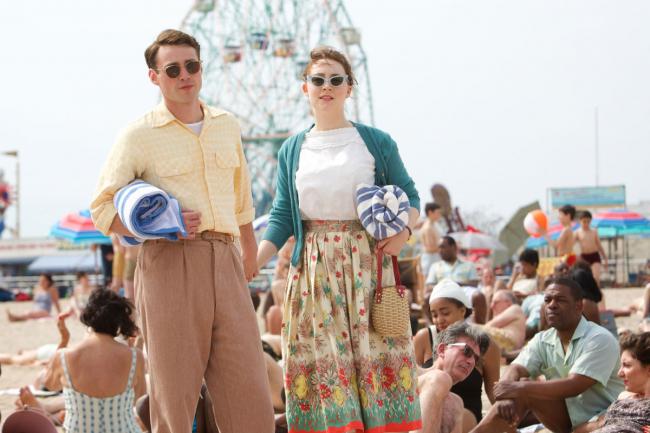 Emory Cohen and Saoirse Ronan in Brooklyn.
I too loved Brooklyn. It's the kind of film that rarely gets made anymore. It is character based and driven by realistic human drama. It has plenty of heart and just the right amount of "Hollywood feel-good" to it. Eilis's journey from passive young Irish lass to self confident woman about Brooklyn is enjoyably sweet and Saoirse Ronan is wonderful in the part.
1950's Brooklyn is vividly recreated, although very little of the movie was actually filmed in New York's most populous borough. Only two days were spent there, including the scene at Coney Island (see photo). Montreal stood in for Brooklyn for all the other exterior scenes. Eric mentioned Carol and this is another thing the two films have in common, being set in New York but filmed in another city.
Eilis is indeed given a difficult choice to make. Both Tony and Jim are ideal husband material of the kind you only find in romantic movies (or in the pages of the novels on which they are based). Jim represents home and her past. He is noble but at the same time isn't above using Eilis's dead sister as a means of keeping her in Ireland and perhaps winning her hand. At one point she tells him that she finds him to be charming and civilized. Tony, on the other hand, represents America and the future. As a brash New Yorker he is more direct about his feelings for Eilis than is Jim, and his passion is what wins her back. Oops, spoiler alert. But seriously, her decision was never really in doubt. All it takes is one conversation with the town busybody to give her the impetus she needs to act.
I was pleasantly surprised to see a familiar face from television's Mad Men. The beautiful Jessica Pare plays Eilis's boss at the Brooklyn department store in a few scenes. In a less realistic movie her character, Miss Fortini, would have been played as a stereotypical villain. But here she is presented as a real human being. She has high standards but a kind heart. Pare's performance is pitch perfect as part of a cast working together in complete harmony.
Brooklyn is a romantic period drama but as my brothers mentioned it isn't without humor. Julie Walters and the other women at the boarding house produce a few gentle laughs, as does the scene where Eilis has dinner with Tony's family for the first time. The laughs are organic to the characters, the humor gently woven into the fabric of the story. Overflowing with nostalgia and sentiment, Brooklyn is the most romantic movie of 2015.
Photos © Copyright Fox Searchlight (2015)