Movie Review
Broken Flowers
Sometimes life brings some strange surprises.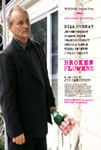 US Release Date: 08-06-2005
Directed by: Jim Jarmusch
Starring
▸
▾
Bill Murray

,

as

Don Johnston
Jeffrey Wright

,

as

Winston
Sharon Stone

,

as

Laura
Frances Conroy

,

as

Dora
Jessica Lange

,

as

Carmen
Tilda Swinton

,

as

Penny
Julie Delpy

,

as

Sherry
Alexis Dziena

as

Lolita

Reviewed on:
August 8th, 2005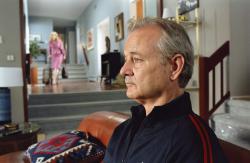 Bill Murray in Broken Flowers.
With Broken Flowers, Bill Murray continues the less-is-more style of acting that he's been perfecting since 1998's Rushmore, and which earned him an Academy Award nomination for 2003's Lost in Translation. It is a style of acting that is emphasized by the fact that this is the same Bill Murray who twenty-five years ago was making movies like Caddyshack and Stripes. His own past relationships with the audience only enhances his character's presence and gives him an edge that other actors in the same part, with the same performance, would never have.
Murray stars as Don Johnston, a retiree (he did something with computers that was both lucrative and never explained) who's younger girlfriend breaks up with him on the same day that he receives a letter from an unidentified ex-lover claiming that together they have a nineteen year old son. At the insistence of his best friend and neighbor, Winston (Jeffrey Wright), Don puts together a list of the women who could have written the letter. After doing some amateur sleuthing, Winston comes up the location of the five women Don names (it seems Don Johnston was a bit of a Don Juan in his younger days). Don then sets out on a journey to rediscover his past, and probably (since this is a movie), learn a little something about his present.
Each of the encounters with an ex-girlfriend is a little anecdote that stands on it's own and each one gets progressively darker. His first is Laura (Stone), a Closet Organizer with a teenage daughter who has the name and attitude of Lolita. The scene is played for laughs and you can tell that their affair was a light and easy one. From there, Don moves on to the other three, until finally, he ends up at the graveyard where the fifth of the potential mothers now resides.
This not a movie for everyone and the release date seems odd, as this is more of a fall movie than a summer one. There is no physical resolution to the story, although there is an emotional one and Jarmusch, the director, is content to let moments of silence go by that you would never find in a typical summer action film.
Although the central theme of the story is melancholic, there are enough laughs, even in the darker moments, to keep it from being depressing. More often than not, the humor arises from awkward human moments, so that despite the comedy, you're never pulled out of the story.
Perhaps the best thing about Broken Flowers is simply its mature storyline. This is a movie made for adults with real people in real situations. And coming smack in the middle of the Summer Blockbuster season, that's the best surprise of all.
Reviewed on:
February 24th, 2006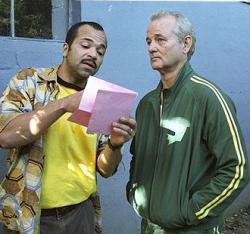 Jeffrey Wright and Bill Murray in Broken Flowers.
Broken Flowers features low key acting with an old fashioned camera style. None of the performances are larger than life and the editing is kept to a minimum. Murray's Don Johnston is an aging ladies man who has led a pretty selfish existence, but is forced suddenly to face the reality of his life.
At first the other characters seem more interesting than Don. Winston, his wannabe detective neighbor and best friend, provides laughs and the impetus for Don to start investigating his past. Then we get brief but compelling glimpses into the lives of the women Don may have sired a son with. Sharon Stone, Frances Conroy, Jessica Lange and Tilda Swinton all create memorable characters with very little screen time.
Don, on the other hand, seems to lack any real personality. He doesn't talk much and never about his feelings. He allows Winston to push him into the journey but keeps his own feelings very much to himself. Since Don is the glue that holds the story together, his lack of a distinct personality gives the movie an episodic feel. But the ending has a real gut punch that I wasn't expecting at all. And it gets its power from the very fact that Don is such an enigma that he could be anyone and his lack of an emotional response to anything up until then makes it so much stronger.
As Scott said there is also quite a bit of humor (Jessica Lange's character is an Animal Communicator for example) but this movie resonates more as a drama.

Reviewed on:
February 18th, 2010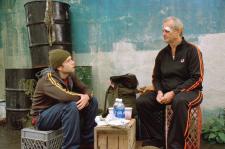 Whoa! Matching jackets.
How stoned were you two when you watched this movie? Other than a few light moments of Murray interacting with the neighbor's children, this movie has no humor to speak of. The animal communicator is played straight. Lolita's nude scene is more odd than sexy. I struggled to stay awake. The movie drags along. I fast forwarded through all of those pointless travel scenes that feature no dialogue or character interaction.
Other than maintaining a serious expression the entire time, Murray does nothing great in this film. The only one who does interesting work is the director, Jarmusch. He uses the color pink to cause Don to think. It is in nearly every scene that has to do with his romantic past. The final scene has Don talking to a young man he thinks is his son. He is wearing a jacket with stripes on his sleeves like Don's. Then he sees another young man with a similar jacket on. So Don is confused, and regrets his life. So what? This movie confused me and I regretted wathing it.
The ambiguous ending is more off putting than satisfying. Jarmusch may have been going for an artsy film, but if the message is not clear, the art is lost. Art is not open to interpretation. Any artist who thinks otherwise, is not as good an artist as they think. The point of a story, and art, is an emotional reaction. A waste of my time, was my only thought after watching this. Anyone who says they were going for that response, is lying.
Photos © Copyright Focus Features (2005)