Movie Review
Broken Blossoms
A tender, tragic love story.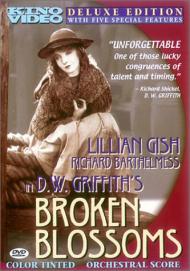 US Release Date: 05-13-1919
Directed by: D.W. Griffith
Starring
▸
▾
Lillian Gish

,

as

Lucy Burrows
Richard Barthelmess

,

as

Cheng Huan
Donald Crisp

,

as

Battling Burrows
Arthur Howard

,

as

Burrows' manager
Edward Peil Sr.

,

as

Evil Eye
George Beranger

,

as

The Spying One
Norman Selby

as

A prizefighter

Reviewed on:
May 13th, 2001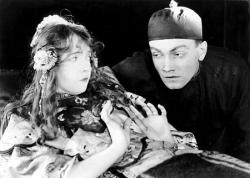 Lillian Gish and Richard Barthelmess in Broken Blossoms.
In 1919, D.W. Griffith made Broken Blossoms, a tender, tragic interracial love story. Its theme can be seen as a response to the cries of racism that had rightly followed his flawed civil war epic The Birth of a Nation. Broken Blossoms tells the story of Chinaman Cheng Huan (referred to in the movie as The Yellow Man), sensitively played by Richard Barthelmess and his love for the innocent and abused Lucy Burrows (Lillian Gish). When the story opens Cheng, in his native land, observes the violent ways of some British sailors and becomes convinced that he must travel to the western world and impart the pacifistic teachings of Buddha. He sets sail and we flash forward a few years. Cheng is now living in the Limehouse district in London running a small store. He is disillusioned by life and spends time in an opium den. The one bright light in his dismal world is young Lucy Burrows, a local urchin that also happens to be the abused daughter of the brutal prizefighter Battling Burrows (Donald Crisp).
After one particularly vicious beating Lucy staggers into The Yellow Man's shop and collapses on the floor. Cheng tenderly nurses her back to health, giving her the first love and affection she has ever known. She, at the same time, gives him dignity.
Of course this idyll cannot last. When Lucy's father finds out her whereabouts he goes on a murderous rampage. Without spoiling the details, lets just say the ending ain't pretty.
The movie, however, is one of the most beautiful and bittersweet love stories ever filmed. Cultural mores at the time would not allow any physical intimacy between the races. This elevates the story to a higher, poetic plane. It will uplift your spirit and then break your heart.
In the silent movie pantheon, Mary Pickford was America's Sweetheart, Theda Bara the Vamp, Clara Bow the eternal Flapper, and Gloria Swanson the regal Movie Star. Lillian Gish was simply the best actress of them all and this is, perhaps, her finest performance. Who can forget the little girl in rags bravely forcing a smile onto her face with her fingers as her eyes fill will tears?
Reviewed on:
December 11th, 2012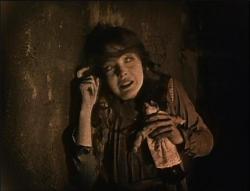 Lillian Gish in Broken Blossoms.
This is a sweet little film, but it's not really a great love story, or perhaps I should say, it's not the most romantic of love stories. Cheng is the first person to show Lucy kindness and he is struck by her innocent beauty, but there's no real romance involved. This doesn't mar the tragedy of the ending, but it does mean that this isn't exactly Romeo and Juliet.
With its limited number of sets, all on a soundstage, this is a very intimate film. It's a far cry from Griffith's earlier epics like Birth of a Nation or Intolerance. It's also less than than half the running time of those earlier films. Instead of a cast of thousands, there's merely a handful of characters. It feels almost like a play.
Griffith made this film for Paramount, but reportedly when he showed it to Adolph Zukor, the studio head hated the film so much that he didn't even want to distribute it. Griffith returned the following day and bought back the rights for the film of $250,000 of his own money and it instead became the first movie released by the newly formed, United Artists. D.W. Got the last laugh when the movie became a critical and financial success, for which Griffith charged the then sky-high admission price of $3.00.
I haven't seen enough of Gish's work to support Patrick's claim that she was the greatest actress of the silent film starlets, but she does a good job here. Her scene of terror in the closet while her father is trying to break in to beat her, is quite well done. The little trick of using her fingers to put a smile on her face though, seems hopelessly melodramatic.
There's a lot to like about this movie, but it is very dated in its execution, even if some of the plot elements were way ahead of their time.

Reviewed on:
April 4th, 2013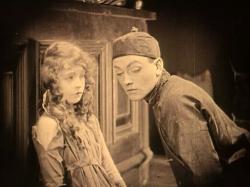 Lillian Gish and Richard Barthelmess in Broken Blossoms
After watching this film and reading my brother's reviews, I seriously wondered if I had actually seen the same movie. Unlike Patrick, I found Cheng nursing Lucy back to health to be more creepy than tender. The close ups of him staring at her as she lays on the bed made me think of a vampire about to bleed someone dry. How Scott saw this as a "sweet little film," is beyond me. Lucy is starving and gets beat by her own father. She ends up dead. "Sweet" is far from the first word that came to mind after watching it.
Broken Blossoms is a painfully slow depressing melodrama. There is, at best, about thirty minutes of plot stretched to ninety minutes. An abused girl stumbles into a kind mans business, who takes care of her until her father comes looking for her. The end.
The big question I have about this movie is Lucy's age. Gish was 26 when she made this movie but like Mary Pickford often did, I wondered if she was playing a much younger girl. Her father beats her like she is a child, yet when he finds her alone with Cheng, he assumes they have been together romantically. So apparently she is of a sexual age, which goes back to Cheng staring at Lucy as she lays in bed. He gives her a doll and some refinery to wear. Was he looking at her as a needy child or a possible love interest? The plot is a bit vague on that, but I never felt invested enough in the story to truly care either way.
Photos © Copyright United Artists (1919)