Movie Review
Broadcast News
It's the story of their lives.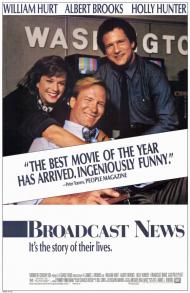 US Release Date: 12-16-1987
Directed by: James L. Brooks
Starring
▸
▾
William Hurt

,

as

Tom Grunick
Albert Brooks

,

as

Aaron Altman
Holly Hunter

,

as

Jane Craig
Robert Prosky

,

as

Ernie Merriman
Lois Chiles

,

as

Jennifer Mack
Joan Cusack

,

as

Blair Litton
Peter Hackes

,

as

Paul Moore
Christian Clemenson

,

as

Bobby
Jack Nicholson

,

as

Bill Rorich
Robert Katims

,

as

Martin Klein
Ed Wheeler

,

as

George Wein
Stephen Mendillo

,

as

Gerald Grunick
Marc Shaiman

,

as

News Theme Writer
John Cusack

as

Angry Messenge

Reviewed on:
February 19th, 2012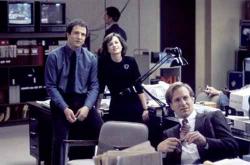 Albert Brooks, Holly Hunter and William Hurt in Broadcast News.
Acclaimed writer, producer, director James L. Brooks (winner of 19 Prime Time Emmy Awards and one of just seven people to win Best Picture, Director and Screenplay Oscars for a single movie (Terms of Endearment – 1983) ) gave us this intelligent and witty movie about a love triangle set in the world of television journalism in 1987. Many of the problems he highlights in Broadcast News have grown proportionately more egregious over the intervening years, particularly with reporters interjecting personal feelings and asides into news broadcasts and with the blurring of the lines between true reportage and staged reality-show type interviews.
Holly Hunter stars as the mildly obsessive-compulsive television news producer Jane Craig. She has a mutually respectful friendship with roving reporter Aaron Altman (Albert Brooks at his nebbishy best) before meeting the easy-on-the-eye but none-to-bright new anchorman Tom Grunick (a well-groomed William Hurt). The main thrust of the story is the rivalry between the handsome but vapid golden boy and the talented but charisma-challenged veteran reporter. With Hunter's Jane finding herself caught in the middle both professionally and personally.
The script deftly balances humor with drama. It manages to treat both central male characters fairly. Aaron is very good at his job, but he's also petty and bitterly jealous of Tom. Tom is lacking in intelligence but he possesses an innate sense of style and ease in front of the camera. Jane is more physically attracted to Tom but has great conversations with Aaron. The decision she faces is the theme of the movie, which to choose, style or substance?
The supporting cast includes two memorable performances. Funny lady Joan Cusack has a classic scene as an assistant producer making a mad dash through the television studio to deliver a last second edited tape to the engineer before airtime. This clip gets shown quite often and has become the single most famous scene in Broadcast News. Jack Nicholson refused a paycheck to play world famous anchorman Bill Rorich. With the exception of one scene he is only shown behind his anchor desk or on a television set reporting the news. His only extended scene occurs when he accompanies the station manager to give the bad news of massive layoffs to the staff. The manager makes an off the cuff comment about how Bill could help the situation by cutting a couple of million dollars off his salary. Nicholson's reaction is priceless.
One great scene is when Tom does his first news broadcast. Jane feeds him lines through his headset while Aaron is at home watching on tv and giving Jane information over the phone to feed to Tom. He quips, "I say it here, it comes out there." Tom later excitedly tells Jane, "You're an amazing woman - what a feeling having you inside my head!"
The script is filled with memorable and witty dialogue. When Jane's boss sarcastically says to her "It must be nice to always believe you know better, to always think you're the smartest person in the room." Without a hint of irony she replies, "No. It's awful." One funny example of just how well Jane and Aaron know each other occurs near the end when they set up a meeting over the phone. He simply tells her, "Ok, I'll meet you at the place near the thing where we went that time."
I won't give away the ending. Instead I'll report that Broadcast News garnered seven Oscar nominations including Best Picture, Director, Screenplay (original), Actor (Hurt), Supporting Actor (Brooks) and Actress (Hunter). It failed to take home a single statuette. Still it remains an entertaining and relevant movie, not to mention a perfect time capsule of the late Reagan years. Think of it as a 1980s companion piece to Network.
Reviewed on:
August 21st, 2014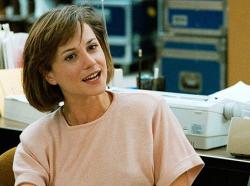 Holly Hunter in Broadcast News.
The fashions, the technology, and the importance of network news all mark this movie as dated. The famous, and very funny scene, Patrick mentioned where a shoulder pad packing, big haired, Joan Cusack races across the news studio with an enormous video cassette, manages to encapsulate all of the dated elements. Today of course, all editing and delivering of film would be done with computers and inserted into a live broadcast via the click of a mouse. And whatever was on the film would probably already be available to read about or view online anyway. What's not dated though, are the relationships between the central characters, the razor sharp and memorable dialogue, and some terrific performances from the leads and supporting cast alike.
Holly Hunter's character Jane is the heart of this story. She's one of the greatest and one of the most fully developed female characters ever written for the screen. Brooks originally wrote her with Debra Winger--whom he had worked with previously on 1983's Terms of Endearment--in mind. Winger was forced to turn the part down because of her pregnancy and Hunter was hired just two days before shooting began. It was a fortuitous chance for Hunter and she makes the most of it.
As Patrick said, this is a love triangle, but in a reverse of many love stories, it's Jane who's torn between the plain, but good hearted, brunette man and the flashy, but shallow blonde man. And even more unusually, even by today's standards, she's a female character whose happiness isn't dependent upon either of them. It's her career that comes first and neither she nor the script is apologetic about it, nor does it make her some hard-nosed bitch. She's a warm, funny, insecure person who happens to love her work and is damn good at it. Far from being dated, her character was ahead of her time then and is still ahead of today's time where such a complex female character in films is still sadly a rarity.
Although both the male leads were credited before Hunter, they are supporting her. Brooks isn't a great actor, but he's very good here, providing some of the film's funniest moments. Hurt was at the pinnacle of his career, coming off of Kiss of the Spider Woman and Children of a Lesser God in each of the years previous to the release of this film. He plays the charming network anchor quite well. He's charming enough that it's easy to overlook his lack of scruples, although compared to what passes for news today, his crimes are very minor. Patrick mentioned another great scene, and possibly the film's very best, when the three stars are working together to create the newscast, with Brooks feeding info to Hunter over the phone, who's passing it on in newsworthy form to an on-air Hurt.
James L. Brooks deserves much of the film's credit, seeing as how he wrote, directed and produced it. His script is filled with memorable lines. Patrick mentioned a few, but I'll just add a couple of my favorites. "Except for socially, you're my role model." " Wouldn't this be a great world if insecurity and desperation made us more attractive? If 'needy' were a turn-on?" And I'll also repeat one Patrick mentioned, because it deserves it, "Ok, I'll meet you at the place near the thing where we went that time." Such a simple line, but it's charmingly delivered and says so much about their relationship through just one line of dialogue.
Like many great movies, this one is both very much of its time, while being timeless in all the ways that matter. Some of the fashions are god awful, especially the women's, but the characters and situations are as relevant as ever, while great dialogue never goes out of style.
Photos © Copyright Twentieth Century Fox Film Corporation (1987)
Related Review