Movie Review
Bridget Jones's Diary
It's Monday morning, Bridget has woken up with a headache, a hangover and her boss.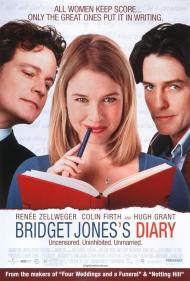 US Release Date: 04-13-2001
Directed by: Sharon Maguire
Starring
▸
▾
Renee Zellweger

,

as

Bridget Jones
Hugh Grant

,

as

Daniel Cleaver
Colin Firth

,

as

Mark Darcy
Jim Broadbent

,

as

Colin Jones
Gemma Jones

,

as

Bridget's Mum
Charmian May

,

as

Mrs. Darcy
James Callis

,

as

Tom
Shirley Henderson

as

Jude

Reviewed on:
April 15th, 2001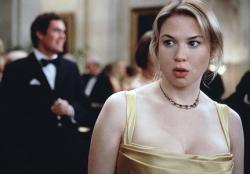 Renee Zellweger in Bridget Jones's Diary.
You know, I thought that I would love, stress LOVE, Bridget Jones's Diary. It is created by the maker's of Nottinghill, and Four Weddings and a Funeral. Two of my all time favorite movies. It stars Hugh Grant, Renee Zellwegger, and Colin Firth, all of whom I am fans of. And yes, I really am a fan of Colin Firth. I liked him in Another Country, Pride & Prejudice, and Shakespeare in Love. Also being a fan of all things English, the movie had that going for it as well. All this on top of the fact that it is a romantic comedy, of which I am a huge fan of the genre. The truth is, I didn't exactly love Bridget Jones's Diary.
In all honesty, it was probably my ultra-high expectations going into the movie, that account for my reaction. And I should also add, that I did in fact, enjoy this movie. It is funny, cute, and romantic all to varying degrees. It just didn't have that spark at it's center that all truly great movies possess.
The movie tells the story of, you'll never guess, Bridget Jones and her diary. One year of her life, to be precise, is chronicled, centering mainly on her love life. After an embarrassing moment at a Christmas party, she vows to improve her life in all sorts of ways, but mainly her love life. A vow she almost immediately breaks when she begins flirting with her boss (Hugh Grant) via e-mail. Colin Firth plays the third point in the triangle as a man that at first Bridget detests, and that Hugh Grant shares an unpleasant past with, involving a wife, nudity, and a door unexpectedly opened. And while the ending of the movie, and who ends up with who, should come as no surprise to you, I won't spoil it for you here.
The cast is well chosen. Renee is her usual mousy sweetness, Colin plays the stiff Brit' to perfection, and Hugh Grant manages to create a well rounded character that is against type of his usual stammering, lost character.
There are some hilarious moments in this movie. Anytime Bridget speaks before a crowd and one of the greatest fight scenes ever filmed, to name two. Picture Rocky done with two upper-class Englishman and you'll get the idea.
I think the only thing I was really disappointed in, was the predictability of the plot. Now granted, most love stories are predictable, but if the rest of the movie is enjoyable enough, it doesn't matter. This movie never sucked me far enough in for me to forget where it was inexorably going.
Still, I wasn't bored, I didn't hate it, and I feel like I am making excuses for why I didn't utterly, whole heartedly love this movie, and again it was probably just my own high expectations. Go in without expecting so much and you may ask yourself, just what the hell was he talking about?
Reviewed on:
April 18th, 2001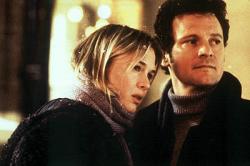 Renee Zellweger and Colin Firth in Bridget Jones's Diary.
Renee Zellwegger as Bridget Jones enters the ranks of full fledged movie star. She has arrived. In Bridget Jones's Diary she does what few female stars in pictures get to do. Namely really star in her own movie, ala Bette Davis. You know, the kind of movie where she is in virtually every scene and is the clear emotional center of the story. This is one of the juiciest roles to come along in some time; particularly if you don't count any part played by either Julia Roberts or Sandra Bullock. Renee Zellwegger, besides doing a flawless accent (at least to my untrained ear), gives her role just the right combination of realness and romanticism. She is both pathetic and completely sure of herself at one and the same time. And she allows herself to be truly average looking, something fairly rare in Tinsel Town.
As Scott briefly mentioned Hugh Grant plays against type here and for good affect. He shows guts in his willingness not only to play the heavy, but by being so damn good at it he makes it abundantly clear that he truly understands the mind of a cad. It also appears that he has been lifting weights, at least I don't remember his chest as being that defined.
Unlike Scott I had no idea who the hell Colin Firth was until now. I fell asleep during Shakespeare In Love, I have never seen Pride & Prejudice and it has been many years since I last watched Another Country. I shan't forget him again.
Despite these bravura performances and some fairly humorous moments the overall script and direction do not match up. There is too much fluctuation in mood between a gritty, chain-smoking, gin swilling English sensibility and a Disneyish, predictable, sunny southern Cali feel. Know what I mean? Anyway, since not much else is playing right now go see it and decide for yourself.

Reviewed on:
April 20th, 2001
Colin Firth and Hugh Grant in Bridget Jones's Diary.
Bridget Jones's Diary is such a chick flick I had to actually remind myself to keep watching and not vomit. I don't give a damn how much she weighs at any given time. I don't care how many cigarettes or drinks she puts away. Bridget Jones spends a good deal of the movie reminding us what an overweight drunk she is. That is entertainment?
The film tries to succeed with humor. The time Bridget discovers her boyfriend's naked fiancée in the bathroom. The fiancée looks up and says to him, 'I thought you said she was thin?' It was the one true laugh I had. Bridget's three friends, two chain smoking drunks and a gay has been, are such movie clichés that they add nothing, even though they were intended as comic relief.
Unlike Patrick, I thought Renee Zellwegger's accent was too exaggerated. Colin Firth and Hugh Grant had less of an accent than she did, and they are British. Speaking of Hugh Grant, what the hell charm does anyone see in him? He always comes off arrogant, snotty and feminine.
Much like Waiting to Exhale and The First Wives Club, this is a woman scorned movie. A poor, poor, pitiful me movie. Why are there so few women's movies where guys aren't the bad guy? The only one I can think of is The Hand That Rocks The Cradle. I am by far not this movie's target audience. There probably are a lot of lonely women who related and liked this one. It just made me want to throw up.
Photos © Copyright Alliance Atlantis and Miramax (2001)