Movie Review
Bridesmaids
Save the Date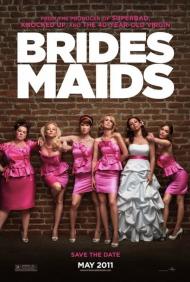 US Release Date: 05-13-2011
Directed by: Paul Feig
Starring
▸
▾
Kristen Wiig

,

as

Annie
Rose Byrne

,

as

Helen
Chris O'Dowd

,

as

Officer Rhodes
Maya Rudolph

,

as

Lillian
Ellie Kemper

,

as

Becca
Melissa McCarthy

,

as

Megan
Wendi McLendon-Covey

,

as

Dana
Matt Lucas

,

as

Steve
Jon Hamm

,

as

Ted
Michael Hitchcock

,

as

Donna
Jill Clayburgh

,

as

Annie's Mom
Rebel Wilson

as

Brynn

Reviewed on:
May 14th, 2011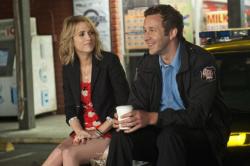 Kristen Wiig and Chris O'Dowd in Bridesmaids.
Judd Apatow produced movies are famous for their frat boys humor so maybe it's about time he got around to producing a girl's comedy. Co-written by and starring Saturday Night Live's Kristen Wiig, this hilarious comedy goes a long way toward disproving the ridiculous theory that you sometimes hear espoused that women can't be funny.
Wiig stars as Annie, a down on her luck woman living in Milwaukee, WI. She recently lost her cake baking business and is in a sex only relationship with a jerk played by Jon Hamm. The news that her best friend Lillian (played by SNL alum Maya Rudolph) is getting married and wants Annie to be her maid of honor doesn't do much to raise her spirits as it only reminds her of how much her life isn't going according to plan. Adding to her aggravation is the fact that another of Lillian's friends, the rich and beautiful Helen, is trying to take over the planning of the wedding and usurp Annie's place as Lillian's best friend.
Wiig, who is the funniest performer currently on SNL, shows here that she has a future in movies. She has the charisma and comic timing to carry a movie and she remains the star despite a supporting cast that does its best to steal every scene that it can. I can't help but think that this movie's success could soon signal her departure from television.
Like most of Apatow produced movies there was reportedly quite a lot of improvisation during the filming. For the most part this works as the cast is quite funny, but a couple of times a joke does run on for too long. It's especially noticeable because of the film's 2 plus hour running time, which is a bit long for a comedy. Take Annie's attempts to get the policeman Rhode's attention near the film's climax, as an example. By then the movie should be wrapping up, but the story is stopped dead by Wiig's repeated clowning. It's not that she isn't funny in the scene, but just that it should have been edited for the sake of the movie's structure.
Of the supporting cast of women, Melissa McCarthy gets the showiest part. Her tough talking, fight club bridal shower wanting, heavy-set character is rough and funny. Of all the characters besides Wiig, her scenes feel the most improvised, with mostly hilarious results. She certainly isn't afraid to put herself out there.
One thing these women aren't afraid to do is get down and dirty with a little gross-out humor. A bad experience at a bridal shop following some suspicious Brazilian food is disgustingly funny with bodily fluids and noises used to amusing effect.
Along with the comedy, the story does provide some heart with a romance between Annie and Rhodes, a police officer played by Irish comedian Chris O'Dowd (Roy on the British sitcom, The I.T. Crowd). He's nearly the only male character given much screentime, and while he plays the supporting part well, it is definitely a supporting part, as this is a chick flick, even if it is a chick flick with a difference.
I'd actually been growing tired of the Apatow style of comedy after so many films and so many imitations of his films, but perhaps it's the female cast angle that gives it a new life or maybe it's Wiig's script, but in any case Bridesmaids is easily the funniest movie of the year so far.

Reviewed on:
May 26th, 2011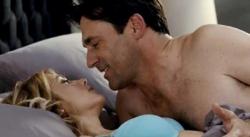 Kristen Wiig and Jon Hamm do it, in Bridesmaids
Bridesmaids is one of the funniest chick flicks I have ever seen. It is all about the ladies, but I laughed at the guys. Jon Hamm proved to be a competent comedian on 30 Rock and plays a similar character here who is not as good at sex as he thinks he is. Just after having sex with Wiig he looks down at her, smiles and says as charming as he can, "This is awkward. I don't want to sound like a dick, but I want you to leave." Later he drives up to where Wiig is stranded by the side of the road with her love interest O'Dowd. Hamm smiles at her and calls her, for all to hear, his "fuck buddy."
One of the best and unique aspects of this chick flick is that it does not blame men for all of the women's problems, as so many chick flicks tend to. Ted is a self serving jerk, but Annie makes the choice to stay with him in hopes it will turn out. Officer Rhodes is clearly the man for Annie but she must learn to see him as such. Annie does not cause all of her own problems, but she has to come to terms with the fact that only she can chose to fix them.
Maybe having two women write it and a man direct and produce it is a balanced combination? The two male leads are playing chick flick movie stereotypes. Ted is the dog while Officer Rhode is the hero. It is in how Annie reacts to them that is refreshing. I wish they were both in it more, but this is all about the ladies, and as Scott wrote, it did seem about to end a couple of times, only to continue with another scene of two women over analyzing their feelings.
Reviewed on:
September 20th, 2011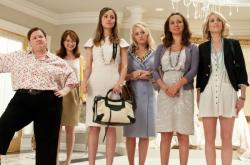 The talented ensemble cast of Bridesmaids.
Wiig is very funny and she carries the movie but her supporting cast shines too. As in last year's MacGruber, Maya Rudolph seems always to be getting married in movies starring Kristen Wiig. I find her equally as funny and it's about time she got her own starring vehicle.
I agree that Melissa McCarthy is a real scene stealer but then so are Rose Byrne, Ellie Kemper and Wendi McLendon-Covey. There isn't an unfunny lady in the house. Jill Clayburgh (whom I adored in Silver Streak as a kid) is perfectly cast as Annie's look-alike mom, in this her last movie role.
Bridesmaids does a good job of mixing gross-out humor with a sweet friendship/romance storyline. As Scott mentioned the bridal gown boutique scene is one for the ages. It is completely disgusting in the most hilarious sense of the word.
The scenes with all the women together, like the disastrously funny flight to Vegas, provide the most laughs. The last 30 minutes or so strays a bit from the ensemble comedy as it chooses to focus on Wiig and her budding relationship with O'Dowd at the expense of the other ladies. I also concur that it runs a bit long, threatening to overstay its welcome during the final 20 minutes or so.
Wiig's confrontation with the girl at the jewelry store is my personal favorite scene. Her timing and delivery are impeccable, proving she is one of the funniest women working in the movies today, and Bridesmaids is definitely one of the year's best comedies.

Photos © Copyright Universal Pictures (2011)