Movie Review
The Bride Came C.O.D.
Cagney, Davis on screen together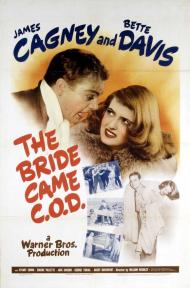 US Release Date: 07-25-1941
Directed by: William Keighley
Starring
▸
▾
James Cagney

,

as

Steve Collins
Bette Davis

,

as

Joan Winfield
Jack Carson

,

as

Allen Brice
Harry Davenport

,

as

Pop Tolliver
Stuart Erwin

,

as

Tommy Keenan
Eugene Pallette

,

as

Lucius K. Winfield
George Tobias

,

as

Peewee
William Frawley

,

as

Sheriff McGee
Edward Brophy

as

Hinkle

Reviewed on:
May 20th, 2003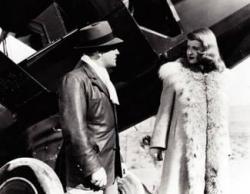 James Cagney and Bette Davis in The Bride Came C.O.D.
The Bride Came C.O.D. is a simple little romantic comedy that follows a tried and true formula. With one unique feature. It has legendary actors James Cagney and Bette Davis in the second of only two movies they appeared in together. The script should be familiar to anyone who has seen many movies from the thirties and forties. Spoiled heiress comedies are almost a genre unto themselves. They always involve a kidnapped - or lost - or runaway to elope - young lady that is mad at her wealthy father and is in love with the wrong man. She always meets Mister Right on her travels and they overcome all obstacles to get married with Daddy's approval just before the final credits. It Happened One Night is certainly the most famous and best example, while The Bride Came C.O.D. is remembered only for its powerhouse stars.
Davis is oil heiress Joan Winfield. While her father is in Chicago on business she plans to elope with egotistical band- leader Allen Brice (Jack Carson), whom she has known a full four days. When they try to charter a plane for their getaway Joan's father manages to track them down at the airport and - over the phone - makes the cash strapped pilot Steve Collins (Cagney) a deal. To deliver his daughter - unmarried - to Amarillo. They agree on the fee of ten dollars for every pound the would be bride weighs upon arrival; said fee to be paid Cash On Delivery.
Of course the plane that Steve 'kidnaps' Joan in goes down in death valley and they stumble upon a nearly deserted ghost town. Here they share some mildly amusing adventures, the funniest of which is when Joan thinks they are trapped in an old gold mine and Steve lets her think that - even though he knows the way out. Things build quickly to a head when the media, the band leader, a sheriff, a minister and (finally) the father all show up in time for the big finish.
This one is perfect viewing for a rainy day. Seeing pug-dog Cagney opposite bug-eyed Bette as they try to out act each other is truly a sight to behold.

Reviewed on:
June 2nd, 2003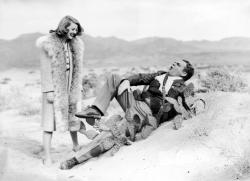 Bette Davis and James Cagney in The Bride Came C.O.D.
Patrick is right on here. This movie is completely star driven. It's like having Jackie Joyner Kersey and Carl Lewis running in a small town foot race. The plot is simple and quaint. These two huge stars are larger than the story.
James Cagney and Bette Davis appear to be having the time of there life making this movie. I like the scene where Cagney is in the jail shooting his sling shot at Davis while she is trying to wave to a plane flying overhead. Their onscreen bickering is an utter joy. It pretty much lasts most of the movie. The ending is perfect. After all that happens, Cagney still weighs Davis and expects her father to pay up.
Bette Davis was one ugly woman. Luckily she had a voice and knew how to enunciate. It has been several years since I have seen this movie, but I can still hear her calling her father blubber mouth or yelling "Mustard!" When she tastes it on Cagney's breathe after kissing him.
Besides the two legendary stars this movie boasts one of the most recognizable supporting casts. There's William Frawley before he became Fred Mertz. There's Harry Davenport who played the Grandpa in Meet Me In St Louis. There is Jack Carson who was in Arsenic and Old Lace. There is also Eugene Pallette from My Man Godfrey.
This is not a completely original story, but it really is a classic. Davis and Cagney would not make many comedies, but after watching this movie you will have wished they did. This movie should be in every film buffs collection.
Reviewed on:
November 24th, 2010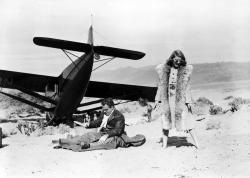 James Cagney and Bette Davis in The Bride Came C.O.D.
While this is an enjoyable little romp, it very much feels like a retread of better movies that have come before it. It's really only the novelty of seeing two of Warner Bros. biggest dramatic stars of the 1930s team up for a comedy that makes this one worth watching. Their presence and talents help raise the material above its simple formula.
One thing I did enjoy was the ever so slightly racy humor. It's nothing compared to pre or post code films, but there are a couple of jokes that surprised me. Cagney's character is a player who pretends to have a wife and kids so to avoid having to get serious with any of the women he's squiring around in his airplane, for what obviously seems like sexual purposes. When Davis's father tells Cagney that when he pays for his daughter's delivery by the weight that the weight can't include her clothes, Cagney quips, "Only if I can be there at the weigh-in!" Later when Davis get's a backside full of cactus quills, she lays suggestively across Cagney's lap while he pull them from her.
Eric, you mention that Davis was unattractive, but Cagney was no Cary Grant. Together they make possibly the least attractive couple in a romantic comedy ever. He's short and obviously overweight here. Even the pants that come up almost to his chest, can't hide that fact. Davis is supposed to be 23, but she was 32 and looks it, if not older. And yet, somehow it doesn't really matter. They've both got charisma and talent to spare here. You get the feeling that neither one of them was breaking a sweat using their acting muscles here and yet they're both delivering a stellar performance.
While I might agree that this movie is of interest to any fan of old Hollywood simply by the presence of the two stars, I would never use the word classic to describe it.
Photos © Copyright Warner Bros. (1941)
Related Review