Movie Review
Bride & Prejudice
Bollywood meets Hollywood... And it's a perfect match.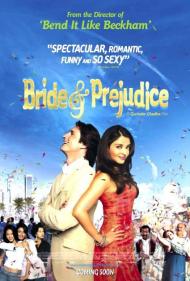 US Release Date: 02-11-2005
Directed by: Gurinder Chadha
Starring
▸
▾
Aishwarya Rai

,

as

Lalita Bakshi
Martin Henderson

,

as

Will Darcy
Daniel Gillies

,

as

Mr. Wickham
Naveen Andrews

,

as

Balraj Bingley
Namrata Shirodkar

,

as

Jaya Bakshi
Indira Varma

,

as

Kiran Bingley
Nadira Babbar

,

as

Mrs. Bakshi
Anupam Kher

,

as

Mr. Bakshi
Marsha Mason

as

Catherine Darcy

Reviewed on:
January 30th, 2005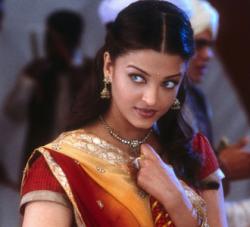 Aishwarya Rai in Bride and Prejudice.
A Bollywood musical remake of Jane Austen's Pride and Prejudice might not seem like a winner, and yet thanks to the direction of Gurinder Chadha (Bend It like Beckham) and its talented and likable cast, this is a movie that grabs a hold of you and doesn't let go until there's a smile on your face.
The plot, apart from being transplanted to India and moved into modern times, remains fairly loyal to its source material. Aishwarya Rai plays Lalita Bakshi, this movie's version of Elizabeth Bennett. She's the strong-willed second daughter in a family of four girls. Her mother wants nothing more than to see all of her daughters married off to rich, eligible young men. And when a rich young Indian from London comes to town, she sees her chance to marry off her oldest daughter. It is the American, Darcy (Henderson), who sparks with Lalita however. And although at first they do nothing but argue, it's obvious that there are sparks between them.
It is in the comedy where this movie most excels. The mother is both hilarious and infuriating at the same time. When the rich Indian offers to take her oldest daughter on a trip to the beach, her husband at first objects, but she cuts him off by saying, "This could be her chance, plus he'll get to see her in a bathing suit!" And Nitin Chandra Ganatra as Mr. Kholi, is quite funny as the hideous suitor in pursuit of Lalita.
Rai, already a huge star in India, gives a star turn with her multi-talented performance as Lalita. She sings, she dances, and possesses an onscreen beauty and charm that translates into any language. Unfortunately, Martin Henderson is as dull as she is charming. Stiff and awkward, it's difficult to see what it is that she sees in him.
The songs, while catchy at times, are light and forgettable. While they're appropriate to the scenes in which they appear, the movie could just as easily done without them or with less of them. They're somewhere below a Disney musical, a sort of Broadway-lite. The dancing however, is colorful and beautiful.
Although the story has obviously been made with a Western audience in mind, the movie does retain the typical elements of a Bollywood movie. The most striking difference from a typical Hollywood movie being that kissing is considered taboo, despite the quite often suggestive dancing and revealing costumes. This movie follows that tradition and the only kissing that is done, is to hands and foreheads.
Following Bend it Like Beckham and now this movie, Chadha is quickly becoming a master of girl-power, feel good movies. And so long as they all remain as charming as these two, I say keep them coming.
Reviewed on:
March 4th, 2006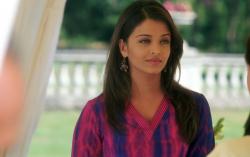 Aishwarya Rai in Bride and Prejudice.
This movies a delight. I love the fact that it is a true old fashioned musical. Imagine characters just breaking into song whenever the fancy strikes to advance the plot and develop character. What a radical idea. And though the melody and lyric to the songs may seem rather simple, rhythmically they are much more adventurous and infectious than your typical Broadway or Disney tunes. The dancing is also inspired. My favorite was The Cobra Dance.
Scott's right about Martin Henderson. He's completely average and forgettable. To be fair this is a difficult role to pull off. Since Darcy is not nearly as finely drawn as Lalita he must be given an ineffable quality that intrigues the audience and makes them root for the guy. If it ain't in the script the only way to achieve it is with incredible acting and smoldering screen intensity. Without that the character will seem bland and empty. Marlon Brando in Streetcar is the greatest example of this when it works. On paper Blanche is the far greater character, after all Stanley's most famous line is simply yelling his wife's name. It is all in the performance. It goes without saying, of course, that Martin Henderson is no Brando. But, quite frankly, he's not even a Steve Guttenberg.
Bride and Prejudice is a colorful funny tapestry covered with music and romance. Why can't Hollywood make movies like this anymore?

Reviewed on:
January 20th, 2009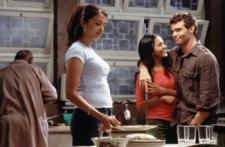 Aishwarya Rai and some irrelevant co-stars.
Bride and Prejudice is a chick flick with big bright musical numbers. The cast, for the most part, is likable and often humorous. The two male white suitors are as bland as dust. They're audition must not have gone any further than, "Take off your shirt." The rest of the cast keeps the movie moving along. The Americanized, Indian suitor with the annoying laugh was one of my favorite characters.
Aishwarya Rai is the real attraction though. She is a very, very beautiful woman. As Scott mentioned, there is no lip on lip kissing. It is a nice change of pace from most western movies and Rai comes across as none the less sexy. Because of the puritan approach to sex in this movie, the scene where Will reveals the pregnancy seems all the more shocking.
I was not looking forward to the musical numbers as I know none of these songs, but they are so rhythmic, and the dancing so lively, that I enjoyed most of them well enough. Ashanti does a cameo appearance as a performer on beach. Her song, like the rest of the movie, tries to combine Indian flavors with American tastes. This is not a movie I will likely ever make a point to watch again, but it is a great introduction to Bollywood films and a joy for anyone who loves musicals.
Photos © Copyright Miramax Films (2005)