Movie Review
Brewster McCloud
THIS MAY BE OVER YOUR HEAD.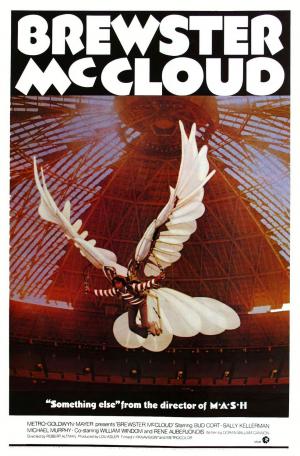 US Release Date: 12-05-1970
Directed by: Robert Altman
Starring
▸
▾
Bud Cort

,

as

Brewster McCloud
Sally Kellerman

,

as

Louise
Michael Murphy

,

as

Det. Lt. Frank Shaft
William Windom

,

as

Weeks
Shelley Duvall

,

as

Suzanne Davis
Rene Auberjonois

,

as

The Lecturer
Stacy Keach

,

as

Abraham Wright
John Schuck

,

as

Officer Johnson
Margaret Hamilton

,

as

Daphne Heap
Jennifer Salt

,

as

Hope
Corey Fischer

,

as

Officer Hines
Bert Remsen

as

Officer Douglas Breen
Reviewed on:
July 26th, 2016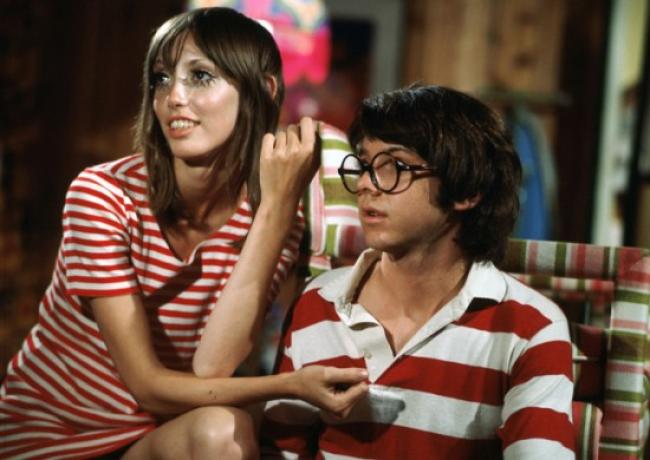 Shelly Duvall and Bud Cort in Brewster McCloud.
Brewster McCloud was director Robert Altman's follow-up to his smash hit MASH. It was certainly not what anyone was expecting. It's a bizarre little film to say the least. Although it doesn't fit neatly into any one genre, Brewster McCloud is a dark comedy that's a social parable with neo-noir elements. Shot in and around the Houston Astrodome in 1970, it's about a reclusive young man living in a fallout shelter at the Astrodome. He is secretly building a pair of wings so he can fly. He is watched over by a mysterious woman/guardian angel played by Sally Kellerman. She spends the entire movie wearing only a trench coat with nothing underneath. Rene Auberjonois plays The Lecturer, teaching a class on birds. He never interacts with the other characters but he is shown intermittently throughout the film and he becomes more and more birdlike as the story goes along.
Here are a few more strange plot elements. A series of murders by a presumed serial killer is happening in Houston. Each of the victims is found with bird droppings on them. The Houston Police call in "San Francisco super cop" Frank Shaft (Michael Murphy) and his big decision is lab-testing the bird poop found on each of the victims. The murder victims include Margaret Hamilton wickedly satirizing her character of Miss Gulch from The Wizard of Oz. She plays a racist busybody who sings The National Anthem at the Astrodome. Her dead body is discovered wearing red rhinestone slippers. Another victim is a mean old miser named Abraham Wright, played by Stacy Keach in old man make-up. In one of the movies many visually interesting scenes, Wright takes a high speed ride in his wheelchair down a long hill on a freeway.
Bud Cort stars as the title character. He wears a "Where's Waldo-like" red and white striped shirt and large round glasses that give him an owlish appearance (see photo). The angel (although she is missing her wings so perhaps she is a fallen angel?) played by Sally Kellerman warns Brewster against having sex as this loss of innocence will somehow destroy his ability to fly. Despite one young woman's obvious interest in him (she masturbates loudly under a sheet while Brewster does pull-ups), Brewster remains totally focused on his goal. That is until he meets race car driver Suzanne (Shelly Duvall in her movie debut), who quickly complicates his life.
There is humor throughout the movie. The story is alternately quirky and whimsical, and even includes an exciting car chase through the streets of Houston near the Astrodome. These scenes are time-capsules. Many of the buildings shown here have long since been demolished and we'll never see the likes of these automobiles and clothing fashions again. The story builds nicely to its symbolically appropriate climax, and the movie's most famous scene, where Brewster soars around the Astrodome. Altman wraps things up with a circus show featuring the entire cast during the end credits. I can say with complete sincerity that Brewster McCloud is unlike any other movie I've ever seen. It was Robert Altman's favorite of the more than 35 movies he directed in his long career. It's certainly the most unique.
Photos © Copyright Metro-Goldwyn-Mayer (MGM) (1970)