Movie Review
The Break-Up
. . . pick a side.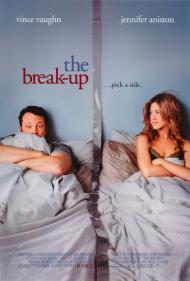 US Release Date: 06-02-2006
Directed by: Peyton Reed
Starring
▸
▾
Vince Vaughn

,

as

Gary Grobowski
Jennifer Aniston

,

as

Brooke Meyers
Joey Lauren Adams

,

as

Maddie
Cole Hauser

,

as

Lupus Grobowski
Jon Favreau

,

as

Johnny O
Jason Bateman

,

as

Riggleman
Judy Davis

,

as

Marilyn Dean
Justin Long

,

as

Christopher
Ivan Sergei

,

as

Carson Wigham
John Michael Higgins

,

as

Richard Meyers
Ann-Margret

,

as

Wendy Meyers
Vernon Vaughn

,

as

Howard Meyers
Peter Billingsley

as

Andrew


Reviewed on:
June 7th, 2006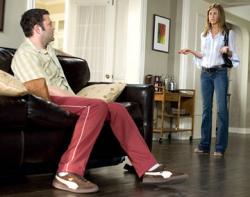 Vince Vaughn and Jennifer Aniston in The Break-Up.
To best describe The Break Up you must simply picture a dull, less edgy War of the Roses. Gary and Brooke break up and each wants to get back at the other while they share their condo until it is sold. They annoy each other by the simplest terms of messy behavior and dating other people. Neither ever gets remotely creative in getting the others attention.
The two leads seemed confused as to how they feel about each other. One minute Brooke is pining about Gary and another she is turning him down. Gary acts bored with Brooke then later wants to get back together. The real problem with this movie is basic screen writing. The character's desires must be obvious so that the audience can root for them to succeed. Neither of these two people seem to really know what they want so the audience is left feeling indifferent. If these two lovers don't care, why should we?
Vaughn came up with the story, what story there is, and produced it. The only moments to shine are when either of the leads interact with a supporting character. Brooke's co-workers, played by Justin Long and Judy Davis steal every scene they are in. Gary is constantly surrounded by his friends and brothers. So many supporting stars pop in and out that it is almost difficult to keep track of who is who.
The Break Up is getting plenty of press because of Aniston's break up with Brad Pitt and because Aniston and Vaughn are supposedly dating. However, they keep arriving to premieres and interviews separately. My theory is that someone at the movie studio watched this dud and told the stars to let people believe they are a couple so as to generate some interest in this lackluster film.
Reviewed on:
June 10th, 2006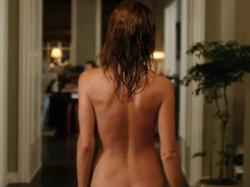 Jennifer Aniston in The Break-Up.
Eric summed up the problem with this movie perfectly when he said, "If these two lovers don't care, why should we?". Throughout the whole movie I kept thinking, why are these two even together? What does she see in him and beyond finding her attractive, what does he see in her? These two are obviously unsuited for each other and so instead of hoping they'd make it together, I just kept thinking, "So break up already! What are you waiting for?"
Aniston, who had such success on Friends as Rachel, just can't seem to get her movie career started, but I don't think it's for lack of talent. She can be funny and she's shown she can handle drama in movies like The Good Girl and Friends with Money, but unfortunately every big movie she makes is a bad choice. With her money from Friends she can't be hurting for cash. She should stick to independent movies and work on getting some awards. Then maybe better big movies would come along.
As for Vaughn, the best description I've ever heard about him was from Entertainment Weekly's movie critic, Owen Glieberman. He said that Vaughn doesn't so much act, as he does hang out in this movie. And that's his MO in all the movies he appears in. He's the new Bill Murray. The slacker with the heart of gold who appeals to men of all ages and is non-threatening to women. It makes for a potent box office combination, but in this movie he is out of his depth and in over his head.
I also agree with Eric's opinion of the supporting cast in that they supply many of the movie's best moments. It's just too bad that most of these moments are completely unnecessary to the plot. The scenes are tacked on because there isn't enough meat in the main plot to pad out the movie.
The movie was also set in Chicago (Vaughn's hometown), but unlike such movies as When Harry Met Sally, which put New York to such good use that it's almost a character in the film, this movie could have been set anywhere. If it was Vaughn's intention to show off the city, he fails, despite showing a few of the city's landmarks, nothing would have been altered about the atmosphere if it had been set in anytown USA.
To sum up, I'll turn to Eric once again and agree wholeheartedly, that lackluster and dull are two perfect adjectives to describe this movie.
Reviewed on:
June 10th, 2015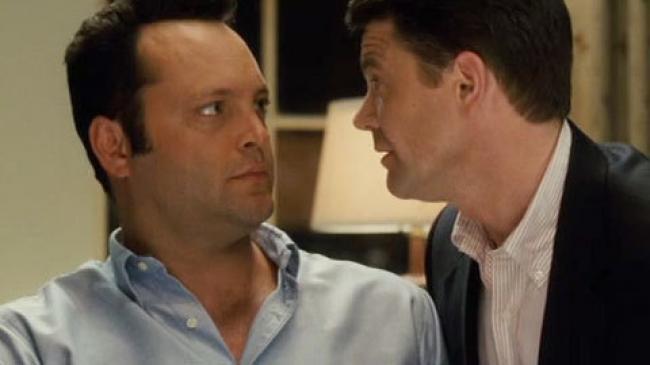 Vince Vaughn and John Michael Higgins in The Break-Up.
I wish, for the sake of diversity, that I had a different opinion of The Break-Up from that of my brothers. I'd like to say that I loved this movie, but alas, I cannot. This so-called anti-romantic comedy is a disappointment that fails to provide many laughs or more than a whiff of romance. It also fails to bring any new insight to the game of human relationships. Instead we get the same old recycled characters we've seen a hundred times before. You know, where the man is a selfish eternal man-child and the woman is a needy, controlling bitch.
The opening pre-credits sequence shows how Gary and Brooke met at a baseball game. He's annoying and won't take no for an answer. Then during the credits, we get a montage of still photographs showing the two of them looking every inch the happy in-love couple. But once the movie proper begins the Gary and Brooke we meet are nothing like the couple from the credits. They don't seem like a couple who have fallen out of love. Instead they seem like two people who would never have been together in the first place.
The movie never recovers from this opening setup. Despite the inclusion of numerous supporting characters Gary and Brooke totally dominate the movie. The others get a few moments to shine (like John Michael Higgins at the dinner party scene where he leads the others in an a cappella version of "Owner of a Lonely Heart") but far too much time is spent on this boring central twosome. Not only didn't I care if they got back together or not, I didn't even want to spend time with these two self-absorbed, shallowly written, and yes, dull and lackluster, individuals. Vaughn and Aniston fail to generate sparks together, either romantically or comically.
I also agree with Scott that considering the fact that Gary gives tour bus guides of Chicago the movie never takes full advantage of any of the Windy City's tourist attractions. There should have been a scene where they go for a romantic stroll around the city at night. If nothing else it might have injected the movie with a hint of badly needed romance. I waited nine years to watch The Break-Up. I wish I could say it was worth the wait, but alas, I cannot.
Photos © Copyright Universal Pictures (2006)