Movie Review
Brave
Change your fate.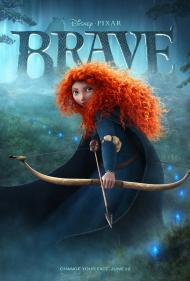 US Release Date: 06-22-2012
Directed by: Mark Andrews, Brenda Chapman and Steve Purcell
Starring
▸
▾
Kelly Macdonald

,

as

Merida (voice)
Billy Connolly

,

as

Fergus (voice)
Emma Thompson

,

as

Elinor (voice)
Julie Walters

,

as

The Witch (voice)
Robbie Coltrane

,

as

Lord Dingwall (voice)
Kevin McKidd

,

as

Lord MacGuffin/Young MacGuffin (voice)
Craig Ferguson

,

as

Lord Macintosh (voice)
Sally Kinghorn

,

as

Maudie (voice)
Eilidh Fraser

,

as

Maudie (voice)
Peigi Barker

,

as

Young Merida (voice)
Steven Cree

,

as

Young Macintosh (voice)
Steve Purcell

,

as

The Crow (voice)
Callum O'Neill

,

as

Wee Dingwall (voice)
Patrick Doyle

,

as

Martin (voice)
John Ratzenberger

as

Gordon (voice)

Reviewed on:
June 24th, 2012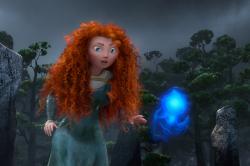 Kelly Macdonald provides the voice of Princess Merida in Pixar's Brave.
Although Pixar has put out hit after hit, until now they've never made a movie featuring a female protagonist. With Brave they make their first addition to the Disney Princess line. Of course since this is Pixar, this isn't quite your traditional Disney story.
The first difference--and the one most bound to surprise and please my brother Eric--is that both of Princess Merida's parents are still alive. The other and more major difference is that instead of looking or waiting for Prince Charming, this Princess is doing her best to avoid getting involved with a suitor. This is an adventure story and not a romance.
Princess Merida is the tomboyish daughter of a Scottish King. Her mother is trying to arrange a marriage for her, but Merida would rather ride her horse and shoot her bow and arrows than look for a husband. When Merida comes across a witch in the woods one day, she decides to take advantage of the opportunity and get a spell that will change her fate. As you'd expect of course, things don't go according to plan.
As with every Pixar film, the animation is excellent. It's not exactly groundbreaking, but it's beautiful to look at it. The real standout is Merida's mane of curly red hair that's practically a character of its own. I will add that the 3-D I saw it in because the time was more convenient, added absolutely nothing to the experience apart from $5 to the ticket price.
Although not a straight out comedy, there is plenty of humor. Scottish comedian Billy Connolly provides the voice of the king and his bluster generates some laughs. Merida's three younger brothers also provide some comic relief as does Julie Walters as the witch.
The real heart of the story is the relationship between Merida and her mother. Merida doesn't want to grow-up and accept any responsibility and her mother wants Merida to do as she's told and behave herself. The resolution of the story isn't about Merida finding true love, but coming to terms with her mother and her destiny.
I'm sure that some people will complain about the lack of a love story or even a true villain, but I highly enjoyed this movie. There's plenty of adventure, laughs and Pixar's quality animation. It's certainly a big a improvement over last year's disappointing Cars 2.

Reviewed on:
July 4th, 2012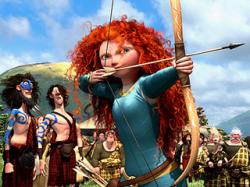 Katniss Everdeen has nothing on Merida.
First and foremost, I must get one thing off my chest. Why was Sheena Easton not hired to voice Queen Elinor? The London born Emma Thompson has done lots of good film work, but here her accent slips far too often. Kelly Macdonald, Billy Connolly, Robbie Coltrane, Kevin McKidd and Craig Ferguson were all born in Scotland. Sheena Easton would have completed the Scottish cast. Sure she has lived in the United States for years now but no doubt she could have spent a bit of time in Scotland and got her adorable Scottish accent back quite naturally.
With that said, Brave is a unique animated film from Disney/Pixar. Yes Scott, I was surprised and pleased to see that both of Princess Merida's parents are still alive and living with her. The fact that Merida is not looking for Prince Charming, makes her a very modern Disney princess.
The story is very much a mother/daughter one. Now that Merida has become an adult, she and her mother must now establish a more mature relationship. Her mother has ideas of marrying her off, following tradition and keeping up appearances as a royal family. Merida still wants to play. She is an adventurous young lady with the wildest, most untamed hair ever drawn.
Although there are plenty of jokes and the pace moves steadily along, the script is very much angled at girls. Of course guys have similar issues of growing up and starting new relationships with their parents, but boys seem to do it with less emotional outbursts. From my own observations, the mother daughter arguments depicted here ring very true. Brave could and should become a classic cartoon for young girls. The final message is one of Merida understanding the sacrifices her parents make and that she needs to find her own way without so drastically separating herself from her family that loves her.
Now if only they had hired Sheena Easton. I mean come on, Queen Elinor even has a scene where she sings a few bars from a song. A mother/daughter duet would have been a perfect theme song. I am just saying.
Reviewed on:
January 7th, 2013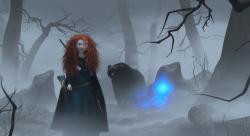 A rip roaring adventure yarn.
As Pixar's first real fairy tale Brave hits all the right notes. It offers a refreshing distaff take on your typical royal coming-of-age story. Her saucy attitude, athletic prowess and that unforgettably gorgeous mane of red hair all combine to make Merida a movie heroine for the ages.
Scott, I don't think it's that she doesn't want to grow up so much as she doesn't want her life planned out for her in advance. She is rebelling against the age old custom of her people that says a princess must be betrothed to a prince from one of the neighboring allied villages that make up her father's kingdom. Sure she still wants to be able to ride and shoot to her heart's content but she also desires the right to fall in love with the person of her choosing.
I loved the twist of what the spell does to the queen. It allows her to partake in her daughter's adventures in a manner that makes sense within the realities of the story. And it turns traditional gender roles on their heads while maintaining, as Eric mentioned, realistic familial dynamics between mother and daughter.
For once the males in the story are forced into the background, or are used primarily for comic relief, as both the king and Merida's three younger brothers, Harris, Hubert, and Hamish are. In fact all of the male characters, with the exception of Mor'du the evil bear, are not to be taken seriously.
Brave combines gentle laughs with unsentimental poignancy in a rip roaring adventure yarn. I liked the fact that I wasn't sure just exactly where the story was headed. Of course I knew it would have a happy ending but the journey there was refreshingly unpredictable.
Like Eric I would have enjoyed Sheena Easton voicing the role of Queen Elinor but Emma Thompson does a fine job. Normally I'm not a big fan of animated movies but the fearless Brave is a winner in my book.
Photos © Copyright Pixar (2012)