Movie Review
Boys Town
BOYS' TOWN IS Real!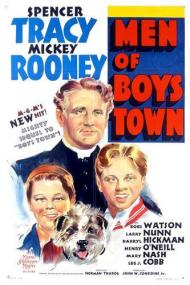 US Release Date: 09-09-1938
Directed by: Norman Taurog
Starring
▸
▾
Spencer Tracy

,

as

Father Flanagan
Mickey Rooney

,

as

Whitey Marsh
Henry Hull

,

as

Dave Morris
Leslie Fenton

,

as

Dan Farrow
Gene Reynolds

,

as

Tony Ponessa
Edward Norris

,

as

Joe Marsh
Addison Richards

,

as

The Judge
Minor Watson

,

as

The Bishop
Jonathan Hale

,

as

John Hargraves
Bobs Watson

,

as

Pee Wee
Martin Spellman

,

as

Skinny
Mickey Rentschler

,

as

Tommy Anderson
Frankie Thomas

as

Freddie Fuller
Reviewed on:
November 24th, 2010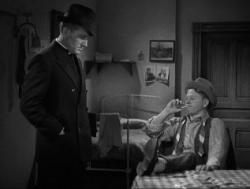 Spencer Tracy as Father Flanagan meets Mickey Rooney as Whitey Marsh.
Boys Town is a great old black & white drama from MGM in 1938. It stars Spencer Tracy and Mickey Rooney and tells the true story of a priest named Father Flanagan who created a home for wayward boys in Omaha, Nebraska in 1920. Today Boys Town is still there, providing a place for both boys and girls to live who have no where else to go.
The first 35 minutes or so focuses on Father Flanagan and his struggle to fulfill his dream of helping boys in trouble. He wants to offer an alternative to reform school which only serves to turn misguided youths into career criminals. His mantra that, "there is no such thing as a bad boy" may seem corny and even a bit naïve but the conviction that Spencer Tracy brings to the part sells it.
Tracy would receive his second consecutive Best Actor Oscar for playing Father Flanagan. He had won the year before for Captains Courageous. Coincidentally that movie also co-starred Mickey Rooney. And speaking of Rooney, he gives the standout performance here and is the one that truly deserved the Oscar. Rooney, at 17, was on the cusp of superstardom and would soon dethrone the reigning box office champ, Shirley Temple. He would rank number one for three straight years, 1939, 1940 and 1941.
Rooney plays Whitey Marsh a hard-boiled kid that Father Flanagan takes in as a favor to Whitey's older brother, a small time hood that wants better for his kid brother. The first scene that Tracy and Rooney have together is famous. Whitey is playing poker and smoking a cigarette. He makes a smart remark to the priest. Flanagan pushes Whitey's feet off of the table, knocks the cigarette out of his mouth and pulls him to his feet by the front of his shirt.
Whitey soon finds himself in the idealized but disciplined world of Boys Town. At first he rebels against the system but he soon bonds with a young boy called Pee Wee. The climax is melodramatic in the best Hollywood sense of the word. There are no real surprises but the acting and script will keep your attention and less jaded individuals may even find themselves moved by the quiet heroism of Father Flanagan and the story of Whitey Marsh.
Adding to the realism is the fact that MGM believed in the project enough to shoot on location at the real Boys Town in Nebraska. This movie proved so popular that Tracy and Rooney re-teamed for a sequel, Men of Boys Town in 1941.

Photos © Copyright Metro-Goldwyn-Mayer (MGM) (1938)