Movie Review
Boy Meets Girl
An inside look at the golden age of Hollywood.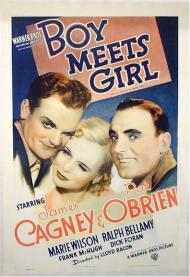 US Release Date: 08-27-1938
Directed by: Lloyd Bacon
Starring
▸
▾
James Cagney

,

as

Robert Law
Pat O'Brien

,

as

J. Carlyle Benson
Marie Wilson

,

as

Susie Seabrook
Ralph Bellamy

,

as

C. Elliott Friday
Frank McHugh

,

as

Rossetti
Dick Foran

,

as

Larry Toms
Bruce Lester

,

as

Rodney Bevan
Ronald Reagan

,

as

Announcer
Curt Bois

,

as

Dance Director
Carole Landis

as

Commissary Cashier
Reviewed on:
April 18th, 2003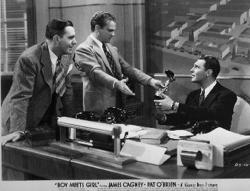 Pat O'Brien and James Cagney in Boy Meets Girl.
Boy Meets Girl is a completely silly inside look at a golden age Hollywood studio. James Cagney and Pat O'Brien play a pair of zany screenwriters who must come up with a story for a fading second-rate cowboy star. Inspiration comes in the form of an unwed pregnant studio commissary waitress. They get her to sign a contract for her unborn child whom they proceed to turn into the youngest star in the history of movies. Happy, as she names him becomes a huge hit and the cowboy's career is rejuvenated in the process, although he is humiliated to be playing second fiddle to an infant.
The script keeps the juvenile antics plowing along. Now that Happy is a big star, the cowboy and his agent hatch a plot to snatch the dimly lit waitress and her valuable asset of a son away from the screenwriters. Not being the types to take this sort of thing lying down, the two hacks retaliate by coming up with a plan of their own. They hire an extra to dramatically announce that he is Happy's father live on the radio at an Errol Flynn movie premiere. The announcer in this scene is none other than future President Ronald Reagan.
James Cagney is great in this comedic role as a flamboyant screenwriter. This is, in fact, the closest he ever came to playing a gay character. If the movie were remade today Nathan Lane or Robin Williams would most likely play his part. He and Pat O'Brien play off of each other brilliantly; their timing is what keeps the humor flowing. Ralph Bellamy and Frank McHugh round out the cast. Bellamy is a mid-level studio executive and McHugh the cowboy's meddlesome agent.
Originally a Broadway play Boy Meets Girl is a breezy and enjoyable little movie. Marie Wilson as Happy's mother nearly steals the show. Her only goal in life, other than keeping Happy happy, is to graduate from high school. In one scene she expresses her astonishment at the amount of fan mail Happy is receiving. "He even gets letters from Japan." She announces incredulously.
Photos © Copyright Warner Bros. (1938)