Movie Review
The Bounty
After 200 years, the truth behind the legend.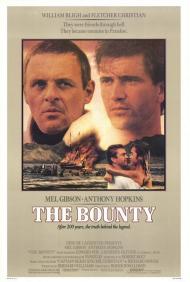 US Release Date: 05-04-1984
Directed by: Roger Donaldson
Starring
▸
▾
Mel Gibson

,

as

Fletcher Christian Master's Mate
Anthony Hopkins

,

as

Lieutenant William Bligh
Laurence Olivier

,

as

Admiral Hood
Edward Fox

,

as

Captain Greetham
Daniel Day-Lewis

,

as

John Fryer
Bernard Hill

,

as

William Cole
Philip Davis

,

as

Edward Young
Liam Neeson

,

as

Seaman Charles Churchill
Wi Kuki Kaa

,

as

King Tynah
Tevaite Vernette

,

as

Mauatua
Philip Martin Brown

,

as

Seaman John Adams
Simon Chandler

,

as

David Nelson
Malcolm Terris

,

as

Dr. John Huggan
Simon Adams

,

as

Thomas Heywood
John Sessions

as

John Smith

Reviewed on:
December 4th, 2013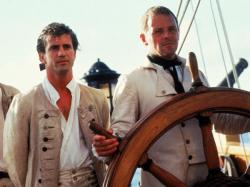 Mel Gibson and Anthony Hopkins in The Bounty.
The Bounty was the fifth screen version of the most celebrated mutiny in seafaring history. First there was a silent 1916 Australian film called The Mutiny of the Bounty (now considered to be a lost film). This was followed in 1933 by the Australian talkie In the Wake of the Bounty, which starred Errol Flynn as Fletcher Christian. The 1935 MGM version remains the most famous and is generally considered to be the best. Marlon Brando's 1962 remake was beautifully shot on location in Tahiti but took many liberties with historical fact. This 1984 British version, which takes many details from Captain Bligh's actual mission log, is by far the most historically accurate movie version to date of the April 28, 1789 mutiny aboard the British Royal Navy ship the HMS Bounty.
Previous cinematic adaptations portrayed Fletcher Christian as an honorable hero while painting William Bligh as a despicable villain. Here care was taken to show a more balanced version of these men, and of the events leading up to and following the actual mutiny. The story begins at Captain Bligh's court martial trial where he tells his side of the events, which are then shown in flashback.
One big difference is in the relationship between the two protagonists of the story. In real life, as shown in this movie, Bligh and Christian were friends. They had sailed together on previous voyages. While aboard the ill-fated Bounty, Bligh even promoted Christian -over another officer- from midshipman to second in command.
The problems between them arose only after several months on Tahiti, where the men were allowed to slack off on their duties, and many of them (including Christian) began having sexual relations with the native women. Once back at sea Captain Bligh rules with an iron fist. This pushes his already disgruntled crew to mutiny, led by a reluctant Christian.
Whereas in previous versions of the story Fletcher Christian was the main character, it is from Captain Bligh's perspective that most of The Bounty is told. Anthony Hopkins gives a solid performance as Bligh even if it doesn't compare to Charles Laughton's absolutely brilliant turn in the 1935 movie. He is shown as a man of unwavering principle, and a brilliant navigator, but not the raving sadist he is usually remembered as.
A baby-faced Mel Gibson plays Fletcher Christian as a bit of a cypher. He gets relatively few lines and we never really get inside his head. Another notable difference is the motive for the mutiny. Here it seems to be more for the sexual favors and freedoms of island living rather than a justified revolt against an evil tyrant. Once Fletcher Christian has control of the Bounty and Captain Bligh is put to sea in the ship's launch, both men sail their vessels successfully to their destinations.
The supporting cast is impressive. It includes Sir Laurence Olivier as Admiral Hood, presiding over Bligh's court martial trial. Daniel Day-Lewis and Liam Neeson, both early in their careers, appear as Sailing Master John Fryer and Ship's Corporal Charles Churchill, respectively. The mutiny aboard the HMS Bounty is a moment in history that simply won't be forgotten. The Bounty, while not as purely entertaining as MGM's 1935 masterpiece, is the most historically truthful screen adaptation of that long ago event at sea.

Reviewed on:
January 3rd, 2014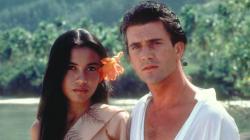 Mel Gibson in The Bounty
What I have always found interesting about the story of this famous mutiny is how sexual freedom was such a strong motivation. In 1789 an English lad was surrounded by women dressed from throat to foot. His options for sex were marriage or a prostitute. Either one cost more money than he likely made. British sailors at the time were often poor derelicts collected from bars and forced into service aboard a ship.
As Patrick mentioned, the problems between the sailors and the officers increased after being on Tahiti. This is simple to understand. These horny blokes have just spent months on a sausage filled ship when it sailed into a beautiful bay to be greeted by topless smiling girls. I am glad this film did not shy away from the nudity. It helps to make the point. Other than perhaps the tits of an old whore in some dank back room of a pub, I doubt many of these guys had ever even seen such nudity before, and they didn't even have to pay a half pence for it.
England has some of the worst weather on the planet. This tropical island provided food through nature and fish from the ocean. Add the availability of sex with the native girls and these men had truly found paradise. The sailors were all poor. What did they have to go back to but a life of hard work?
The story, as presented here, is told from Captain Bligh's perspective. I would like to see this story told from Fletcher Christian's point of view. As an Officer in His Royal Majesty's Navy, Christian's decision to not return to England is far more interesting than it was for his crew. Christian was born into money. His father owned property and was a lawyer. However, following his father's death, when Christian was a child, his mother began losing their wealth until all they lived on was an annuity.
As Patrick wrote, we get very little out of Mel Gibson's portrayal of Fletcher Christian. In real life, Christian was 25 years old when the mutiny occurred. Bligh described Christian as 175 cm (5ft 9in) with a dark complexion and dark brown hair. At least Mel Gibson looked like Fletcher Christian, but I wanted to know more about him. Christian married his native girl and they had children. This film version does not tell us Christian's complete story.
The irony of the story of the Mutiny on the Bounty can be found in what happened to the mutineers. They sailed the Bounty to another island with some native men and a dozen native girls. They burned the Bounty and intended to live out their lives there. However, it turned out that without order chaos ruled. One of the mutineers as well as Christian's wife were still alive when they were found by an American ship. They described an uprising of the native men who reportedly were brought along to act as the sailor's servants. The native girls served their purpose as the Americans discovered many children born of Tahitian and British descent.
The lesson being that there must be some order to things as Bligh so represented. However, there must also be some sense of freedom that Christian and the mutineers desired. Like Yin and Yang, liberal and conservative, brains and brawn, life is about balance. Too much of any one thing and the scales tip and chaos rears its truthful head. Bligh may have been too strict, but such freedom without order also ended with a mutiny. Christian and the other mutineers got what they gave.
Photos © Copyright Dino De Laurentiis CompanyBounty Productions Ltd. (1984)
Related Review