Movie Review
Boudu Saved from Drowning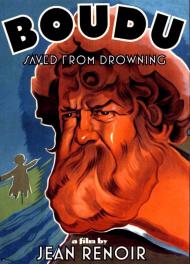 US Release Date: 11-11-1932
Directed by: Jean Renoir
Starring
▸
▾
Michel Simon

,

as

Priape Boudu
Charles Granval

,

as

Edouard Lestingois
Marcelle Hainia

,

as

Emma Lestingois
Severine Lerczinska

,

as

Chloe Anne Marie
Jean Gehret

,

as

Vigour
Max Dalban

,

as

Godin
Jean Daste

,

as

L'etudiant
Jacques Becker

as

Poet on park bench

Reviewed on:
January 20th, 2010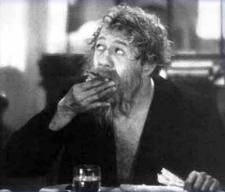 Michel Simon as the suicidal tramp Boudu.
Boudu Saved from Drowning (Boudu sauvé des eaux) was just the 4th movie from French director (and son of the Impressionist painter Auguste) Jean Renoir to have sound. It is a comedy that was adapted from the play of the same name by René Fauchois. Like most of Renoir's films it deals in social commentary. It would be remade in Hollywood more than 50 years later under the title Down and Out in Beverly Hills. Nick Nolte recreated the tramp character originally played by Michel Simon, a well-known character actor in France, who continued making movies up until his death in 1975.
A wealthy Parisian bookseller witnesses a tramp attempting suicide off a bridge over the River Seine. He rescues the tramp, brings him home and welcomes him into his household with farcical results. Michel Simon steals the movie as the deranged tramp, Boudu. His facial expressions are priceless. He is rude, uncouth and disgusting in his personal habits. Before long he is having an affair with his benefactor's wife and trying to seduce one of his maids (the same maid the man himself is sleeping with).
There are quite a few laughs that also poke fun at social class. Early in the movie Boudu is sitting on a park bench. A wealthy woman instructs her young daughter to give some money to him as he is underprivileged. The tramp asks her what the money is for and the girl tells him it is to buy bread. Cut to a wealthy looking man sitting in his expensive looking automobile. Boudu approaches him and the rich guy searches in his pockets ostensibly looking for money for the tramp. The tramp then gives the money the little girl gave to him to the rich guy. The rich guys asks if he is being made fun of. Boudu tells him the money is to buy bread. I realize this doesn't "read" funny but the way Renoir shoots it and the way Simon delivers the line, trust me it is. In another scene the bookseller discovers that Boudu has spit into one of his books. He says in disgust, "The man who spits in Balzac's 'Physiology of Marriage' is less than nothing to me."
The black & White cinematography and the camera work are quite sophisticated for 1931 when this movie was shot. It is also historically fascinating as a glimpse of Paris nearly a century ago. The ending is satisfying if somewhat predictable. Boudu Saved from Drowning is a cinematic gem from France showing the early work of one of that countries most celebrated directors.

Reviewed on:
February 21st, 2015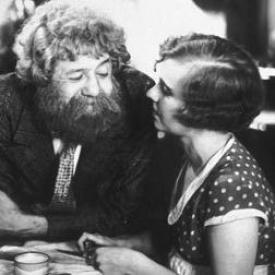 Michel Simon and Severine Lerczinska in Boudu Saved from Drowning
I am not sure if Groucho Marx was referring to Boudu Saved from Drowning specifically in Love Happy (1949) but he easily could have been. In it, Groucho frisks a beautiful girl starting low and working his way up, stopping with both his hands near her breasts. He then looks at the camera and says, "If this were a French picture I could do it." One of the first scenes here is of the elderly book seller holding the maid with one arm while his other hand caresses her arm, the side of her chest and her upper chest, coming extremely close to caressing her breast.
He talks to her of them having sex later but first there is work to be done. She runs off to clean and make soup, telling him she is thinking about tonight. He responds, "Expectation is an indispensable seasoning for the dreariness of useful chores." He then goes into his study and laments being old. "My pipes are worn out, and soon some shepherd will lure her away with his new flute." The use of a double entendre for a laugh is clearly nothing new.
Patrick mentioned that this film pokes fun at social class. One of my favorite commentaries is when Boudu asks a "cop" if he has seen his dog. The cop gives him the brush off. However, when a beautiful well-dressed attractive young woman asks the same cop to help her find her lost dog seconds later, he immediately ask for assistance from two other policemen and they begin the search. A passing man in a car also offers her assistance. Okay, that may be as much of a commentary on sex as social class but it is still a good scene none-the-less.
Although he saved Boudu's life, Boudu causes the book seller problems such as sexual frustration by halting the book seller's nightly visits to the maid's room. The film has many funny moments. I enjoyed the salt absorption conversation Boudu has with the book seller's wife as well as the book seller instructing Boudu on handkerchief use. When Boudu and the book seller's wife first have sex the scene switches to a parade and then back to the grinning couple in the afterglow.
Although the sexual innuendos are obvious it was Boudu's antisocial behavior that so outraged French audiences that police had to be called to restore order in several theaters. Some French theaters simply stopped showing it. It was not until 1967 that it was released in the United States and supposedly so angered New York Times critic Bosley Crowther that he walked out of a showing.
Although any controversy it may have generated has long passed, it remains a very humorous and entertaining viewing.
Photos © Copyright Pathe (1932)
Related Review