Movie Review
The Boss
Watch your assets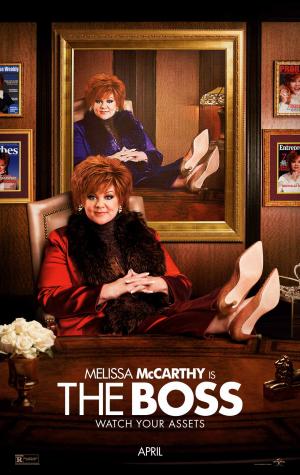 US Release Date: 04-08-2016
Directed by: Ben Falcone
Starring
▸
▾
Melissa McCarthy

,

as

Michelle Darnell
Kristen Bell

,

as

Claire
Peter Dinklage

,

as

Renault
Ella Anderson

,

as

Rachel
Tyler Labine

,

as

Mike Beals
Kathy Bates

,

as

Ida Marquette
Cecily Strong

,

as

Dana Dandridge
Mary Sohn

,

as

Jan Keller
Kristen Schaal

,

as

Scout Leader Sandy
Eva Peterson

,

as

Chrystal
Timothy Simons

,

as

Stephan
Aleandra Newcomb

,

as

Mariana
Annie Mumolo

,

as

Helen
Presley Coley

,

as

Hannah
Ben Falcone

,

as

Marty
Margo Martindale

,

as

Sister Aluminata
Michael McDonald

,

as

Bryce Crean
Robert Pralgo

as

SEC Agent Fields

Reviewed on:
April 19th, 2016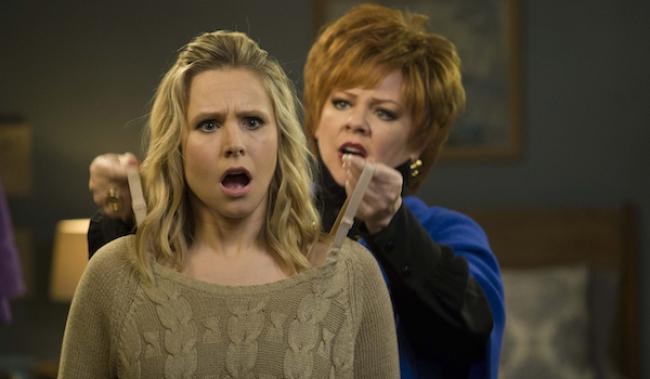 Kristen Bell and Melissa McCarthy in The Boss
Your ability to enjoy The Boss will be greatly based on how much you enjoy, or tolerate, Melissa McCarthy and her overweight shtick. As is her routine, she comes on strong, loud and proud. She uses slapstick, throwing her weight around like Chris Farley used to. She tries hard, too hard, and does what is needed for the role but I never liked her Michelle or bought into any of her situations. Her up to the jawline turtle necks are enough to to make you hate her.
Michelle is an obscenely wealthy woman who never tires of bragging about her income to anyone who will or will not listen. She is crass, rude and wholly objectionable. So, of course, when she is let out of prison for insider trading and is now penniless, her former put upon employee, Claire, allows her to live with her and her daughter. Michelle insults Claire at every turn but Claire is simply a saint and puts up with it. One day Michelle takes Claire's daughter to her girl scout meeting and hears how much their cookie sales made. Before you can say, "Troop Beverly Hills" Michelle is leading the troop and getting into fights with other ones over selling turf.

Of course we know there will be a pleasant ending with Michelle learning some lessons but I never gave a damn one way or the other. This detestable, arrogant person deserves nothing good to come her way so what was I waiting for.

As a comedy, the dark moments work the best. The fight scene between the two girl scout troops was worth a watch, especially when we see an adult physically assault children. Her interaction with the girls is inappropriate but sometimes funny. In one scene she calls out a girl that she tells will grow up to be a lesbian. When in white collar prison she hits a tennis ball into her lawyer's throat. He is played by her real life husband, and the film's director, Ben Falcone.

If all of those scenes sound familiar it is because they were featured in the trailers. Yes, if you saw the previews, you have already seen the best this movie has to offer. Speaking of the trailer; one showed former WWE superstar Dave Bautista as a scout leader picking up McCarthy and she hitting him in the gonads. For whatever reason it was cut from the film and Bautista is not in a single scene.
The Boss is for McCarthy fans only.

Photos © Copyright Gary Sanchez Productions (2016)