Movie Review
Born Yesterday
A perfectly swell motion picture!
US Release Date: 12-26-1950
Directed by: George Cukor
Starring
▸
▾
Judy Holliday

,

as

Billie Dawn
Broderick Crawford

,

as

Harry Brock
William Holden

,

as

Paul Verrall
Howard St. John

,

as

Jim Devery
Frank Otto

,

as

Eddie
Larry Oliver

,

as

Congressman Norval Hedges
Barbara Brown

as

Mrs. Hedges

Reviewed on:
August 25th, 2003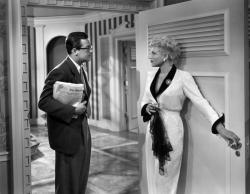 William Holden and Judy Holliday in Born Yesterday.
Born Yesterday has not aged well as a movie, although Judy Holliday's performance is still charming. But no where near charming enough to have deserved the Oscar over Bette Davis in All About Eve and Gloria Swanson in Sunset Boulevard. Perhaps Academy voters simply couldn't decide which legendary actress deserved it more so they voted for Holliday instead of actually making a choice between the other two. At any rate Born Yesterday is not in the same league as those classic movies.
Uncouth, blow-hard millionaire Harry Brock (Crawford) arrives in Washington D.C. with grandiose plans of congress bribing. He brings along his dumb blonde, ex-chorus girl mistress Billie Dawn (Holliday) but soon realizes that socially she is detrimental to his plans. He hires journalist Paul Verrall (Holden) at two hundred smackers a week to educate Billie and make her presentable to Capitol society.
Director George Cukor doesn't do enough to translate Garson Kanin's play from the stage to the screen. With the exception of a few touristy shots around different Washington D.C. memorials and museums, the entire movie takes place in a hotel suite. But the real problem with Born Yesterday is that the dialogue and attitudes seem so outdated and quaint that it is difficult to get emotionally invested in the story. Also the balance between the comical and the dramatic is a bit weak. I prefer a comically paced movie with dramatic moments over a dramatically paced movie with comic moments. If you see what I mean. And, unfortunately Born Yesterday falls in the latter category.
Still Judy Holliday gives the quintessential dizzy broad performance. Her voice alone is priceless, capable of going from squeaky baby talk to a full-throated growl in the same sentence. Broderick Crawford and William Holden are both adequate in their roles but the movie is really a showcase for her talents.

Reviewed on:
September 14th, 2003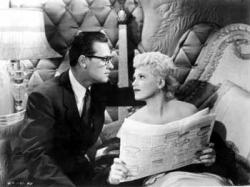 William Holden and Judy Holliday in Born Yesterday.
Born Yesterday has aged well, if for no other reason than for Judy Holliday's performance. Although this film is over a half a century old, her performance remains one of the funniest ever by a comedienne.
Yes, Broderick Crawford and William Holden play second fiddle to her. So what? Her performance overshadows everything else in the movie. The pathetic remake, that stars Melanie Griffith in the Holliday role, proves just how amazing Holliday's performance is and how vastly important it is to the film.
Patrick mentions her voice. It is the key to her charm. 'Thirty! I ain't thirty.' She screeches angrily at Holden, 'I'm twenty nine!' She can also steal a laugh by her expressions and by how she holds herself. The scene where she is listening to the radio is subtly hilarious. She has this blank expression as she's bopping her head to the music.
Patrick is wrong. Judy Holliday's performance is in the same league as Gloria Swanson's and Bette Davis's. I have often felt that The Academy Awards were too geared toward dramas when giving out lead acting awards. Back in 1950 they proved otherwise, and rightly so.
Reviewed on:
May 6th, 2012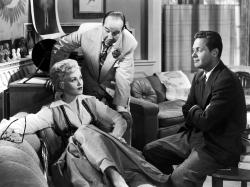 Judy Holliday, Broderick Crawford and William Holden in Born Yesterday.
I don't think this movie has aged all that badly. Not only is Judy Holliday's performance timeless and Oscar worthy, but the arguments William Holden and Judy Holliday's characters use against Broderick Crawford's at the end of the movie still hold up pretty well in this age of Halliburton and Occupy Wall Street. You could also see echoes of Crawford's performance in James Gandolfini's portrayal of Tony Soprano.
Seeing Holliday's performance I was immediately reminded of Jean Hagen in Singin' in the Rain and Mia Farrow in Radio Days. Turns out there are reasons. Hagen was Holliday's understudy in the stage version of Born Yesterday and she knew that Holliday was the producers of Singin' in the Rain's first choice and so for her audition--and indeed, in the final film--she did her best Holliday impression. Farrow, on the other hand, is an admitted fan of Holliday's and this movie, as is Woody Allen, who directed her in Radio Days. Clearly, she was doing her best to channel the star in her performance.
I agree that Holden is underused and basically plays the straight man to Holliday. Crawford however, is great as the corrupt junkman. His and Holliday's verbal sparring is one of the highlights of the film.
Of course, the movie belongs to Holliday. Her voice is priceless and she plays it like a Stradivarius. As I said, it's been imitated by others, but it's never been equaled. She's not a one trick pony though and as Eric said, she also has the expression and body language of a true comedienne. And even though she could make almost any line sound funny, the script provides her with plenty of zingers.
The script also tiptoes around the Production Code in a couple of moments. Clearly Billie and Harry have been together for seven years and they're not married, but are having sex. Billie tells Paul, with a knowing look, that if she wants something she just has to ask for it from Harry because Harry knows that if he's not nice to her then she won't be nice to him.
Patrick, you sound a little too bitter about the fact that Holliday won the Oscar over Davis and Swanson. Of course those are two fantastic and iconic performances, but I would argue so is Judy Holliday's. In fact, that's one of greatest trifecta of Oscar contenders in one year ever. Any one of them could have won the Award and I'd have said they deserved it. Like Eric, I appreciate it when the Academy rewards comedies.
Perhaps as a whole, Born Yesterday isn't the equal of All About Eve or Sunset Boulevard, but I would put Holliday right up there with Davis and Swanson for her performance here.
Photos © Copyright Columbia Pictures (1950)