Movie Review
Bonjour Monsieur Shlomi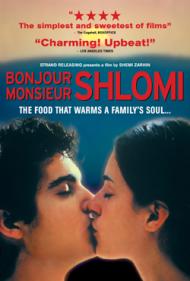 Israel Release Date: 04-03-2003
Directed by: Shemi Zarhin
Starring
▸
▾
Oshri Cohen

,

as

Shlomi Bar-Dayan
Arieh Elias

,

as

Grandfather Bar-Dayan
Esti Zakheim

,

as

Ruhama Bar-Dayan
Aya Steinovitz

,

as

Rona
Yigal Naor

,

as

Aviho, the headmaster
Albert Iluz

,

as

Robert Bar-Dayan
Jonathan Rozen

as

Doron Bar-Dayan

Reviewed on:
November 11th, 2010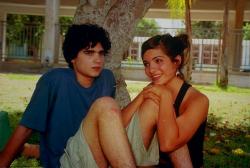 Shlomi wants his girlfriend to upgrade their intimacy.
Bonjour Monsieur Shlomi is a great coming of age tale. Shlomi is a 16 year old boy living in a dysfunctional Israeli family. He lives with his bitter mother, his wanna be a rock star older brother and his grandfather, who always greets him by saying Bonjour Monsieur Shlomi.
Shlomi feels stressed out and confused by his life. He struggles with school work, He wants to "upgrade" his relationship with his girlfriend. Shlomi does all the cooking and chores around the house, including giving his grandfather baths. He reads his brother's sex diary, and he pines for the girl next door. He feels put on, but he goes through the motions without much complaint.
One day, his principal discovers that Shlomi is actually a genius. He knows math answers without knowing how he knows them. The principal presents Shlomi with the chance to go to a special school for gifted students. Shlomi feels obligated to take care of his family and is nervous about telling his family about his potential.
Shemi Zarhin wrote and directed this movie. He uses sex as a symbolic point of responsibility. Shlomi's father had an affair on his mother. He used the excuse that his dick had a mind of it's own. Shlomi's brother creates lies about girls he's supposedly had sex with. Shlomi's brother in-law is not getting any from his sister, as they have twin babies, so he is into internet porn. Shlomi decides what he wants to do in life when his girlfriend finally agrees to upgrade their relationship, and he decides to not go through with it. He has decided to be in charge of his life and not a victim of it.
Shlomi is certainly not living in an ideal family, but he is not abused or mistreated. At worst he is a bit ignored, and taken advantage of. I rooted for something good to come his way. What he finally gets is absolutely everything. The character of Shlomi is very relatable. He is at that awkward age of about to be a man, but a bit lost on the journey. Everyone who watches this can relate to him feeling under appreciated.
By the end of the film though, he is sitting on the top of the world, in a place where very few people can recognize. Spoiler alert! He is a gourmet cook. He goes to the gifted school, and lives with the girl next door who has become his lover. His grandfather gives him a bunch of money. The guy ends up having the potential to do anything he wants in life, and if that is not enough, the movie even makes a point to state that he has a big penis. Seriously! I liked this guy at the beginning of the film but was far to jealous of him by the end to give a damn.
Photos © Copyright Strand Releasing (2003)