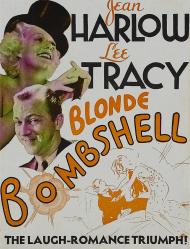 US Release Date: 10-13-1933
Directed by: Victor Fleming
Starring
▸
▾
Jean Harlow

,

as

Lola Burns
Lee Tracy

,

as

Space Hanlon
Frank Morgan

,

as

Pops Burns
Franchot Tone

,

as

Gifford Middleton
Pat OBrien

,

as

Jim Brogan
Una Merkel

,

as

Mac
Ted Healy

,

as

Junior Burns
Ivan Lebedeff

,

as

Hugo
Isabel Jewell

,

as

Lily
Louise Beavers

,

as

Loretta
Leonard Carey

,

as

Winters
Mary Forbes

,

as

Mrs. Middleton
C. Aubrey Smith

as

Mr. Wendell Middleton

Reviewed on:
May 4th, 2010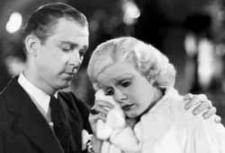 Lee Tracy and Jean Harlow in Bombshell.
Bombshell is a hilarious and fast-paced 1930s screwball comedy starring Jean Harlow and featuring a terrific supporting cast. I'd never even heard of it until I sat down to watch it, but this gem is easily one of the funniest movies of its time.
Harlow basically plays herself, but under the name of Lola Burns; a blonde bombshell movie star with a hectic life (although reportedly the character is based upon director Victor Fleming's former lover; Clara Bow). At the beginning of the film she is summoned to the studio to do reshoots for Red Dust; an actual movie that Harlow made with Clark Gable. The set from that film is reproduced and Gable is mentioned, but not shown.
Lola lives with her alcoholic father, her boozing gambling brother, a snotty personal assistant, three sheep dogs, several gold fish, a rotating staff of butlers and her maid (who seems to be the only person on her side). All of them are happy to sponge off of Lola while she is shunted from her palatial mansion to the studio and back.
Playing her foil is Lee Tracy as a shyster Studio publicist who will do anything to get Lola in the papers even if it means smearing her name through the mud and ruining any relationship she might have. He shares a terrific comic chemistry with Lola and their banter is lightening quick and hilarious. Like this movie, I'd never really heard of Tracy either, but he's great as the smooth talking con artist who manages to manipulate everyone into doing just what he wants them to do.
Like most screwball comedies of the era, the dialogue is spoken at a rapid fire pace that demands attention. The jokes fly fast and furious. Harlow plays the slightly ditzy and overwhelmed blonde to perfection while the supporting cast generate most of the laughs. Frank Morgan as Lola's father is one of the biggest scene stealers, but Una Merkel, who co-starred with Harlow in Red-Headed Woman, also manages to swipe a couple herself, despite being in just a few small moments. The entire cast though is absolutely stellar.
Being a pre-code comedy the script gets away with a few racy lines that wouldn't have been permitted just a few years later. "I didn't give you that for a negligee, that's an evening wrap," Lola tells her maid at one point. "I know, Miss Lola, but the negligee you gave me got all tore up night before last," the maid replies. "Your day off is sure brutal on your lingerie," Lola responds back. And in a scene that seems funnily modern now, Lola decides she wants to adopt a baby and a few jokes involve people thinking Lola is pregnant out of wedlock; a situation that surely wouldn't have made it past the Hays censors.
Not only is this a terrifically funny movie, it's also an interesting view of the movie business in 1933. It shows the power of the studio and the publicists. It also shows that maybe things haven't changed all that much. Stars are still stars and the press is still selling any kind of story they can get their hands on. Lola even has her own stalker, some 60 years before the phrase was even coined.
Screwball comedies are a dead art form. Hollywood is unable or unwilling to even try to make one these days and it's a real shame. If you're a fan of the genre you really owe it to yourself to watch this movie. It's one of the finest examples of the kind that I've ever seen.
Reviewed on:
March 16th, 2011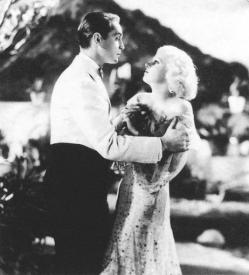 Franchot Tone and Jean Harlow in Bombshell.
Lola Burns is a combination of Jean Harlow and Clara Bow. Like Bow she has a large family sponging off her success, and they refer to her as the It Girl a few times. Even the name, Lola Burns, sounds inspired by Clara Bow. But the way she looks and talks is 100 percent Jean Harlow and using the set from Red Dust really blurs the line between fact and fiction.
This is one of the first screwball comedies and certainly one of the funniest. The laughs start early and never let up as Lee Tracy's Space Hanlon goes to greater and greater lengths to keep Lola single and childless. As Scott mentioned they have terrific comic chemistry together.
Lee Tracy had made a name for himself as the fastest speaking wisecracker in the talkies of the early 30's. He was also a notorious hell-raising drunk. A prank he pulled on location in Mexico got him fired from MGM and sent his career on a downward spiral from which it never recovered. What was the prank? He peed on a passing parade from his hotel balcony.
The scene where Lola tries to adopt a baby is hilarious. Two women from the orphanage stop by her Hollywood mansion to see if she is morally fit to raise a child. One of them says to her, "I thought you were much older." She replies, "Well, I do play rather experienced women in my movies." Later after her family disrupts the moment and all hell breaks loose, Lola's brother's trashy girlfriend announces to these ladies, "Hey, I'm getting sober! Aren't you?"
This is one of those rare comedies that somehow keeps getting funnier as it goes along. Near the end when she meets Franchot Tone and he starts spouting ridiculously florid compliments to Lola like, "Your hair is like a field of silver daisies. I'd like to run barefoot through your hair!" The completely enamored Lola gushes in response, "Gee, not even Norma Shearer and Helen Hayes, in their nicest pictures, were ever spoken to like that!"
The laughs don't stop until the credits roll. The final scene with Lola and Hanlon in the taxi offers one last chuckle as we learn the truth about her stalker. It is a great (albeit decidedly unromantic) ending to a nearly perfect comedy and an inspired satire of the movie business.


Reviewed on:
October 25th, 2011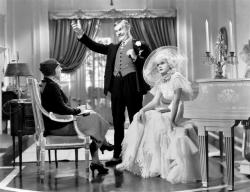 Frank Morgan and Jean Harlow in Bombshell
According to a documentary narrated by Sharon Stone, Bombshell is based quite a bit on Jean Harlow's real life. Apparently she had a stage mother, a step father and an extended family to support. Bombshell is not actually an autobiography but Harlow is caricaturing herself.
I agree that Bombshell is one of the funniest films of the 1930s. Did Jean Harlow ever make a bad movie? I Laughed hardest when the reporter, Mrs Titcum, puts the idea into Lola's head to have a baby. Even though this is pre-code, some jokes are still subtle. She says that women have strong urges to have children and so do men. "Sometimes I think that is what killed Mr Titcum. Oh well, we must all bare the crosses given us I always say." Think about it.
While researching this film I came across this story about Franchot Tone. As Bombshell is about movie stars and tabloids, I thought it appropriate. In 1950, Tone met married starlet Barbara Payton. She quickly divorced and became engaged to Franchot, who had previously been married to Joan Crawford. In 1951 Tone busted into Payton's home catching her and Guy Madison in a compromising position. He yelled to Madison, ""I'm going to marry her, are you?" Madison replied: "I can't, I'm already married." According to Confidential magazine, which reported on the story, Barbara Payton burst out laughing. Tone still kept the marriage plans going. Later that same year Barbara met another actor, Tom Neal, and broke up with Tone only to get back with him, but kept seeing Neal. This led to a fight between Tone and Neal that left Tone in a coma for 18 hours. Neal was a former boxer. For some reason Tone still married Payton. Surprise, surprise, the marriage lasted all of two months.
Just as Bombshell bounces from fact to fiction, reality is often just as fantastic as written scripts. As it has been said, the truth is often stranger than fiction. Bombshell, no matter what inspired it, is a great film and one of Jean Harlow's very best.
Photos © Copyright MGM (1933)
Related Review