Movie Review
The Blues Brothers
The show that really hits the road.
US Release Date: 06-20-1980
Directed by: John Landis
Starring
▸
▾
John Belushi

,

as

'Joliet' Jake Blues
Dan Aykroyd

,

as

Elwood Blues
James Brown

,

as

Reverend Cleophus James
Cab Calloway

,

as

Curtis
Ray Charles

,

as

Ray
Aretha Franklin

,

as

Mrs. Murphy
Steve Cropper

,

as

Steve 'The Colonel' Cropper
Donald Dunn

,

as

Donald 'Duck' Dunn
Murphy Dunne

,

as

Murphy 'Murph' Dunne
Willie Hall

,

as

Willie 'Too Big' Hall
Tom Malone

,

as

Tom 'Bones' Malone
Lou Marini

,

as

'Blue Lou' Marini
Matt Murphy

,

as

Matt 'Guitar' Murphy
Alan Rubin

,

as

Alan 'Mr. Fabulous' Rubin
John Lee Hooker

,

as

Musician on Maxwell Street
Carrie Fisher

,

as

Mystery Woman
Henry Gibson

,

as

Head Nazi
John Candy

,

as

Burton Mercer
Kathleen Freeman

,

as

Sister Mary Stigmata (a.k.a. The Penguin)
Steve Lawrence

,

as

Maury Sline
Twiggy

,

as

Chic Lady
Chaka Khan

,

as

Choir Soloist
Frank Oz

,

as

Corrections Officer
Steven Williams

,

as

Trooper Mount
Armand Cerami

,

as

Trooper Daniel
Jeff Morris

,

as

Bob
Charles Napier

,

as

Tucker McElroy
Stephen Bishop

as

Police Officer with Broken Watch

Reviewed on:
May 13th, 2015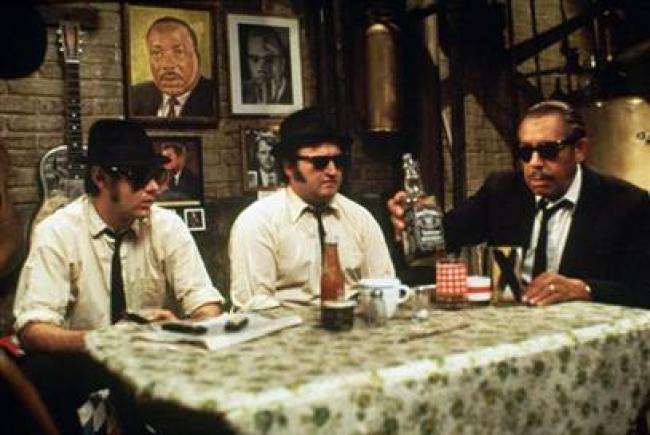 Dan Aykroyd, John Belushi and Cab Calloway in The Blues Brothers.
The Blues Brothers made their official Saturday Night Live debut on April 22, 1978 on an episode hosted by Carrie Fisher. Later that year they released their debut album, Briefcase Full of Blues, which went to #1 on the Billboard 200 album chart and spawned two top 40 singles "Rubber Biscuit" and "Soul Man". In 1980, The Blues Brothers became the first of many subsequent SNL sketch characters to get their own feature film. As of 2015, The Blues Brothers remains the second highest grossing movie of the bunch, second only to Wayne's World (1992). Today the Blues Brothers' franchise includes two feature films, a dozen record albums, numerous concert tours, an animated television series and several video games.
The Blues Brothers are Jake (Belushi) and Elwood (Aykroyd) and they're on a mission from God. It begins with an epiphany Jake has in church shortly after his release from prison. Their mission is to reunite the band in order to save the orphanage where they grew up from foreclosure. Many cars will be crashed on their way to redemption. The Blues Brothers is unlike any other movie I can think of. Can you name another musical that is also a car-chase action/comedy? I can't. This is a rollicking, raucous, musical comedy rampant with violence, destruction and general chaos.
In addition to the titular band this movie boasts the likes of Aretha Franklin doing "Think", James Brown and Chaka Khan performing the "The Old Landmark" in church, Ray Charles singing "Shake a Tail Feather", Cab Calloway belting out "Minnie the Moocher". All of the previously mentioned singers play actual characters in the story, not themselves. Aretha is a waitress at a diner, James Brown is a preacher, Ray Charles plays the proprietor of a musical instruments store and Cab Calloway is the janitor at the orphanage who first introduced Jake and Elwood to the blues. The DVD extended version also includes John Lee Hooker's "Boom, Boom".
The Blues Brothers perform "Gimme Some Lovin'" and "Everybody Needs Somebody to Love". As well as humorously memorable versions of the "Theme from Rawhide" and "Stand by Your Man" during their gig at Bob's Country Bunker, where the waitress assures them they play both kinds of music, "Country AND Western".
Jake and Elwood are too cool for school. Their look - black suit, white shirt, skinny tie, black hat and sunglasses - has become iconic. They bravely face down any situation while never losing their hipster attitudes. Carrie Fisher plays Jake's jilted ex who's intent on exacting revenge by killing him. She spends the movie following them around and attempting to kill them using ever more outlandish means, such as a rocket launcher. But like the Road Runner these two just keep on getting back up. The Blues Brothers opened at number two at the box office behind another little film with Carrie Fisher called The Empire Strikes Back.
Filmed in and around Chicago, The Blues Brothers features several high octane car chases including one inside a shopping mall. The climax, where it seems like half the state of Illinois is after the Bluesmobile, includes a huge pileup of police cars that crash at an intersection. A then record 103 automobiles were wrecked making this movie. Besides the state troopers and local police, the boys are being chased by a group of Nazis, a Country & Western band, and the owner of Bobs Country Bunker. This movie also features the famous "falling-Pinto" scene for which they dropped a car from a helicopter flying more than a mile high. Of course, after all the mayhem that culminates at the Cook County Assessor's Office, the brothers accomplish their mission by paying off the orphanage's debt and the movie ends with them jubilantly performing "Jail House Rock" in the big house.
Besides the stars and musical guests look for several famous faces in cameos. John Candy has a small role as Jake's probation officer, Paul (Pee-wee) Reubens plays a waiter in one scene, Steve Lawrence shows up as an agent in a steam room, and Twiggy really stretches herself playing a Chic Lady. Oh and the old lady playing Sister Mary Stigmata (a.k.a. The Penguin) is none other than Kathleen Freeman, whose incredibly prolific career began in 1948 in the film noir classic The Naked City and lasted until 2001's CGI animation classic Shrek and included small but memorable roles in many, many other movies (and television shows) during the half century in between.
Now I must confess that I'm late to the Blues Brothers party. As a kid I thought John Belushi and Dan Aykroyd were corny as Jake and Elwood. And I didn't appreciate their music either. Now I know better on both counts. Jake and Elwood are about cool as they come and I now have an appreciation for the blues. I had seen the movie just once many years ago and was underwhelmed by it. This time around, however, I thoroughly enjoyed it for what it is. A funkilarious (yep, I made up a new word) good-time at the movies.

Reviewed on:
May 17th, 2015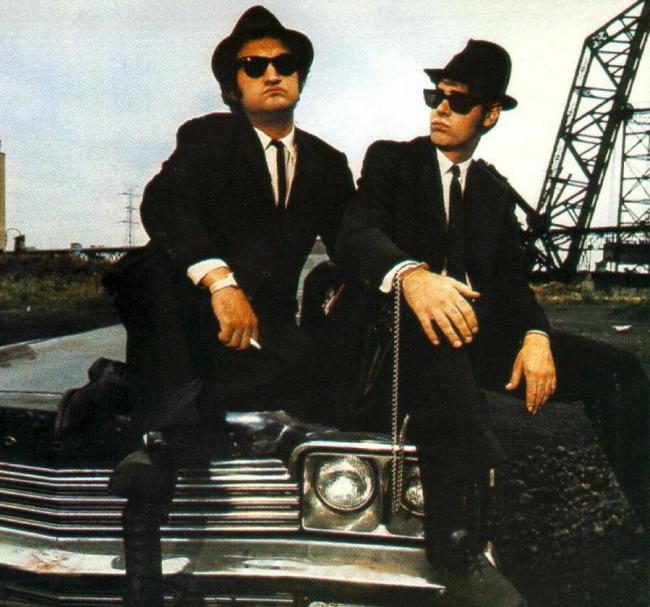 John Belushi and Dan Aykroyd in The Blues Brothers
I have watched The Blues Brothers several times over the years but have not seen it in decades. To my surprise, I enjoyed it more this time than ever before. I too recall originally not knowing what to make of Jake and Elwood and their mission from God. However, with this viewing I got caught up in their silly adventure of pissing off nuns, police, Nazis and girlfriends all to put their band back together and save the orphanage.
Like Patrick, I once thought John Belushi and Dan Aykroyd to be simply odd doing their shtick in their black clothes and sunglasses. This time around, I found their enthusiasm to be extremely contagious. I love how they jumped in during the church revival singing led by James Brown or when they spontaneously became back up dancers for Aretha Franklin. They are never deterred by Carrie Fisher's efforts to kill them. They roll with every punch. Even when they play at a country and western bar, they adapt quickly.
Patrick mentioned all of the songs while I found many of the lines to be just as memorable. How classic is it when Elwood says, "It's 106 miles to Chicago, we got a full tank of gas, half a pack of cigarettes, it's dark... and we're wearing sunglasses." And Jake adds, "Hit it." One of my favorite lines has always been when the Police Dispatcher calls over the radio, "Use of unnecessary violence in the apprehension of the Blues Brothers has been approved." Years ago I had a friend that thought he was being funny when every time he would see an attractive girl on the street he would recite Jake's line, "How much for the little girl?"
Like Patrick, I too found Jake and Elwood to be as cool as they come and their fedora wearing look is timeless. I like how they sneak up to the theater walking to the beat of Cab Calloway singing "Minnie the Moocher". They take everything seriously and sell the stupidest lines, such as when Elwood tries to outrun the country band that just shot out their rear window and says, "Our Lady of Blessed Acceleration, don't fail me now."
I have always remembered The Blue Brothers as a comedy, and it is, but with this viewing I was taken aback by what an awesome musical it truly is. I agree completely with Patrick. Whereas I was once bored by the songs, I truly appreciated them this time around. Several of the songs have been playing in my head ever since watching this. In fact, with such classic songs, famous performers and Belushi and Aykroyd giving it their all, The Blues Brothers is one of the better musical comedies of all time. Yeah, I just wrote that.
Photos © Copyright Universal Pictures (1980)