Movie Review
Blonde Venus
From the lips of one MAN to the arms of another!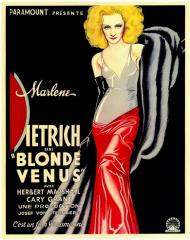 US Release Date: 09-09-1932
Directed by: Josef von Sternberg
Starring
▸
▾
Marlene Dietrich

,

as

Helen Faraday/Helen Jones/Blonde Venus
Herbert Marshall

,

as

Edward 'Ned' Faraday
Cary Grant

,

as

Nick Townsend
Dickie Moore

,

as

Johnny Faraday
Gene Morgan

,

as

Ben Smith
Rita La Roy

,

as

Taxi Belle Hooper
Robert Emmett O'Connor

,

as

Dan O'Connor
Sidney Toler

,

as

Detective Wilson
Morgan Wallace

,

as

Dr. Pierce
Clarence Muse

,

as

Charlie, the Bartender
Sterling Holloway

,

as

Joe, Hiker
Hattie McDaniel

as

Cora, Helen's Maid in New Orleans
Reviewed on:
November 13th, 2014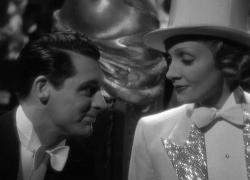 Cary Grant and Marlene Dietrich in Blonde Venus.
Between 1930 and 1935 Josef von Sternberg and Marlene Dietrich made seven films together as director and star. Blonde Venus marked their fifth collaboration. It's a Pre-Code melodrama in which the Dietrich character goes on a long and arduous odyssey from cabaret singer to wife/mother to fallen woman to redemption. The story packs plenty of plot onto just 90 minutes of celluloid and features several great performances. Dietrich wasn't the most versatile actress in the world but what she did she did better than anyone. Nobody ever out-Dietriched, Dietrich.
The movie opens with a famous scene. A group of American men are hiking through the German countryside. They happen upon a pond where a group of young women are "bathing". Which is really just an excuse for a skinny dipping scene where glimpses of naked flesh are visible between the branches of an overhanging willow tree. One of the women (Dietrich) is bolder than the others. She swims close by and demands the men leave. One of the men (Marshall) says they will go but only if she agrees to meet him later at a night club.
From this lighthearted opening scene, the story takes a sharp turn towards the tragic. The next scene shows a distraught looking Dietrich bathing a young boy (Dickie Moore). We learn this is her son and that she not only met the hiker later, she married him. They now live in America. The reason she looks distraught is because she just found out her husband has Radium poisoning and needs $1,500 to go to Germany for experimental medical treatments. Dietrich decides to go back on the stage to earn the money. Her husband reluctantly agrees and high drama ensues.
The script tosses in a tiny bit of humor amidst all the heavy melodrama. Dietrich meets a fellow performer named Taxi Belle Hooper, who tells her, "Taxi for short." Dietrich asks her sarcastically, "Do you charge for the first mile?" Dietrich is given the stage name Blonde Venus and makes one of the greatest entrances of all time. She comes out in an ape suit while the band plays a jazzy scorcher called "Hot Voodoo". She takes off her ape hands like a stripper removing gloves. She then removes the ape head dramatically, and dons a frilly blonde wig which she proceeds to shake provocatively while singing the lyrics to the song. Not surprisingly, she's a sensation.
In the audience is millionaire playboy Nick Townsend, who just happens to be played by Cary Grant. This was just his fifth feature film appearance and his most important role to date. Although Mae West would later try to take credit for discovering him, Marlene Dietrich had him first. Grant would later say that the only directing advice he got from von Sternberg was that his hair was parted on the wrong side. He changed it and wore it that way for the rest of his incomparable career. Nick has a reputation for lavishly bestowing gifts of cash, jewelry and furs on showgirls in return for "favors". So the Blonde Venus gets the money for her husband's medical treatment and sees him off to Europe. She lets him believe that she earned the money onstage – rather than for a different kind of performing.
To find out how things turn out you'll have to watch the movie – I'll just say that the final scene gets pretty mawkish as it tugs shamelessly at the heart-strings. Dietrich looks every inch the star even when her character is at her lowest point. Along the way she sings three songs in that inimitable Dietrich voice. Von Sternberg knew exactly how to light and shoot his star. Travis Banton's fabulous outfits complimented her image perfectly.
The story is pure soap opera but Blonde Venus contains several iconic moments featuring one of Hollywood's greatest female movie stars at the absolute peak of her powers, as well as an early look at one of Hollywood's greatest ever leading men.
Photos © Copyright Paramount Pictures (1932)
Related Reviews