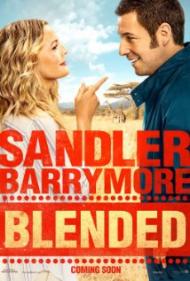 US Release Date: 05-23-2014
Directed by: Frank Coraci
Starring
▸
▾
Adam Sandler

,

as

Jim
Drew Barrymore

,

as

Lauren
Kevin Nealon

,

as

Eddy
Terry Crews

,

as

Nickens
Wendi McLendon-Covey

,

as

Jen
Emma Fuhrmann

,

as

Espn
Bella Thorne

,

as

Hilary
Braxton Beckham

,

as

Brendan
Alyvia Alyn Lind

,

as

Lou
Joel McHale

,

as

Mark
Abdoulaye NGom

,

as

Mfana
Kyle Red Silverstein

,

as

Tyler
Zak Henri

,

as

Jake
Jessica Lowe

,

as

Ginger
Shaquille O'Neal

,

as

Doug
Rob Moran

as

Baseball Dad

Reviewed on:
June 4th, 2014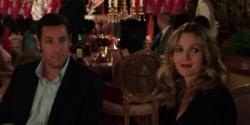 Adam Sandler and Drew Barrymore in Blended
Romantic comedies have often been noted as being cinematic comfort food. We know going in that there will be a couple that meet, have some friction, fall in love, stumble, make up and then live happily ever after. It is standard screen writing 101. Blended is one such film, so I am inclined to excuse some of its lack of originality and tried and true plot devices.
Sandler and Barrymore meet on a blind date, in which they do not have a love connection. Due to a vaguely explained reason, they unknowingly end up on an African vacation together with their children. Both parents are single, and the vacation destination is, coincidentally enough, one for blending families. Humor is intended to ensue as their arguments turn to understanding and attraction.
Barrymore is playing the boring mother of two sons. The oldest has discovered masturbation while the younger one has more energy and temper than a single mom can handle. Sandler has three girls whom he ignorantly dresses and treats as boys. Yeah, you can see the rest of the plot unfolding already. Sandler will ring in the boys while Barrymore will take care of the girls, especially the oldest one who has eyes for a boy staying at their hotel.
The jokes are mild, family friendly and occasionally bathroom related. The only thing this film has going for it is the two leads. Of all his leading ladies, it is Drew Barrymore who has been able to bring the best out of Sandler. As this is their third film together, they have a genuine comfortable chemistry. On their blind date, they seemed more like a married couple that was not getting along that day, than two people meeting for the first time.
In past films Sandler was miscast as a stud or a ladies man, but who was he kidding? Here he has some self-deprecating jokes about his age and hygiene that ring far truer than him having a four way with three hot girls in I Now Pronounce You Chuck and Larry (2007). Sandler is not a great actor but he has real charm when playing a likable schlub to Drew Barrymore's slightly frazzled characters.
This is the first feature film for writers, Ivan Menchell and Clare Seral. Both wrote for television and it shows as this movie is little more than one situation comedy scene after another. We all know what will happen before it does and as such this two hour film should have lost at least 20 minutes of its running time. Everything that occurred after the families returned to the United States should have been cut, minus the final scene at the little league game. We know that scene is coming, why drag the story out with pointless filler.
Photos © Copyright Warner BrothersGulfstream PicturesHappy Madison Productions (2014)