Movie Review
Black Orpheus
The film that introduced Bossa Nova to the world...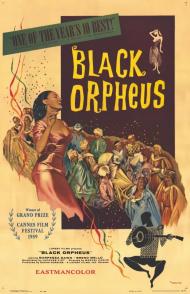 US Release Date: 12-21-1959
Directed by: Marcel Camus
Starring
▸
▾
Breno Mello

,

as

Orfeo
Marpessa Dawn

,

as

Eurydice
Marcel Camus

,

as

Ernesto
Fausto Guerzoni

,

as

Fausto
Lourdes de Oliveira

,

as

Mira
Lea Garcia

,

as

Serafina
Ademar Da Silva

,

as

Death
Alexandro Constantino

,

as

Hermes
Waldemar De Souza

,

as

Chico
Jorge Dos Santos

,

as

Benedito
Aurino Cassiano

as

Zeca
Reviewed on:
January 19th, 2011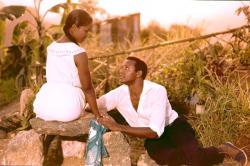 Marpessa Dawn as Eurydice and Breno Mello as Orfeo in Black Orpheus.
Set in Rio de Janeiro during Carnival Black Orpheus (Orfeu Negro) is filled with vibrant colors and a pounding calypso drum beat. This French written and directed, Portuguese language, modern day retelling of the classic Greek myth of Orpheus and Eurydice won both the Palme d'Or at Cannes and the Oscar for Best Foreign Language Film in 1959. Black Orpheus takes you inside the culture of the Brazilian underclass. It is frenetically energized and features vividly drawn and dynamic characters.
Orfeo is a trolley car conductor that sees a beautiful young woman (Eurydice) as she arrives in Rio to visit her cousin on the eve of Carnival. Sparks fly. Unfortunately he is on his way to get a marriage license with his fiancée Mira, while Eurydice is running away from a crazed stalker. Later Orfeo crosses paths again with the innocent Eurydice as he is neighbors with her cousin Serafina, where she has gone seeking refuge.
Orfeo and Eurydice quickly realize that they were meant for each other; that their love was written in the stars and will prove eternal. Orfeo easily forsakes the strident and bullying Mira for his new love. To keep Mira from discovering the truth about Orfeo and Eurydice the complicit Serafina gives her veiled costume to Eurydice to wear as a disguise.
Death shows up in the form of a man in a full body costume and mask. This being Carnival it is not thought unusual by anyone, except Eurydice who knows he is after her. Mira discovers the truth about Orfeo and Eurydice after they dance a provocative Samba together.
Enraged, she begins to chase Eurydice through the colorful, dancing crowds. But Death proves quicker. Can Orfeo save his true love from Death's cold grasp? You have to watch the movie to find out. Of course if you are familiar with the Greek myth you already know the ending.
The Bossa Nova beat plays an essential role in this movie. From beginning to end music plays nearly constantly while characters dance in a seemingly endless Conga line. Orfeo is in fact a musician. The local boys think he makes the sun rise with his guitar playing.
The cinematography is gorgeous and the cast is filled with beautiful people of both sexes. In a strange twist of fate the actors that played Orfeo and Eurydice, Breno Mello and Marpessa Dawn, died of unrelated causes within a few weeks of each other, 50 years after making this movie together.
Marcel Camus's Black Orpheus is a true masterpiece of the cinema.

Photos © Copyright Tupan Filmes (1959)