Movie Review
Black Book
To fight the enemy, she must become one of them.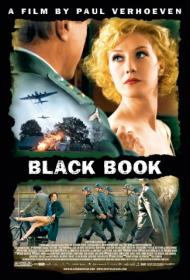 US Release Date: 12-09-2006
Directed by: Paul Verhoeven
Starring
▸
▾
Carice van Houten

,

as

Rachel Stein / Ellis de Vries
Sebastian Koch

,

as

Ludwig Muntze
Thom Hoffman

,

as

Hans Akkermans
Halina Reijn

,

as

Ronnie
Waldemar Kobus

,

as

Gunther Franken
Derek de Lint

,

as

Gerben Kuipers
Christian Berkel

,

as

General Kautner
Dolf de Vries

,

as

Notary Wim Smaal
Matthias Schoenaerts

,

as

Joop
Michiel Huisman

as

Rob


Reviewed on:
February 6th, 2009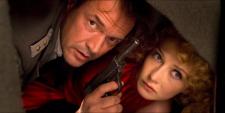 Sebastian Koch and Carice van Houten in Black Book.
Paul Verhoeven is best known in the United States as the director of Basic Instinct and Showgirls. He filmed Black Book in his home land of Holland. It features a European cast and is loosely based on true events. The result is one amazing World War II thriller.
After witnessing the slaughter of her family, a young Jewish girl finds herself joining the Dutch resistance. She is given the assignment of having an affair with a German SS officer, she met earlier on a train, in order to help rescue some fellow resistance members. She agrees, but surprises herself when she falls in love with him.
Black Book is a thriller with many twists and turns. You, as well as the characters in the movie, are never sure who the bad guys and traitors really are. There is plenty of action and fighting, and true to Verhoeven's reputation, just enough nudity.
The cast is great, if not fully recognizable here in the United States. Carice van Houten played Tom Cruises wife in Valkrie. She does a remarkable job and is in most scenes. She is good whether singing in German, seducing Muntze or running for her life. Although she is very attractive and has a really nice body, she has one particular nude scene while in prison that is anything but erotic. You will know it when you see it, and not soon forget it.
Carice van Houtens real life boyfriend is German actor Sebastian Koch, who plays Muntze. Koch, coincidentally played the same role Cruise played in Valkrie in a German television movie, Stauffenberg (2004), which was re-titled Operation Valkrie when released on DVD.
It is because of the relationship between Ellis and Muntze that this movie really becomes more than just an action/historical thriller. You root for them as their is absolutely no one on their side. Van Houten has an ironic line near the end when she says, "I never knew this would happen. To fear the liberation..." How can they explain that an SS Officer and a Jew love each other and get any amount of pity from anyone? After the war, German officers were put on trial for war crimes and women of occupied countries were branded traitors if they slept with Nazis. They had their heads shaved as a sign of their shame and betrayal.
Paul Verhoeven, who also wrote the screenplay with Gerard Soeteman, lived through World War II as a child in the Netherlands. No doubt this movie has some personal significance to him. It shows in the details of the story line of patriotism, betrayal and love. Black Book is the best World War II thriller I have ever seen.
Reviewed on:
January 14th, 2012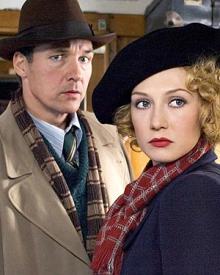 Thom Hoffman and Carice van Houten in Black Book.
Eric, upon first reading your review I assumed you were guilty of over praising this movie. As it turns out you didn't over praise it at all. I agree with you 100%. Scene for scene this is probably the best WWII thriller I have ever seen as well. It has all of the necessary ingredients in just the right amounts. It has sympathetic characters to root for, plenty of action, intrigue, betrayal and heroics. The cast, lead by the brilliant van Houten, does a remarkable job, the direction by Verhoeven is excellent and the cinematography beautiful.
If I had to find fault with it, the only thing I could come up with is the opening scene that takes place many years later. It gives away a key element of the story and adds to the movies' length, which is about 145 minutes. But this is a minor complaint about a superb movie.
Carice van Houten gives an award worthy performance as Rachel/Ellis. She runs the gamut of emotions from A to Z and then finds several more there aren't letters for. At different times she evokes innocence, seduction, anger, hurt, defiance, shock, disappointment etc. You get the picture.
This poor woman suffers more than Scarlett O'Hara during the first act of GWTW. As Eric wrote, she witnesses her family being gunned down in cold blood and that's just for starters. Once she joins the resistance she gives her all to the cause, including her body. She puts herself in constant danger as a spy and comes close to losing her life on several occasions. After the war her persecution continues. This poor woman can't catch a break, yet her spirit is never broken.
The mystery of just who is and who isn't a traitor is sublimely revealed. Some are rather obvious, some are slightly surprising and one, in particular, is a shock. This last traitor gets an appropriate come-uppance that will have you cheering for van Houten. Unlike so many WWII movies about Jews struggling to survive Nazi persecution, this one has a satisfying ending; a fact given away by the opening scene. Although to be fair this doesn't diminish the sense of danger that permeates the story.

On a personal level I found one aspect of this movie interesting. Three Movie Buffs' maternal grandfather was born in Holland. Although I have never met any of our Dutch relatives surely some of them lived through the war. This is the first movie I've seen set in Holland during WWII that deals with the actions of the Dutch Resistance. Whether or not you have relatives from Holland, Black Book is a great movie. Oh and the titular book plays a small but integral role in the plot.

Reviewed on:
February 9th, 2012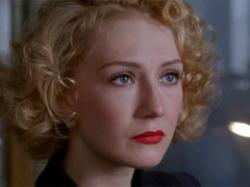 Carice van Houten stars in Black Book.
Patrick, I had the same thought as you. Why did they include the scene at the beginning that shows Rachel survived? It undercuts the sense of danger. There's one scene where her friend, when she learns that Rachel is a spy, calls her Greta Garbo, but then tells her with worry in her voice that Garbo died. For a split second I wondered if the movie was going to have a dark ending, but then I remembered that opening scene. I think that was one of the few mistakes in an otherwise thrilling World War II movie.
I agree with both of you that the cast, lead by van Houten, is great. Hers is a rich part and she makes the most of it. The scene where she learns that Muntze has been shot is heartbreaking, but she excels throughout. She's beautiful and sexy, but she conveys range and depth as well. She hasn't done much work in America, but will soon be seen in the second season of HBO's Game of Thrones. The only member of the cast I recognized was Derek de Lint. He's appeared in small parts in American films and also starred in the short live supernatural series, Poltergeist: The Legacy.
The movie does run long, but there's a lot of story here. There's enough plot to make a miniseries. The story has an episodic feel to it already. It's good from start to finish, but I was glad I watched it at home rather than in a theater so I could pause it for bathroom breaks.
The relationship between Muntze and Rachel is definitely the most unique aspect of the movie. It starts with innocent Jews being killed by evil Nazis, but as the movie progresses it shows that there were good and bad on both sides.
I don't know that this is the best WWII thriller ever, but it certainly has to be in the running.
Photos © Copyright Hocus Focus Films (2006)