Movie Review
Birdman or (The Unexpected Virtue of Ignorance)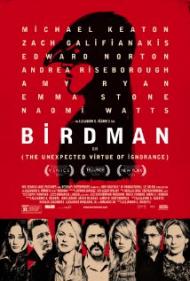 US Release Date: 10-17-2014
Directed by: Alejandro González Iñárritu
Starring
▸
▾
Michael Keaton

,

as

Riggan Thomson / Birdman
Zach Galifianakis

,

as

Jake
Edward Norton

,

as

Mike Shiner
Andrea Riseborough

,

as

Laura
Naomi Watts

,

as

Lesley
Amy Ryan

,

as

Sylvia
Emma Stone

,

as

Sam Thomson
Merritt Wever

,

as

Annie
Lindsay Duncan

,

as

Tabitha
Natalie Gold

,

as

Clara
Jeremy Shamos

,

as

Ralph
Benjamin Kanes

,

as

Young Birdman
Frank Ridley

,

as

Mr. Roth
Jackie Hoffman

as

Lady on Balcony

Reviewed on:
October 19th, 2014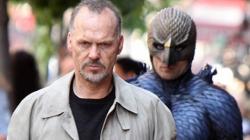 Michael Keaton in Birdman.
Birdman or (The Unexpected Virtue of Ignorance) succeeds on just about every level. First and foremost it's a technical showpiece for director Alejandro González Iñárritu and cinematographer Emmanuel Lubezki. Normally I'm no fan of the hand held camera technique but the manner in which it's employed here is brilliant. The movie is shot in very long takes, with the camera following the characters around. By the end credits you will feel as if you know your way around the stairs and hallways backstage at Broadway's St. James Theater. These long takes are designed to give the movie a seamless feel to it. Like Hitchcock's famous experiment with Rope nearly three quarters of a century ago, the director wants the movie to feel like one long take. And to his credit he succeeds.
There are also a few surreal flourishes designed to symbolize the main character's descent into madness. The most obvious is when he imagines himself flying through Manhattan. It is a beautifully uplifting moment, one that quite literally soars. And yet it's also quite sad. Another example is the cacophonous drumming used to underscore several scenes. Near the end of the movie, as Michael Keaton's character stalks the hallways backstage he turns a corner and we suddenly see a man playing the drums. It seems jarring at first, like the director has broken through the fourth wall, until you realize the pounding drum sound exists only inside Riggan Thomson's head and the drummer is merely his hallucination. And a sign that his insanity is growing worse.
In a bit of intentionally ironic casting, Michael Keaton plays washed up movie star Riggan Thomson. So the former Batman star is playing an actor famous for having played a costumed superhero called Birdman. His career came to a rather abrupt end after he turned down Birdman 4. Now twenty years later, Riggan Thomson is attempting a comeback. He has adapted a short story by Raymond Carver into a stage play in which he is also directing and starring. Oh, and did I mention that he hears the voice of his former, feathered alter-ego speaking to him whenever he's alone in his dressing room, and he even imagines himself to have telekinesis?
The acting in Birdman matches the quality of the film's technical showmanship. Michael Keaton is incredible in a role almost guaranteed to win awards in the upcoming season. He understands the dark humor in the script and handles the many long takes and pages of dialogue with practiced ease. It's a fearless performance that is at once tragic and funny. Also likely to garner Oscar nominations are his costars Edward Norton, Emma Stone, and Naomi Watts. Each of whom shines in support of Keaton and each of whom is dealing with their own personal issues. Even the normally obnoxious Zach Galifianakis gives a (for him) restrained turn as the play's producer, providing some of the biggest laughs in the process.
The original screenplay written for this play-within-a-movie plot satirizes modern day showbiz. The story takes place during the play's previews leading up to its opening night and ends the following day. It skewers the narcissistic nature of actors as well as the annoying habits of Times Square tourists, but its most pointed target is that reviled creature known as the theater critic. Lindsay Duncan plays Tabatha, the all-powerful reviewer for the Times. In the film's only real misstep she is written as a caricature and never feels as real as the other characters. She is a stereotype of the snobbish, elite hermit sealed off in their own little bubble making and destroying careers on a whim. She makes Addison DeWitt seem downright democratic by comparison.
Birdman isn't perfect. The dark humor takes a backseat during the final 30 minutes or so, and the presence of Edward Norton is missed in the last act. The ending will probably alienate some viewers but I personally found it to be a satisfying conclusion to this fresh and dramatically funny film.
Reviewed on:
October 22nd, 2014
Michael Keaton and Edward Norton in Birdman.
Like Patrick, I enjoyed this movie and I agree that it's not perfect. For me it worked best as a comedy that pokes fun at the egos of actors. I was less enamored with the film's arty flourishes. And it could definitely use a tighter edit, running at least 30 minutes too long.
Michael Keaton is terrific in the lead role. His mental disintegration while trying to stage a comeback is a treat to watch. His real life connection to Batman adds a weird sort of irony to the film, but actually adds very little to the story. It mainly serves as a distraction by reminding you that you're watching a movie. The real Michael Keaton, at least as he's presented himself in interviews, bears little resemblance to his character here apart from sharing a background in superhero movies. As Patrick wrote, Keaton's performance is equal to all the buzz it has been generating and is certain to be in the running for all the major awards.
I also agree that the supporting cast is brilliant as well. I particularly enjoyed Edward Norton and again like Patrick, I missed him in the final 30 minutes. His character arc just sort of stops as he fades to the background. Stone, Watts and Galifianakis are also good, but it's Keaton and Norton who deserve the most praise. Their scenes together are the film's highlights.
At the risk of sounding like a broken record, I also agree that the character of the theater critic, played by Lindsay Duncan, doesn't really ring true. Her bitter diatribe seems over the top and never really justified. Not to mention that if theater critics gave automatic bad reviews to every Broadway show featuring a Hollywood star, they would be writing almost nothing but negative reviews. Maybe 10 years ago the point she makes would have been relevant, but that ship has long sailed. The 2014 Broadway season, for instance, features Bradley Cooper, Hugh Jackman, Michael Cera, Emma Stone, Maggie Gyllenhaal, and Ewan McGregor among many others. The real surprise isn't that a Hollywood star is appearing in a play in the movie, but that there's room for a washed-up has-been of a movie star on Broadway with all the real stars jostling to prove themselves there.
While the script is funny and the characters interesting, I wasn't particularly entertained by the inclusion of Birdman. Or least by so many inclusions of Birdman. His presence allows Inarritu to include some impressive visuals, but Keaton's performance is enough to show that Riggan Thomson is a man who's sanity is tied to his ego and his ego has long since worn thin. The flying and the telekinesis aren't needed and they add to the running time. Do they seriously detract from the film? No, but they are superfluous. Inarritu's biggest contribution as director was the decision to make it look as though the film was shot in one long take. While it could be seen as a gimmick, it does help the flow of the film and gives it a greater sense of urgency.
Given my attitude toward the scenes with Birdman, if you've seen the movie you can probably guess my attitude towards the ending. The ambiguity of it feels like a cop out to me. It should have ended five minutes earlier on the stage, with perhaps a quick epilogue to show the consequences of what happened there.The ending is where I most disagree with Patrick. He found it satisfying. I found it annoying.

Reviewed on:
February 8th, 2015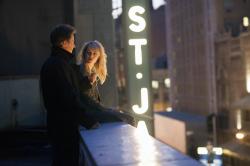 Ed Norton and Emma Stone in Birdman or (The Unexpected Virtue of Ignorance)
Riggan Thomson's name belongs right alongside Norman Main and Norma Desmond. All are movie stars whose career heights have past and all wish desperately that they had not. Main refused to take small roles offered to him, while Norma wanted her script turned into a movie so as to make a return, not a comeback mind you. Thomson has set his sights on a Broadway play to prove his talent and regain his fame.
As my brothers wrote, the comedic moments make for some great entertainment. I laughed when a fat person asks for Thomson's autograph in a bar just after Shiner told him no one cares. Later, another fat fan asks for Thomson's autograph while he is walking through the rain in his underwear. I laughed hardest when Watts asks another girl why she has no self-respect and the girl answers comfortingly, "You're an actress honey."
My favorite dramatic moment is when Emma Stone, as Thomson's daughter, tells Thomson about relevance and how pathetic he is trying to have it. She sees her dad with such rude clarity but is blinded by the phony, Mike Shiner. He flirts with her on the theater roof. He lights a cigarette with his collar up in a James Dean pose. He tells her he does not want to have sex with her because he would worry he could not get it up. The trap is baited and set.
I also agree with my brothers about the performances. Michael Keaton threw caution to the wind playing a has-been actor. Clearly he knew the comparisons would be made between him and his character. Where I was a bit surprised was that Keaton shows off his 60 something year old physique, and he does not embarrass himself. He gives a raw, career defining performance.
Ed Norton plays an obnoxious method actor. He tries to have sex with Watts while on stage in the middle of a scene with hundreds of audience members watching. Apparently he can act his way to an erection. He complains about props and throws fits. His fight with Keaton is one of the movies highlights.
I loved the long scenes that move all over the theater, revealing how unglamorous back stage can be. It makes for a wonderful flow and the theater nearly becomes a character itself. The movie makes a major misstep with the final scene in the hospital. The story should have ended on the stage. It was the perfect conclusion to all that we have seen and expect.
Although it could have used a trim, the movie remains engaging nearly throughout its slightly bloated running time. As long as Keaton was on the screen there is something to enjoy. Like Thomson impressing the critic, Keaton has certainly proven his talent and with all the award talk, gained fame he has never known.
Photos © Copyright Fox Searchlight Pictures (2014)