Movie Review
The Birdcage
What could possibly come between a match made in heaven? The parents. Dinner. And a nightclub called... (The Birdcage)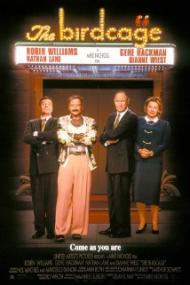 US Release Date: 03-08-1996
Directed by: Mike Nichols
Starring
▸
▾
Robin Williams

,

as

Armand Goldman
Gene Hackman

,

as

Senator Kevin Keeley
Nathan Lane

,

as

Albert Goldman
Dianne Wiest

,

as

Louise Keeley
Dan Futterman

,

as

Val Goldman
Calista Flockhart

,

as

Barbara Keeley
Hank Azaria

,

as

Agador Spartacus
Christine Baranski

,

as

Katherine Archer
Tom McGowan

,

as

Harry Radman
Grant Heslov

,

as

National Enquirer photographer
Kirby Mitchell

,

as

Keeley's opportunistic chauffeur
Anthony Giaimo

,

as

Mr. Lopez
Lee Delano

,

as

Mr. Boyington
Jay Leno

as

Himself

Reviewed on:
March 12th, 2015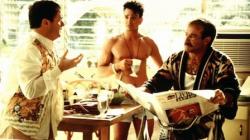 Nathan Lane, Hank Azaria and Robin Williams in The Birdcage.
Albert and Armand Goldman are a longtime gay couple living in Southern Florida. Together they own a nightclub called The Birdcage in the South Beach neighborhood of Miami. Armand runs the club while Albert is the star attraction as a drag performer called Starina. When Armand's grown up son Val (who was raised by Albert and Armand) announces his engagement to the daughter of a conservative republican senator, the Goldman's have to play it straight at a dinner party for their prospective in-laws.
Robin Williams was originally cast as the flamboyant Albert to Steve Martin's slightly more masculine Armand. When scheduling conflicts caused Martin to pull out, Williams jumped at the chance to play the straight man (for once). He switched to Armand and gave the showier role of Albert to Broadway and television commercial star Nathan Lane, in his first major movie role. I'm glad he did because playing Armand allowed Williams to fully inhabit a gay character without overdoing the 'gayness'. And besides, did anyone really want to see Mrs. Doubtfire as a drag queen? Nathan Lane is excellent as Albert – the high strung fading beauty. This may be farce but in their hands Albert and Armand are fully developed human beings.
In comedy the supporting players are allowed to be more one-note and The Birdcage takes full advantage. Hank Azaria is a bit of a walking stereotype as their swishy houseboy named Agador Spartacus. I have to confess I find him quite funny, especially in the dinner party scene where he poses as the butler but he can't cook - or walk in shoes. Hilarious. Gene Hackman and Dianne Wiest play the socially conservative Mr. and Mrs. Keeley with aplomb. He's a co-founder of a group called the "Coalition of Moral Order". She's his slightly more sophisticated wife. Calista Flockhart and Dan Futterman, as the central young couple, are the weak links. Bland and dull, at times it seems like they're competing to see which of them can draw less attention to themselves. Christine Baranski easily outshines them both as Val's biological mother.
Besides the two very funny central performances, one reason this movie was such a hit in America was because it strikes a conciliatory tone. Yes the conservative couple are the ones whose views change but the Keeleys aren't portrayed as bad people by any means. And the scandal that breaks out when Keeley's co-founder dies in the bed of an underage prostitute could happen to a senator in either party. Whether democrat or republican quite often the person leading the witch hunt is secretly guilty of the very thing he denounces.
Based on the hilarious 1978 French/Italian film La Cage aux Folles, which was itself based on the 1973 French play of the same name, a Hollywood version had long been overdue. Not only had a Tony winning stage musical adaptation by Harvey Fierstein and Jerry Herman been a hit on Broadway in 1983 but the original film had been the top grossing foreign language film in the United States throughout the 1980s. It was so popular that it spawned two sequels, La Cage aux Folles II in 1980 and La Cage aux Folles III: The Wedding in 1985.
So by 1996, America had long been ready for this remake. The Birdcage was adapted by Elaine May and directed by Mike Nichols, marking the legendary former comedy duo's first film collaboration. Not surprisingly, it was a huge hit with audiences, becoming Robin Williams's seventh movie to gross over 100 million dollars at the domestic box office. Its total worldwide take was $185 million. It was also received kindly by critics. The Birdcage may not improve on the original but it certainly doesn't embarrass itself in comparison.

Reviewed on:
March 14th, 2015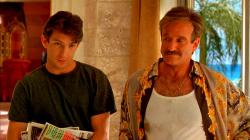 Dan Futterman and Robin Williams in The Bird Cage
The Birdcage is indeed a farce and in the hands of Robin Williams and Nathan Lane, Albert and Armand are indeed fully developed human beings. They are flamboyant, real characters. In fact, it is that flamboyancy that helps to create the humor. This couple is out, loud, proud and extremely comfortable in their own skin. To ask them to go back into a closet neither seems to have ever been in is the true crux of the story.
As honest as they are with themselves I have always had a difficult time understanding their relationship. They show little affection for each other and even less passion. Most of the time, Armand seems more annoyed by Albert than enamored with him. Armand often keeps the truth from him knowing how Albert over reacts to almost everything. They share the scene at the colorful bus stop where Armand states that he chose to be with Albert but I never felt that they were anything more than lifelong friends. They are meant to seem like an old married couple but I never found them to be a very happily married couple.
I also never liked the relationship between father and son. We first meet Val in a scene that is intended to make us believe he is Armand's secret lover. It is a moment of very bad taste. Val asks his father to pretend to be something he is not. Any son worth a damn would never ask that of a parent. Armand becomes angered by the request before committing to it. I would have believed a father who stood his ground armed with pride or one eager, without question, to do whatever it takes to make his son happy. Armand tries to have it both ways, agreeing to do what his son asks, all the while bitching about it.
Although I thought the family dynamics were misplayed, I was often entertained. I agree with Patrick that Hank Azaria is hilarious. I laughed hardest when he had to walk in shoes for the dinner party. The meeting of the parents is a true comedy of errors with everything spiraling out of control. I also liked the rehearsal scene with the difficult performer, whose gum chewing irritates Albert.
I am a conservative but was not offended in the least by this film's politics. The story only works with the in-laws being right winged. To be fair and balanced, the film starts with a slam on the famous Democrat Kennedy family. A Bird Cage employee tells Armand that some Kennedys expect free drinks. Armand excitedly asks if it is Ted Kennedy but frowns when he finds out they are the younger, less famous Kennedys. "Why can't we ever get Ted?" He bemoans of the famous lush.
I was never able to become too emotionally invested in anything going on in The Bird Cage but it does provide some laughs and ultimately a positive message of family solidarity.
Photos © Copyright United Artists (1996)