Movie Review
The Big Shakedown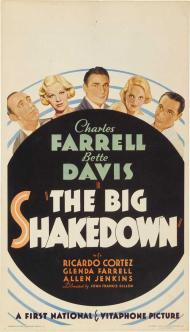 US Release Date: 01-06-1934
Directed by: John Francis Dillon
Starring
▸
▾
Charles Farrell

,

as

Jimmy Morrell
Bette Davis

,

as

Norma Nelson
Ricardo Cortez

,

as

Dutch Barnes
Glenda Farrell

,

as

Lily Duran
Allen Jenkins

,

as

Lefty
Henry O'Neill

,

as

Mr. Sheffner
Dewey Robinson

,

as

Slim
John Wray

as

Higgins
Reviewed on:
July 18th, 2011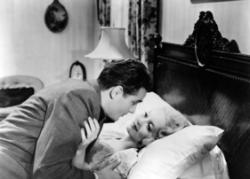 Charles Farrell and Bette Davis in The Big Shakedown.
The studios really worked their contract players, cranking out movies during the 1930s. The Big Shakedown was the first of six movies Bette Davis released in 1934; five of them for her home studio Warner Brothers and one on loan out to RKO. This one is typical Warner's fare with Bette playing a supporting role to Charles Farrell's protagonist and Ricardo Cortez's villain.
Bette plays Norma Nelson a girl working behind a notions counter at a corner drugstore owned by her boyfriend Jimmy (Farrell). He just happens to be a brilliant chemist that can whip up nearly identical formulas of almost any pharmaceutical product. In one of the silliest gangster movies I've ever seen this talent comes into play.
You see local big shot gangster Dutch Barnes (Cortez) has just lost his bootleg business due to the lifting of Prohibition and he needs something new to pedal. You guessed it. He teams up with Jimmy to create a bootleg version of Pearlydent toothpaste. How dastardly!
Jimmy, while an honest guy, goes along because he doesn't see any harm in making top quality toothpaste that is being sold to the masses under a legitimate brand name. He tells himself that he is just making the product, not selling it.
Things go along and Jimmy and Norma get married and are soon expecting a baby. By this time Dutch has come up with the idea for Jimmy to make fake versions of serious drugs such as digitalis. Dutch gains this power over Jimmy by making him an accessory to a drive-by street murder.
Norma goes into labor and the doctor wants to give her digitalis for her heart. Jimmy knows the hospital has the fake digitalis he created. What a dilemma! What suspense! Don't worry. I won't give away the ending.
The plot is pretty ridiculous although this 60-minute pre-code effort does offer a few racy lines. Bette asks a customer what she can get him and he replies, "Nothing you can bring me on a plate." When Dutch tells his men they are going to be selling drugs one of them says, "Not me. I got a brother doing twenty years for going into the drug business and all they found on him was two decks of coke." There is also a good cat fight between two of Dutch's molls.
The Big Shakedown would long since have faded away into celluloid obscurity if not for the presence of Bette Davis. Her part is rather small and completely unworthy of her talents. Still these forgotten assembly line movies were the stepping stones for one of the greatest careers in Hollywood history.

Photos © Copyright Warner Bros. Pictures (1934)