Movie Review
The Big House
Timely! Tremendous! Thrilling! Drama of Love and a Jail-Break!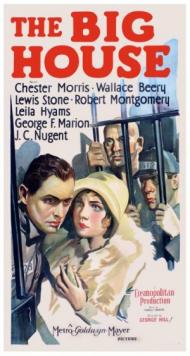 US Release Date: 06-14-1930
Directed by: George W. Hill
Starring
▸
▾
Chester Morris

,

as

Morgan
Wallace Beery

,

as

Butch
Lewis Stone

,

as

Warden
Robert Montgomery

,

as

Kent
Leila Hyams

,

as

Anne
George F. Marion

,

as

Pop
J.C. Nugent

,

as

Mr. Marlowe
Karl Dane

,

as

Olsen
DeWitt Jennings

,

as

Wallace
Mathew Betz

,

as

Gopher
Claire McDowell

,

as

Mrs. Marlowe
Robert Emmet O'Connor

,

as

Donlin
Tom Kennedy

,

as

Uncle Jed
Tom Wilson

,

as

Sandy
Eddie Foyer

,

as

Dopey
Noah Beery Jr.

as

Convict in Yard
Reviewed on:
February 24th, 2015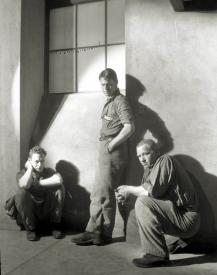 Robert Montgomery, Chester Morris and Wallace Beery in The Big House.
Made by MGM in 1930, The Big House is the grandaddy of all prison pictures. The dozens (or perhaps hundreds) of prison dramas that have been made during the ensuing 85 years have all been influenced in one way or another by this seminal movie. It was hugely popular with both audiences and critics in 1930. It was one of the year's biggest hits and it garnered four Oscar nominations at the third annual Academy Awards ceremony, including Best Picture (it lost to All Quiet on the Western Front) and Best Actor for Wallace Beery (he lost to George Arliss in Disraeli). It won two Oscars that evening, both of which were historic firsts. It won the very first award ever given for Best Sound, and Frances Marion won for her screenplay, becoming the first woman to win a non-acting Oscar.
The movie opens with the Robert Montgomery character (Kent) being incarcerated to serve a ten year sentence for manslaughter. Although he's not a career criminal -just a drunk driver- he gets thrown into a cell with two hardened convicts. One is played by Wallace Beery. He's a stone cold killer named Butch. The other guy is a robber played by the square jawed Chester Morris. Despite the way it begins, it becomes immediately apparent that Morgan (the Chester Morris character) is the real star of the piece. He is top billed for a reason. Morgan is a noble thief who wants to turn straight, Butch wants to kill every screw in the joint, and Kent is a snivelling coward that will do whatever it takes to survive.
Kent is actually third in importance. He has a sister who provides Morgan with a love interest, but the central relationship in the story is the one between Morgan and Butch. They bicker constantly like an old married couple. Over the course of the movie they fall out and then come back together again for a touching death scene. Although just what Morgan sees in Butch is beyond me.
Director George W. Hill makes innovative use of sound – especially with the rat-a-tat of machine gun fire and the sound of hundreds of prisoner's footsteps stomping in unison in the prison yard. In one memorable scene Butch gets sent to the hole. The camera shows him being escorted down a narrow, dimly lit corridor and then put in a cell. The camera stays in the hallway. After a few seconds of silence we begin to hear the voices of the different men in solitary. A man questions Butch, someone begins to sing, another voice cries, and all the while the camera never moves from the corridor. It's a memorable sequence that was also a brilliantly simple way to work around the hassles of early recording equipment. The film's elaborate sets were replicas of San Quentin.
The role of Butch was originally meant for Lon Chaney but after his untimely demise from throat cancer the role went to Beery. It revitalized Beery's career in a big way. He would soon be one of MGM's top box office attractions and one of the highest paid stars in Hollywood. He certainly does Butch justice although it's fascinating to think what Chaney could have done with the role. Robert Montgomery and Chester Morris are both solid in their roles but it was Beery that made the biggest impression on audiences in 1930.
The Big House is dated but it still entertains. It also happens to be the blueprint upon which all subsequent prison movies have been based.
Photos © Copyright Metro-Goldwyn-Mayer (MGM) (1930)