Movie Review
The Big Chill
In a cold world, you need your friends to keep you warm.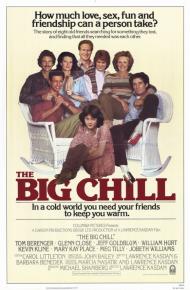 US Release Date: 09-28-1983
Directed by: Lawrence Kasdan
Starring
▸
▾
Tom Berenger

,

as

Sam Weber
Glenn Close

,

as

Sarah Cooper
Jeff Goldblum

,

as

Michael Gold
William Hurt

,

as

Nick Carlton
Kevin Kline

,

as

Harold Cooper
Mary Kay Place

,

as

Meg Jones
Meg Tilly

,

as

Chloe
JoBeth Williams

,

as

Karen Bowens
Don Galloway

,

as

Richard Bowens
Kevin Costner

as

Alex
Reviewed on:
March 11th, 2013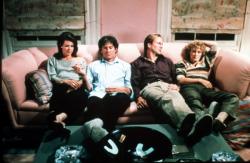 JoBeth Williams, Kevin Kline, William Hurt and Glenn Close in The Big Chill.
The Big Chill is the quintessential babyboom movie. It tells of seven former college friends who reunite for the funeral of a mutual friend. They spend a weekend together reminiscing about their glory days, getting high and playing old records. Old wounds get reopened and plans for the future are discussed. The movie incorporates many classic songs from the late 1960's and early 1970's and the accompanying soundtrack was a huge seller. It inspired shows like thirtysomething and launched the trend of television commercials using classic pop songs (most notably to sell cars), a trend which continues to this day.
The cast of then mostly unknowns have all gone on to successful careers in the movies. Glenn Close was Oscar nominated but the entire cast is good. This includes Tom Berenger, Jeff Goldblum, Kevin Kline, Mary Kay Place, JoBeth Williams and William Hurt, with Hurt giving the standout performance of the group. Scenes with Kevin Costner as the friend whose funeral brings them all together were filmed but cut from the finished print (although he can be briefly seen at the beginning of the movie playing a corpse). Reportedly these characters were based on real people Lawrence Kasdan knew while he was attending the University of Michigan in Ann Arbor during the 1960s.
The theme of these former college liberals facing middle-age, raising kids, and meeting mortgages, really resonated with many Americans of a certain age. In style the film was something new. It was about babyboomers but it was also a product of the MTV generation. Notice the way the songs are structured into the story. Many of them are heard in their entirety while the characters are shown dancing around, or else walking, talking and just plain bonding to the soundtrack of their generation.
The story doesn't really go anywhere. But that doesn't seem to be the point. Kasdan is merely interested in revisiting these intimate friends from his days as a young adult in order to see what the intervening 15 years has done to them. He perfectly captured the Zeitgeist of the moment since it so clearly struck a nerve with audiences.
Watching it today, The Big Chill retains its ability to conjure a certain nostalgia even for those of us that weren't in college during the 60s. I was 16 when this movie came out and at the time I remember thinking how old these characters were. Needless to say my perspective has changed a bit in thirty years. I am now more than a decade older than these characters were in 1983. It would be interesting to see a sequel. Like millions of real babyboomers they would be heading off into retirement now and it might be fun catching up on where they are in their lives today.
Photos © Copyright Columbia Pictures (1983)
Related Review