Movie Review
Beyond the Sea
In the era of cool, he was the soundtrack.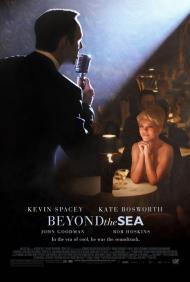 US Release Date: 12-29-2004
Directed by: Kevin Spacey
Starring
▸
▾
Kevin Spacey

,

as

Bobby Darin
Kate Bosworth

,

as

Sandra Dee
John Goodman

,

as

Steve Blauner
Bob Hoskins

,

as

Charlie Cassotto Maffia
Brenda Blethyn

,

as

Polly Cassotto
Greta Scacchi

,

as

Mary Duvan
Caroline Aaron

,

as

Nina Cassotto Maffia
William Ullrich

as

Little Bobby

Reviewed on:
December 1st, 2004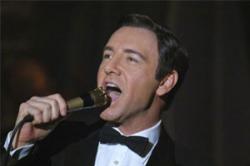 Kevin Spacey as Bobby Darin in Beyond the Sea.
If Beyond the Sea were a stage play, undoubtedly it would be a one-man show. As it is a movie, Kevin Spacey does everything but play Bobby Darin's evil twin. He co-wrote, co-produced, directed, stars in, and does all of the singing. Talk about putting yourself out there for a pet project! While it remains to be seen how much money a movie about Bobby Darin can make (even co-star Kate Bosworth admitted to not being familiar with the crooner) at least it can't be said that Spacey didn't give Beyond the Sea everything he's got. And the end result is an impressive one.
Although, like so many other movies this year, this one is designated a biopic, it really only concerns itself with the time of Darin's first success through to the final phase of his career. His early childhood is shown briefly; just long enough to provide the important fact that Darin suffered from rheumatic fever and wasn't expected to live past age 15. Then the movie jumps ahead to his early success with the novelty song, 'Splish-Splash'. But rock and roll wasn't where Darin's dreams lay. He wanted to surpass Sinatra and so moved into singing standards in nightclubs and put out more mature albums, including such hits as 'Dream Lover' and of course, 'Mack the Knife'.
Beyond singing, Darin also dabbled in the movies, even earning a best supporting actor nomination for his role in Captain Newman, MD. It was on the set of a movie that he met his future wife, Sandra Dee. With the change of times and musical trends, Darin tried to reinvent himself as a folk singer, but his life was cut tragically short when he died from complications following heart surgery in 1973 at the age of 37.
Since the story was based on a singer's life, I expected there to be songs, but this movie goes beyond having Darin sing on stage and is in fact a more traditional musical with several moments of Darin bursting spontaneously into song complete with accompanying dancers. These are some of the brightest moments in the film. In fact, anytime Darin is singing the movie is at its swinging best.
There are other actors in this movie, including Brenda Blethyn, John Goodman, and Bob Hoskins, but except for perhaps Kate Bosworth as Sandra Dee, none of them have much chance to make a mark when standing next to the whirlwind that is Kevin Spacey in the lead role. Spacey gives such a great performance that it is nearly flawless. The one and only problem he has is that Spacey is about 25 years too old to be playing the young Bobby Darin and looks it. The age discrepancy is most notable when he first meets Sandra Dee and her mother and it looks like he should be dating her mother. But even with this problem, Spacey carries the movie effortlessly.
In any other year, Spacey would be a shoe-in for a Best Actor nomination, but this year, with so many strong male lead performances (and with so many biopics floating around), he might get lost in the shuffle. If that happens it will be a pity because this is easily his best performance since American Beauty.

Reviewed on:
June 9th, 2005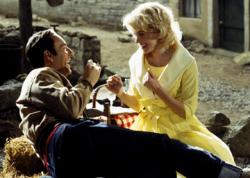 Kevin Spacey and Kate Bosworth in Beyond the Sea.
Kevin Spacey's acting is so natural and fluid. He has played a wide variety of roles and can even sing and dance. I cannot think of any other actor who could have possibly pulled off the role of Bobby Darin in Beyond the Sea.
I agree with Scott that Spacey is way too old for the part. Spacey himself understood this to be true as well. One of the first scenes in the movie has someone tell Bobby Darin that he is too old to play himself. The movie is set up like a play with Darin playing himself. Thus Spacey gets away with and justifies looking too old for the part.
One test that a musical succeeds is whether or not the viewer enjoys the songs. I found myself humming several of the songs from Beyond the Sea for the next 24 hours after seeing it. As a Frank Sinatra fan, I enjoy Darin's type of singing very much.
My only complaint about Beyond the Sea is why did Darin go and live in a trailer away from his wife and son? Without understanding Darin's motivation leaves the audience at a distance. Beyond the Sea gives the basic facts of his life and his catchy songs but his mid-life crisis is a bit blurry, otherwise this is a great movie.
Reviewed on:
May 10th, 2013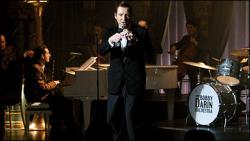 Kevin Spacey performs as Bobby Darin in Beyond the Sea.
Beyond the Sea demonstrates the fleeting nature of fame. Bobby Darin was a legendary musical star during his lifetime and yet just 40 years after his death he has been pretty much forgotten by the general population. Many people know "Splish Splash" and "Mack the Knife" but couldn't tell you the person's name singing them. Kevin Spacey clearly set out to change that when he made this movie. It's a showstopping performance but I don't think it will have any lasting impact on Bobby Darin's fame. Although Beyond the Sea would make a great Broadway musical.
The most impressive thing about this performance is the fact that Spacey did his own singing. He sounds like Darin without doing an all out impersonation. Who knew he was this talented musically? He sings well and dances like an old pro. The many musical numbers are indeed the highlight of this somewhat disjointed biopic. Darin's showbiz career is interspersed with memories and flashbacks that now and then unfold unexpectedly. Darin's heart condition and his relationship with his mother provide the story with most of its dramatic thrust. Darin's relationship with Sandra Dee is also covered in detail.
I found his later life and recordings to be the most fascinating aspect of the story. I was unaware of his later success with folk songs. His last hit, "If I Were A Carpenter" went to #8 on the Billboard singles chart in October of 1966. It was the 10th top ten song of his career. Bobby Darin was the quintessential lounge act. He personified that cheesy, overly mannered style of performing that has long since passed out of fashion. Since at least the 1970's irony has been the key ingredient to being cool in music and that was something Bobby Darin lacked. His style is hopelessly old-fashioned and corny but he was one hell of an entertainer and Kevin Spacey brings him to joyous life in this unabashedly loving celluloid tribute.
Photos © Copyright Lions Gate Films (2004)