Movie Review
Beverly Hills Chihuahua
I, Chihuahua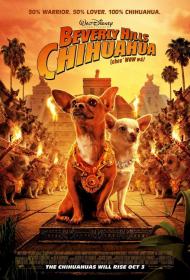 US Release Date: 10-03-2008
Directed by: Raja Gosnell
Starring
▸
▾
Drew Barrymore

,

as

Chloe (voice)
Andy Garcia

,

as

Delgado (voice)
George Lopez

,

as

Papi (voice)
Cheech Marin

,

as

Manuel (voice)
Paul Rodriguez

,

as

Chico (voice)
Plácido Domingo

,

as

Monte (voice)
Edward James Olmos

,

as

Diablo (voice)
Loretta Devine

,

as

Delta (voice)
Luis Guzmán

,

as

Chucho (voice)
Jamie Lee Curtis

,

as

Aunt Viv
Piper Perabo

,

as

Rachel
Manolo Cardona

as

Sam Cortez

Reviewed on:
October 16th, 2008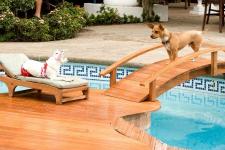 Chloe and her admirer, Papi.
Being a dog lover will definitely help your enjoyment of Beverly Hills Chihuahua. I have met people who think of their dogs are members of the family. I know people who act as if their dog is human. There are people in this world who treat their dogs better than they treat people. This movie is for them.
Chloe is a spoiled Chihuahua living with her owner in a Beverly Hills mansion. Her owner dresses her in clothes that most people could not afford in a year. Her collar is a fortune in real diamonds. She provides nothing to her owner, other than a dress up doll and an occasional lick on the face. The Gardner's pet Chihuahua is in love with her, but Chloe and her canine friends are far to snooty to take his romantic advances seriously.
Chloe's owner, Vivian, has her niece Rachel, dog sit while she is away on business. She cannot take Chloe with her as Chloe does not like Munich. Rachel, and a couple of friends, take Chloe with them on a trip to Mexico. Chloe soon gets separated and lost. With the help of the Gardner, Sam, and his Chihuahua, Rachel starts a frantic search for her.
Chloe goes through a series of adventures making friends, escaping dangerous situations and learns about her ancestry. Meanwhile, Rachel falls for Sam while they rescue and find homes for stray dogs. The end of the movie has a notice to the audience about rescuing dogs. Does anyone actually make movies anymore just for entertainment purposes?
This movie is best described as "cute". The dogs are never in any real danger. The plot is so full of ridiculous coincidences that it makes Mexico seem like a very small country. Rachel and Sam are constantly getting reports that someone has seen Chloe. They find one of Chloe's booties in Mexico City on the street? If it is plot you want, stay away. If cute dogs and "G" rated adventures are what you like, then you will enjoy Beverly Hills Chihuahua, and judging by the box office receipts, many people do.
Photos © Copyright Walt Disney Studios Motion Pictures (2008)