Movie Review
The Best of Me
You never forget your first love.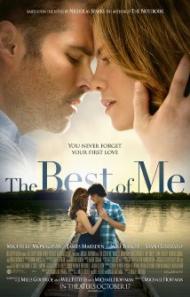 US Release Date: 10-17-2014
Directed by: Michael Hoffman
Starring
▸
▾
Michelle Monaghan

,

as

Amanda
James Marsden

,

as

Dawson
Luke Bracey

,

as

Younger Dawson
Liana Liberato

,

as

Young Amanda
Gerald McRaney

,

as

Tuck
Sebastian Arcelus

,

as

Frank
Jon Tenney

,

as

Harvey Collier
Sean Bridgers

,

as

Tommy
Ian Nelson

as

Jared

Reviewed on:
October 23rd, 2014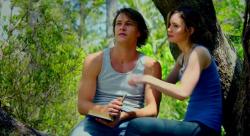 Luke Bracey and Liana Liberato in The Best of Me
The Best of Me is based on a Nicholas Sparks novel, and as such, we know several things going in. It will, of course, be an emotional romance, taking place somewhere in a small southern town. We know the man will be masculine and quietly sensitive while the girl will be sweet as honey but willing to settle until her prince Charming comes to the rescue. Most importantly, there will be some romantic scenes that take place in, on or next to water.
Middle aged, married with a grown son, Amanda and middle aged and single Dawson are estranged former high school sweet hearts. After years of not having seen each other, they are reunited when an old acquaintance of theirs passes away and includes them both in his will. Through flashbacks we see how they met and fell in love, while in the present we see them reconnect.
The story of their young love is packed with clichés and stereotypes. He is from a poor troubled home while she is from a rich family. With heavy shadows of Romeo and Juliet looming over them, both of their families work, directly or indirectly, to keep them apart. There is even a family member's violent death. Oh come on, Sparks' love stories are always edged with sadness.
The male character is, as is usual in Sparks' work, more defined than the female. Dawson is from a red neck drug manufacturing trashy family. His brothers all have stereotypical long hair, dirty clothes and sit around drinking beer, while Dawson likes to sneak off to do his physics homework atop a water tower. He likes to wear t-shirts and lean over the engine of a car, because of course he knows how to fix cars. What real man does not? When working in the yard he has to remove said t-shirt, revealing a body you can only have with regular workouts, that he is never shown doing. I said he was defined, not realistic.
The story of the older Amanda and Dawson is a bit more unique, a bit. Amanda is married and we still do not know why they broke up in the first place. How does Sparks get them together without Dawson looking like a home wrecker and Amanda a whore? Do they even get together?
The cast is all adequate but one thing is a bit unsettling. James Marsden and Michelle Monaghan look nothing like Luke Bracey and Liana Liberato. We know these are all actors but it is so obvious that it is a bit jarring. I liked Luke Bracey as a tough secret agent in November Man (2014) but as he was born in 1989 he is too old for this part. The real problem though, is not that he misplays the role but that the part is a fantasy. Dawson is a high school senior hill billy, raised by an abusive criminal in dire poverty yet he has the body of a Calvin Klein model, knows how to fix cars and has a 4.0 GPA. This guy only exists in fiction.
As women proved with the Twilight movies, they do not want realism, they want the fantasy man who will spend every minute of his day trying to get a fraction of her attention but still find time to work out so as to look good when he takes off his shirt. Judging by the nearly all female audience and how much my wife enjoyed this movie, it works. The Kleenex was getting a workout. One woman even mentioned to my wife that she cried the whole film.
Yeah, your estrogen level will decide how much you enjoy this bittersweet love story. For me this is a two star film while for the women I have talked to it is a four star sensation. I will give it a extra half star as I am not this movies target audience.
Photos © Copyright Relativity Media (2014)
Related Review